Temple Mount Update: Israel Approves Harsher Penalties For Stone-Throwers Amid Clashes Over Entrance Restrictions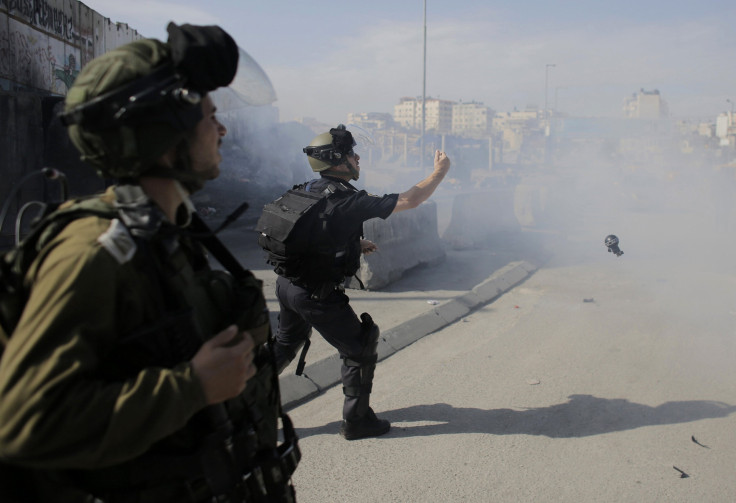 Israel's cabinet has approved a measure that would punish people who throw rocks at vehicles with up to 20 years in prison. The change is of particular consequence at the Temple Mount in Jerusalem, where Palestinians teenagers have clashed with Israeli authorities over entrance restrictions opposed on the holy site.
"Israel is taking vigorous action against terrorists and those who throw stones, fire bombs and fireworks," Israeli Prime Minister Benjamin Netanyahu said in a statement. "We will also pass stronger legislation on the issue. All of this is in order to restore quiet and security throughout Jerusalem."
"Massive reinforcements" will enter Jerusalem to prevent further violence in the city, Netanyahu added. In addition, Jerusalem's mayor announced the deployment of surveillance balloons to enable authorities to track potential conflicts, CNN reports.
Israel restricted access to the Temple Mount, including the Muslim holy site known as the Al-Aqsa mosque, after the attempted assassination last week of Jewish activist Yehuda Glick by Mutaz Hijazi. Glick's assailant was later shot dead by Israeli counter-terrorist forces.
In response to the attack on Glick, Israeli authorities announced that only women and men over the age of 50 would be allowed to enter the site. Tensions over the entrance restrictions led to speculation that Jerusalem was on the brink of a third intifada, or Palestinian uprising.
"This dangerous Israeli escalation is a declaration of war on the Palestinian people and its sacred places and on the Arab and Islamic nation," a spokesman for Palestinian Authority President Mahmoud Abbas said Oct. 30. "We hold the Israeli government responsible for this dangerous escalation in Jerusalem that has reached its peak through the close of the Al-Aqsa mosque this morning."
Israeli authorities used tear gas and rubber bullets this weekend to subdue crowds of Palestinian protesters, who have targeted vehicles with stones and firebombs. Despite the violence, Netanyahu vowed Sunday to continue to allow worshippers from all religions to visit the site.
"Since the days of Abraham, the Temple Mount has been the holiest site for our people, and with this, the Temple Mount is also the most sensitive kilometer on earth," he said. "Alongside our determined stance for our rights, we are determined to maintain the status quo for all the religions in order to prevent an eruption."
© Copyright IBTimes 2023. All rights reserved.