The Ten Most Ridiculous Lawsuits Of 2013 (AAPL)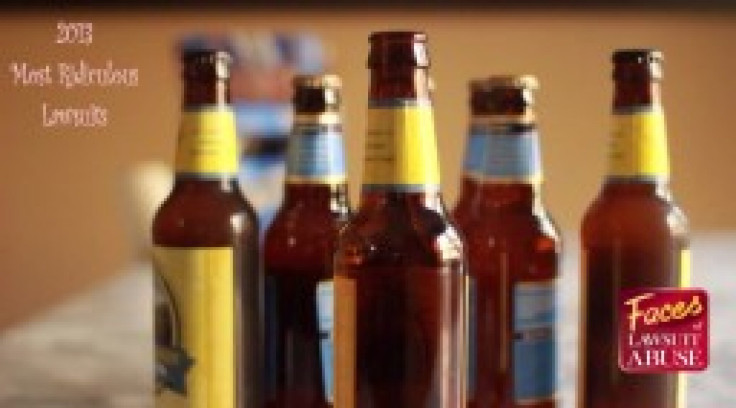 Did you hear the one about the Idaho prison inmates who are suing eight different brewing companies for not warning them about the dangers of drink?
Well, that's it, there is no punch line. It is, however, the top entry on the 10 Most Ridiculous Lawsuits Of 2013, a list compiled by the U.S. Chamber Institute for Legal Reforms.
"Whether cringe-worthy or laugh-out-loud ridiculous, ask yourself: 'Is this really what we want our legal system to look like?'" said ILR President Lisa A. Rickard. "Abusive lawsuits both big and small take a collective toll on our society and our economy. We should resolve to make 2014 a year where lawsuits are a last resort, not a first reaction."
The selections were chosen from the Institute's website http://www.facesoflawsuitabuse.org/.
One of the Idaho plaintiffs, inmate Jeremy Joseph Brown, explained in an affidavit submitted in the case, "I have spent a great deal of that time in prison because of situations that arose because of people being drunk, or because of situations in which alcohol played a major role. At no time in my life, prior to me becoming an alcoholic, was I ever informed that alcohol was habit-forming and addictive."
Here, in descending order, are the remaining nine standouts from the realm of frivolous litigation.
2. Ohio teacher claims fear of children in suit against district (Ohio)
A teacher is suing her school district for discrimination when it reassigned her from her from a high school to a middle school. The teacher claims that she suffers from pedophobia, an extreme fear or anxiety of young children, and she had to resign when she started working with younger students.
3. Student kicked off school track team for absences, Dad sues county for $40 million (N.J.)
There is little question that Ervin Mears Jr. wants the best for his son. The issue is that he also thinks the track team at his son's school failed to provide those conditions, a violation that he deems to be worth approximately $40 million.
4. Woman suing over "severe and permanent injuries" still able to complete half-marathon (W.Va.)
A West Virginia woman who claims she suffered severe and permanent injuries in a parking lot car accident is suing the retailer who owns the lot, although the injuries didn't keep her from completing a half-marathon less than six months after the accident.
5. Lawsuit claims "footlong" sandwiches come up short (N.J.)
A New Jersey man who says he eats 50 Subway footlongs per year is suing the chain, alleging that the sandwiches are really only 11 inches long. The lawyer in the suit is seeking class action status.
6. Grown man sues parents for their "indifference" to his problems (N.Y.)
A 32-year-old New Yorker is suing his parents for $200,000, saying they have been "indifferent" to his problems. The suit recommends the parents mortgage their home so the son can invest in franchise restaurants, but the parents have a different idea: "Get a job."
7. Customer sues restaurant over hostess' rude comment (W.Va.)
When a customer asked to be seated in a particular section of a Bob Evans restaurant, the hostess refused and called him an idiot. The customer, unsatisfied by the manager's apology or an offer of a free meal, is now suing for compensatory and punitive damages.
A graduate student who claims that her future career was ruined after she received a C+ is now suing the university for $1.3 million. The student, who was attending for free because her father is a professor at the school, says she was the target of a conspiracy to hold her back, but her professors say the poor grade is due to her unprofessional behavior, which included swearing in class.
9. Two years to toss suit from robber who sued shop owner (Ariz.)
A shop owner who shot a knife-wielding robber (after firing a warning shot) was sued by the robber, claiming the store lacked "a policy regarding the safe and lawful use of firearms." A judge finally dismissed the suit two years after the incident.
10. Man sues Apple for his porn addiction (Tenn.)
A man who says he became addicted to pornography after accidentally visiting an adult website is suing Apple for not blocking them. According to the plaintiff, the sites "appealed to his biological sensibilities as a male and led to an unwanted addiction with adverse consequences," including "desiring, younger more beautiful girls featured in porn videos than his wife, who was no longer 21."
© Copyright IBTimes 2023. All rights reserved.
FOLLOW MORE IBT NEWS ON THE BELOW CHANNELS