Tenshin Nasukawa Not Pressured About Knocking Floyd Mayweather Out At RIZIN 14
RIZIN kickboxing star Tenshin Nasukawa is excited about his exhibition match with former five-weight boxing champion Floyd Mayweather, for a number of reasons.
The pair will take part in a straight boxing rules contest at RIZIN 14 which takes place at the Saitama Super Arena in Japan on Dec. 31 with three rounds of three minutes each, with a weight limit of 147 pounds. The result will not go on either fighter's professional records.
Mayweather is naturally benefited by this rule set as the unbeaten Nasukawa won't be able to use kicks or spinning techniques, but that hasn't stopped the 20-year-old from being confident of victory.
In fact, he's already claimed he will knock the American out but in a recent interview, revealed he was also excited to learn from his encounter against whom many regard as one of the greatest boxers of all time.
"I don't feel any pressure about [getting a knockout]," Nasukawa told BJPenn.com. "I hope to absorb, and learn many things from him [Mayweather] during the nine minutes I am provided with."
"... I'm very excited. He's a true legend and no Japanese fighter has had a chance to face him. I feel very fortunate to be able to face him at this age."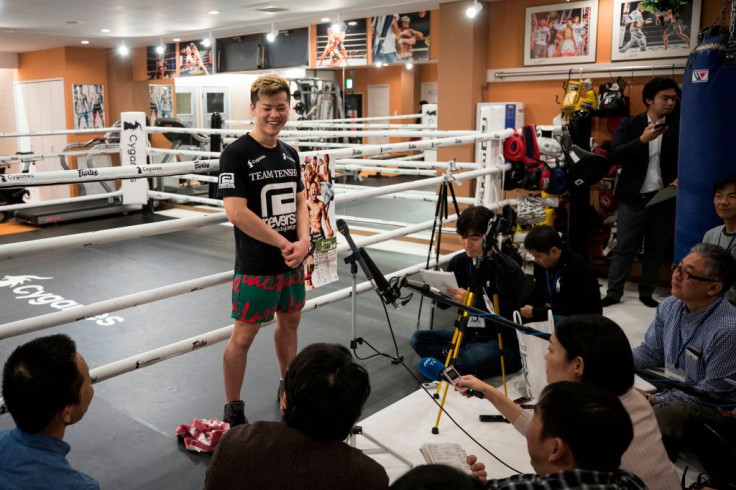 The rule set is not the only benefit for Mayweather. Nasukawa usually competes at 121 pounds and will not only be at a size disadvantage, but a reach disadvantage as well.
However, the Japanese prodigy believes it will play into his hands as he hopes to use his speed.
"I don't think it will be a disadvantage," Nasukawa explained. "I think it will be an advantage. I will be further away, MMA fighters are even more far away. I have never felt it as a disadvantage. ... The size difference is inevitable, but I will be quicker, and I plan to utilize that aspect."
One more reason why Nasukawa is excited about the exhibition is that more eyes will be on him, while the public will become more aware about Japanese fighters in general.
Given that casual fans specifically tuned in to see him perform during his impressive TKO win over Taiki Naito at RISE 129 last month, the audience will only be greater when Mayweather is standing across from him.
"I think it means everything that people will get to know who I am and get to know that the Japanese still have tough fighters," Nasukawa added. "Of course, watching Mayweather is always something, but watching how lighter guys fight is something I really want people to look for, and I want them to see my way of life."
The exhibition match is part of a stacked RIZIN card that also features a cross-promotional champion vs. champion fight between Kyoji Horiguchi and Bellator bantamweight champion Darrion Caldwell for the inaugural RIZIN bantamweight championship.
Below infographic courtesy of GentingBet.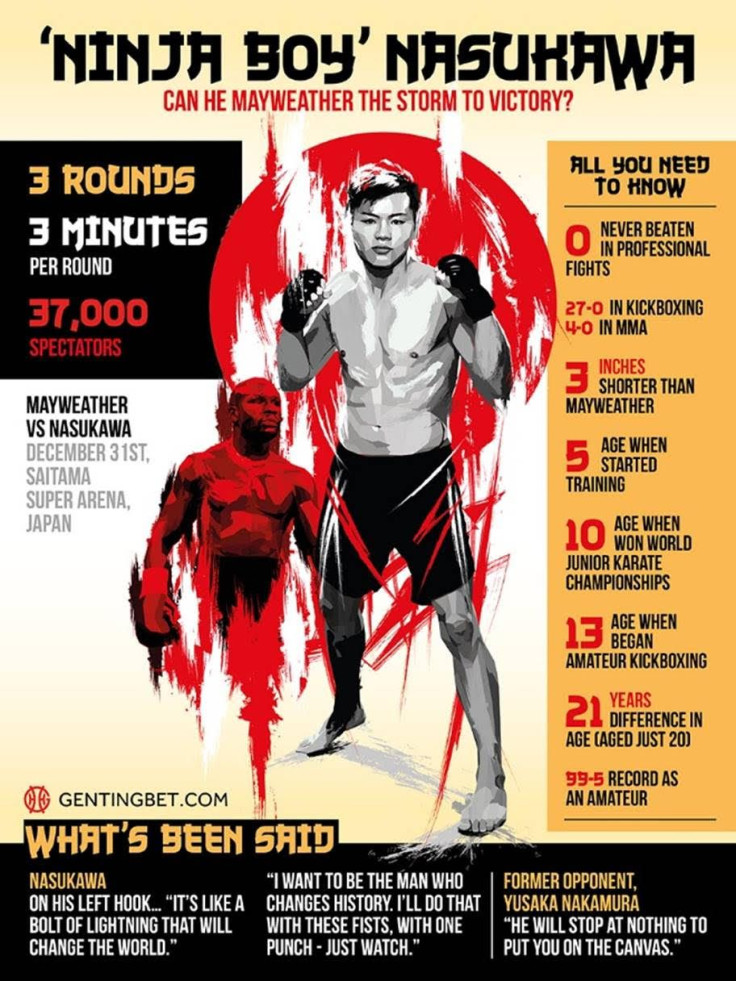 © Copyright IBTimes 2023. All rights reserved.