Tesla Accounts For 75% Of US Electric Car Sales, Model 3 Reigns Supreme
Total dominance -- for now, at least.
The latest sales figures for the U.S. electric vehicle (EV) market confirm the dominance of Tesla Inc. and its lineup of three EVs -- the Model S, 3 and X.
Tesla accounts for anywhere from 75 percent to 85 percent of all battery electric vehicle (BEV) sales in the United States from January to September, estimates CleanTechnica, a leading website for clean tech news. Total Tesla sales are dominated by only one model: the affordable Tesla Model 3 electric four-door sedan first produced in 2017.
The Model 3 accounts for about 60 percent to 70 percent of total Tesla EV sales in the U.S. Sales for the Tesla Model S and Model X will give Tesla a market share of about 80 percent.
CleanTechnica said it continues to track EV sales in the U.S. despite there being only a few EV makers that publish their production and sales figures. It gave one caveat to its data: it doesn't include electric bikes, electric scooters, electric trucks and electric buses. The data focuses on electric cars, crossovers, and SUVs, all of which are BEVs.
CleanTechnica pointed out Tesla's more than 80 percent market share, and the Model 3's 70 percent market control, "is a testament to Tesla's superb leadership in EVs and overall competitiveness."
These facts are great for Tesla but arent signs of a healthy market. It underscores the awful truth other carmakers aren't competing as well as they should. But all these will change in the 2020s as European car makers (especially Volkswagen and Porsche) begin to flood the U.S. with their masses of cheap and luxurious EVs.
The forthcoming European onslaught and domestic challenges from GM, Ford, Nissan and Rivian, among others, will eat away at Tesla's market shares. The machines from these challengers will be new, with more bells and whistles -- and competitive prices.
But Tesla has two aces up its sleeve: the Model Y SUV and the Tesla Roadster 2020, which has no foreseeable competitor in the super electric car class.
Slated to enter production in 2021, the Model Y will be a mass-market EV. Many auto experts foresee the Model Y selling even more than the Model 3. Why? Because the Model Y is an SUV and more than half of all gasoline cars to be sold in the U.S. by 2020 will be SUVs. Americans love their SUVs.
The question facing the U.S. auto industry is when will there be a non-Tesla mass-market EV. The answer to that question will determine how long Tesla remains number one.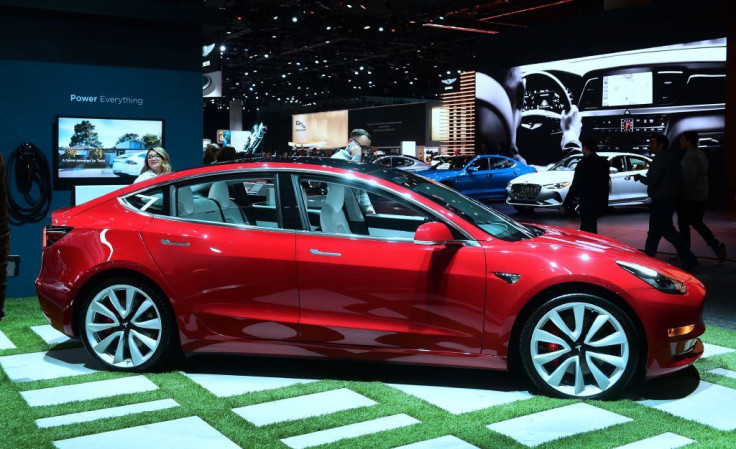 © Copyright IBTimes 2023. All rights reserved.