Tesla Roadster 2020 Will Exceed Expectations 'In Every Way': 'Like No Other', Says Chief Designer
Franz von Holzhausen, Chief Designer at Tesla Inc., asserts the much-awaited Tesla Roadster 2020 hypercar "will be even better than what we've unveiled." Who knows, this machine might even really be able to "fly," as Tesla CEO Elon Musk bragged about in August.
As for his résumé, von Holzhausen is only the genius that designed the Tesla Model S, Tesla Model 3, Tesla Model X, Tesla Model Y, Tesla Roadster (2020), and Tesla Semi -- all of Tesla's electric vehicles (EVs).
"It's evolving deservedly so; it needs more time" said von Holzhausen. "It will be even better than what we've unveiled. In every way."
Von Holzhausen admitted during Ryan McCaffrey's "Ride the Lightning" podcast the all-electric battery-powered four-seater sports car has been evolving since it was unveiled.
He said changes to the supercar will make the production vehicles even more impressive than the stunning prototype that rolled-off a Tesla Semi's trailer in November 2017 driven by von Holzhausen (who else?).
Von Holzhausen said this experience of unveiling the Roadster 2020 was truly memorable.
"It's an amazing machine," he said. "That car is like no other. I think it showcases the ability of what an electric vehicle can be… Being able to finally show people that -- that was a cool moment," he said.
In confirming Roadster 2020 is in evolution, von Holzhausen has practically admitted the production machines will sport superior specs to the prototypes. The prototypes can accelerate froms 0 to 100 km/h in 1.9 seconds. They have a top speed of over 400 km/h (250 mph), and a range of close to 1,000 km (620 miles) per charge due to its 200 kWh battery.
The prototype specs alone make the Roadster 2020 far superior to any competing sports car EV such as the Porsche Taycan in all its three versions. The current performance of the prototype Roadsters already classifies them as hypercars. Now, what to call the far better production machines?
Von Holzhausen said Roadster 2020 is ultimately a passion project for him.
On the same podcast but only earlier, Musk said Roadster 2020 will reach a level of performance almost unfair to gasoline or diesel-powered cars.
"We're going to do things with the new Roadster that are kind of unfair to other cars. (It's) crushingly good relative to the next best gasoline sports car," boasted Musk.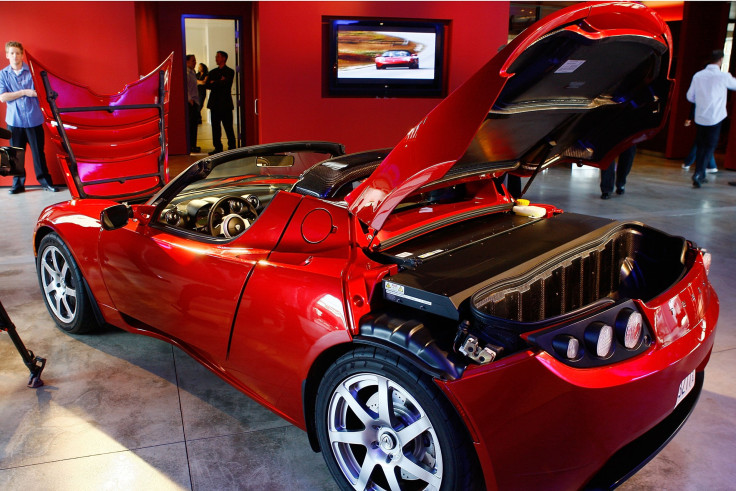 Back in August, Musk also said Roadster 2020 will come equipped with rocket engines. By fly, what Musk really means is Roadster will be able to hover a few feet above the ground.
This isn't flying in the real sense, but having a car hover will be a fantastic feat because no car has ever done this before. Asked earlier when people might expect to see a hovering Roadster, Musk tweeted, "Maybe end of next year."
And how will Roadster fly? The answer: 10 "cold air thrusters" ejecting compressed air. These cold rocket engines will "dramatically improve acceleration, top speed, braking and cornering." It will also improve maneuverability.
© Copyright IBTimes 2023. All rights reserved.