Elon Musk Rejoices! Tesla Model 3 Wins 'Car Of The Year' From UK Magazine
The Tesla Model 3 electric four-door sedan, the cheapest Tesla electric vehicle (EV) and the Tesla for everyman, was conferred four prestigious awards by Parkers Car Price Guide, a monthly United Kingdom motor vehicle magazine famous for publishing the longest-running price guide in the country.
Tesla CEO Elon Musk retweeted the original story that wrote about the awards.
The Model 3 won the magazine's following awards:
Car of the Year
Best Electric Car
Best Company Car
Best Safety Award for any vehicle (internal combustion engine or ICE, or electric) on the market.
Experts say they were impressed with the Tesla Model 3, stating it is "capable, likable, and extremely good to drive." Parker's gives 22 different awards for various categories. Among these awards are "Best Towing Car" and "Best Car for Thrill-Seekers."
The Model 3 took home the most prestigious award of all, Car of the Year, as it was recognized as the best car in the world by the magazine's automotive experts. These experts said they were impressed with the Model 3, stating it's "capable, likable, and extremely good to drive."
"Although we're a long way from the end of days for petrol and diesel, it's good to know that the forward-thinking among us have a choice of some very talented alternatively-powered cars," said Keith Adams, editor of Parker's Car Guides.
"The Tesla Model 3 isn't just a good electric car. It is a good car full stop."
Parkers Car Price Guide said the Model 3's clean-sheet approach achieves reduced emissions overall but is also beneficial for the immediate environment. It said Tesla's new approach to interior design and interaction creates a relaxing environment.
The Tesla's genuinely usable autonomous driving modes takes the human stress out of congestion and monotonous, constant-speed motorway driving.
But, of more importance, is the cost savings that spring from ownership of a Model 3. The magazine said the cost-effectiveness of the Model 3 in terms of range per £1 spent on power was a significant factor in why the vehicle scored so well its editors.
The magazine noted the Model 3 Standard Range Plus will travel 32 miles for every £1 spent on charging, which is a much greater range compared to any petrol-powered vehicle. Drivers of ICE engines will be very lucky if they manage to drive 32 miles on a single gallon of gas.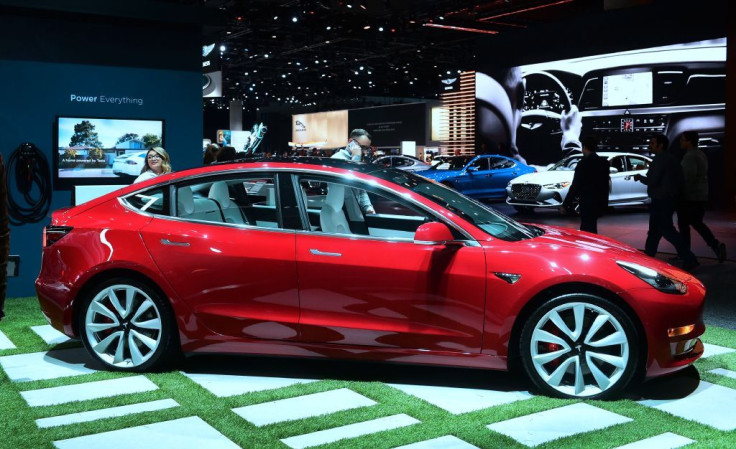 © Copyright IBTimes 2023. All rights reserved.