Tesla Is Giving Away Free Charging Hours For Thanksgiving Weekend: Here's How To Get Them
Tesla (TSLA) is looking to reduce the backlog of Tesla drivers at its Supercharger charging stations in California by offering an incentive to charge its electric vehicles during nonpeak hours.
The electric carmaker is giving away free charging hours throughout the Thanksgiving holiday weekend at dozens of California charging stations along select travel routes in the state, as well as a site in Nevada.
Free charging will be available before 10 a.m. and after 7 p.m. Wednesday through Sunday.
Locations offering the free charging promotion from Tesla include:
Arroyo Grande - W. Branch Rd.
Atascadero
Baker
Bakersfield - Copus Road
Bakersfield - I-5
Barstow
Buellton
Buttonwillow
Clovis
Corning
Firebaugh
Fresno
Fresno - North Blackstone Avenue
Fresno - North Riverside Drive
Greenfield
Gustine
Harris Ranch
Hesperia
Kettleman City
Kettleman City - Bernard Drive
Merced - Martin Luther King Junior Way
Mojave
Mount Shasta - 111 Morgan Way
Mount Shasta - 134 Morgan Way
Paso Robles - Golden Hill Road
Pismo Beach
Primm, Nevada
Red Bluff - Belle Mill Road
Salinas
San Luis Obispo - 3897 S Higuera St.
San Luis Obispo - Los Osos Valley Road
San Luis Obispo - Madonna Inn
Soledad - 100 Front St.
Tejon Ranch
Tejon Ranch - Outlets at Tejon Pkwy.
Traver
Williams - 6th Street
Yermo
Yreka
Thanksgiving weekend is notoriously one of the busiest travel holidays. Travel organization AAA predicts 53.4 million people will be traveling this year for the Thanksgiving holiday, up 13% from 2020.
As of Tuesday at 1:25 p.m. ET, shares of Tesla were trading at $1,080.13, down $76.74, or 6.63%.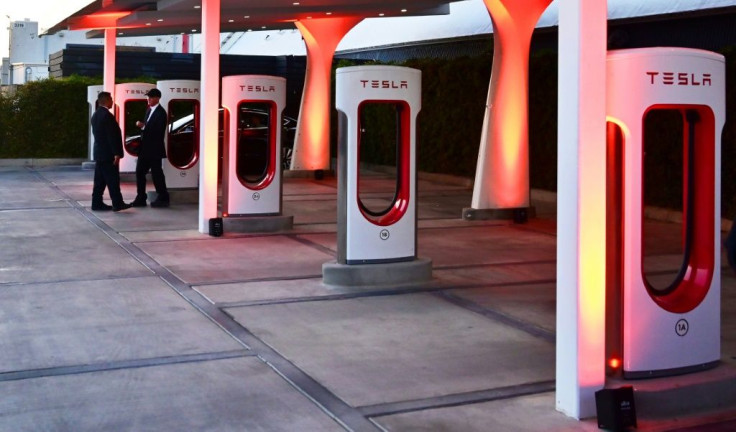 © Copyright IBTimes 2023. All rights reserved.