Tesla Model 3: What Could Compete With The US Made $35,000 Electric Car When It Comes Out In 2017?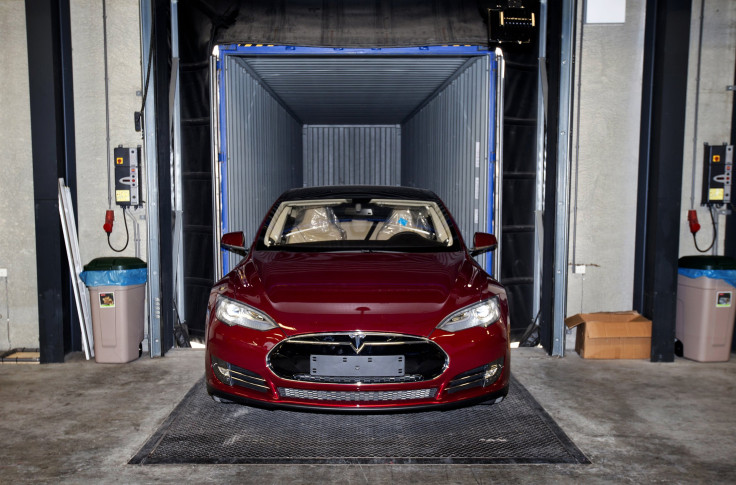 Tesla Motors Co. (NASDAQ:TSLA) recently gave us more information about its third-generation, lower- priced electric car aimed at a wider buyership. We now know it will be called the Tesla Model 3, it will be priced around $35,000, it will have the same range as the current Model S and it will be out by 2017, according to the Palo Alto electric car company.
If the Model 3 were out today, it would destroy any of its competitors in the market. The recently introduced BMW i3, the closest thing to a luxury electric car for around $40,000, has less than half the range Tesla plans for the Model 3.
"The pricing of Tesla's next sedan is an interesting component to have confirmed, but the real question is: How far will it go on a single charge?" Karl Brauer, senior market analyst for automotive pricing and information provider Kelley Blue Book, said in an email. "The current electric car market is flush with $35,000 cars, and they all have nearly identical range specs of 60-90 miles. If the Tesla Model 3 can't substantially increase that range, it will sell about as well as all the others -- which isn't very well."
The Nissan Leaf, the bestselling electric car in history, costs less than $30,000 but also suffers from range constraints, as do the Fiat 550e, the Chevy Spark EV, the Honda Fit EV and the other battery electric mini cars currently available in the marketplace.
The Tesla Model S and the Model X due out next spring are the only two electric cars filling the niche in the luxury segment, which gives Tesla a big advantage among the small number of affluent purists willing to drop $70,000 or more for a car completely powered by lithium-ion batteries. Tesla's current competition in the luxury electric car market is scarce and coming mostly from plug-in hybrids (PHEVs), like the Cadillac ELR and the Porsche Panamera S E-Hybrid. Tesla doesn't consider PHEVs direct competition because they rely largely on internal combustion engines.
As far as high-end electric cars are concerned, the playing field in expensive all-electrics is almost empty right now. Nissan Motor Co. Ltd. (TYO:7201) has announced it would produce the Infiniti LE with a range of 100 miles and a wireless charging system, but the project is currently on hold as the company focuses on tripling sales by 2017. Mercedes-Benz (FRA:DAI) offers an electric version of the SLS AMG, but it costs the same as five Model S sedans with considerably less range at 160 miles. The German automaker has also introduced an electric B-class hatchback with a 124-mile range aimed at the same consumer who would consider the i3 and the Model 3, but it wouldn't excite car buyers enamored by the Model S.
Three years is a long time by auto industry standards, and battery technology is changing fast enough that by the time the Model 3 is out, competing brands will have managed to improve their own battery technologies. Most industry analysts say a 100-mile range is the minimum for wider adoption of electric cars, and only Tesla and Mercedes have EVs that cross that boundary. That could change soon.
Massachusetts Institute of Technology has been working on carbon nanotube electrodes that could greatly increase battery power, while in Colorado Prieto Battery Inc. is taking Colorado State University research and developing a new battery architecture using copper filaments to improve battery power and reduce charging time. Meanwhile, nearly every major automaker is engaged in some kind of research and development to improve battery technology to both lower the cost and extend the range of electric cars. The world's top lithium-ion battery producers, Samsung SDI Co. Ltd. (KRX:006405), which supplies batteries to Bayerische Motoren Werke AG (FRA:BMW) and Chrysler LLC, and Panasonic Corp. (TYO:6752), which has a close relationship with Tesla, aren't sitting idle, either.
Telsa is betting that its proposed $5 billion so-called gigafactory will give it the manufacturing capacity to lower the cost of producing the battery packs. That's how the company plans to offer the Model 3 at a price below $40,000. For the time being Tesla appears to be well ahead of the electric car race, but if electric cars are truly the future of automobiles, then the track will get a lot more crowded by the end of the decade.
FOR FREE to continue reading
✔️ Unlock the full content of International Business Times UK for free
offer available for a limited time only
✔️ Easily manage your Newsletters subscriptions and save your favourite articles
✔️ No payment method required
Already have an account? Log in
© Copyright IBTimes 2023. All rights reserved.