Tesla Motors Factory Revealed: Silicon Valley Meets Detroit, Combining Perks And Manufacturing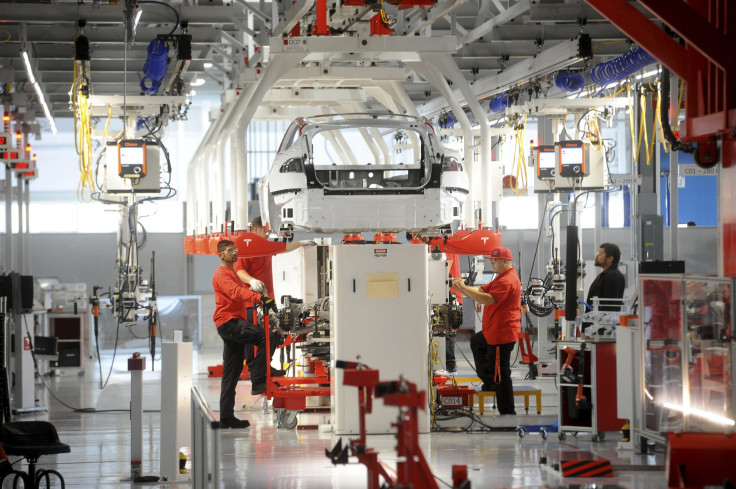 Tesla Motors recently shut down work for two weeks at its Fremont, California, factory in order to expand capacity. A little over a month after it returned to business, Trip Chowdhry, managing director for Global Equities Research, had a rare opportunity to tour the facility.
"The second-floor space is huge," Chowdhry told International Business Times on Tuesday, referring to the area of the plant where Tesla assembles its stationary batteries used for residential and commercial properties to collect electricity drawn from solar panels. Tesla CEO Elon Musk began selling these battery packs in December through another of his ventures, San Mateo-based SolarCity Corp. (NASDAQ:SCTY), located 26 miles from Fremont across San Francisco Bay. "It's a low-volume business right now, but we expect it to pick up over the next 12 to 18 months," Chowdhry added.
Production of these stationary battery packs is a minor part of the company's current operations, but it reflects Musk's vision to expand use of renewable energy sources and, eventually, spur a mass embrace of zero-emission motorized transport. It's a vision that has many supporters.
With the wheels back in motion in Fremont, analysts expect Tesla Motors Inc. (NASDAQ:TSLA) to increase production to about 1,000 Model S sedans a week by October, which would be almost double the capacity at the start of the year. Meanwhile, the company is still negotiating with up to five state governments on the location (or locations) for a $5 billion "gigafactory" project to produce at least 500,000 battery cells a year. Tesla says it has broken ground on a site east of Reno, Nevada, but maintains that California, New Mexico, Arizona and Texas are still being considered.
Here are a few other observations Chowdhry made in a research note released Sunday.
* No cash registers in the three on-site cafeterias, suggesting that the facility's estimated 3,000 employees may enjoy the same free-lunch perks as Silicon Valley tech firm workers.
* The second floor of the factory assembles stationary batteries in three power categories: 10 kWh for residential solar installations, 400 kWh for commercial use and larger packs for utilities. Tesla also produces electric motors, gearboxes, inverters and "various electrical components" in the same large second-floor space.
* The recently expanded production capacity is now fully operational. The new capacity allows for weekly production of up to 3,000 vehicles, which means the company now has the capacity to begin building the Model X crossover, due out in the spring.
* The factory has ample empty space to make room for the sub-$40,000 Model 3 due out in 2017.
* The factory has an area sectioned off called "Driver Assist."
* Tesla's factory lobby – where suppliers can come with their offers – was "busy with European suppliers and Asian suppliers," says Global Equities Research. This compares favorably to last year, when there was "hardly any activity in the Tesla factory lobby."
"What Chevron is for internal combustion engines, the gigafactory is for electric vehicles," Chowdhry said. "The factory will power the Model 3, Model S and Model X. It will also provide the stationary batteries and may also become a supplier to other electric vehicle makers."
Global Equities Research is bullish on Tesla's prospects. It gives the company an overweight rating and a 12 to 18 months price target of $385. Tesla Motors was trading at around $262 on Tuesday and has gained nearly 62 percent of its value in the past 12 months.
© Copyright IBTimes 2023. All rights reserved.