Tesla Motors Inc. Stock Rises As Elon Musk Announces Model 'D And Something Else'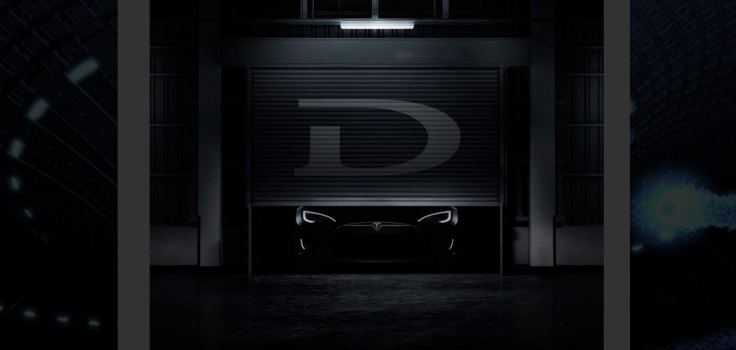 Shares in Tesla Motors Inc. popped nearly 5 percent Thursday after CEO Elon Musk tweeted that the electric carmaker has a pair of mysterious announcements coming on Oct. 9. Investors are eagerly anticipating Tesla's sport-utility Model X as well as the lower-priced, mass-market Model S, but his tweets were about a "different" product announcement.
"About time to unveil the D and something else," Musk tweeted on Wednesday night, along with a picture of a shadowy Tesla hiding in an industrial garage. Musk, the well-known entrepreneur, is known for making big announcements on Twitter as opposed to issuing press releases or leaking news to reporters.
The Wall Street Journal speculated that the letter "D" refers to the "dual motor" that will be found in the upcoming Tesla Model X, enabling an all-wheel-drive system useful for areas that get a lot of snow. The Journal noted that Musk's tease comes during the biennial Paris Motor Show, when a number of Tesla's competitors are promising to offer electric versions of popular models.
Musk himself offered little clarification in a later tweet, where he said Internet comments made him laugh, and he was glad he "didn't mention the other letter." The other letter being the second part of Musk's announcement, which means Tesla has two product announcements in the pipeline. Whether or not they are new vehicles, updates to existing models or something completely different is not clear.
Tesla Motors had the best month ever for sales of the Model S, which 2,500 sold, surpassing a previous record of 2,300 in March of 2013. Sales so far in 2014 had not surpassed 1,800 in a single month, according to InsideEVs.com.
Tesla also has so far has had "robust" sales in China, with upwards of 4,000 reservations so far for the Model S, according to Patrick Archambault. The Goldman Sachs analyst said that "industry sources" gave him the figure, which only counted reservations up until the middle of September. Archambault has covered Tesla Motors since its initial public offering in 2010.
"Model S demand in China is robust with wait times having expanded out to six months," Archambault said. Employees are "working around the clock to meet increasing delivery targets."
Musk has said China could be Tesla's biggest market in the future, with the country's plans for zero-emission incentives weighing on top of high demand for luxury goods there. However, not all analyst are sold on a bright future for the Silicon Valley automaker. Richard Ross, analyst at Auerbach Grayson, told Yahoo earlier this week that he thought the stock could take a tumble.
"I see further weakness here in the stock," Ross said, prior to the market moves that followed Musk's announcement. Tesla is up 57 percent so far in 2014, but "it's really about the journey, not just the destination when we're talking about momentum stocks like Tesla."
Tesla shares also dropped when CEO Elon Musk said the market had been overly "generous," pushind shares too high.
"I do think people sometimes get carried away with our stock," he said. "I think our stock price is kind of high right now, to be totally honest. Or rather, let me put it to you this way: If you care about the long-term of Tesla, I think the stock is a good price. If you're looking at the short-term, it's less clear."
© Copyright IBTimes 2022. All rights reserved.
FOLLOW MORE IBT NEWS ON THE BELOW CHANNELS