Tesla Motors Inc. (TSLA) Says Robots Are Holding Up Its 2015 Sales Growth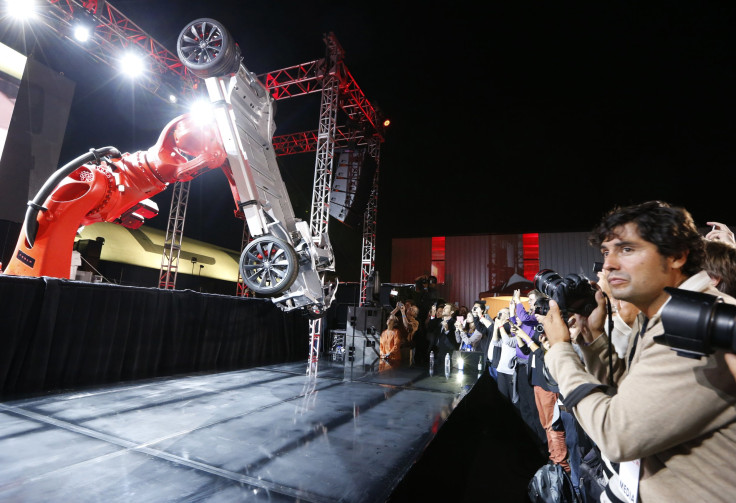 Blame it on the robots. The sales-forecast downgrade that caused Tesla's stock to nosedive Thursday isn't an indication that fewer drivers want to own the company's sexy electric vehicles. It's just that Tesla needs more time to teach its robotic factory workers new tasks associated with producing the Model X sport utility vehicle.
There was a lot to digest in the Tesla Motors Inc. second-quarter earnings report this week, but one thing we learned was that the carmaker's robots require a bit of training before they can do their jobs. The company reported mixed revenue and net income results but also lowered its 2015 sales forecast from 55,000 units to as little as 50,000. The news pushed the company's stock price to a three-month low Thursday morning as some investors dumped company stock.
Typically, a reduced sales forecast implies lower-than-expected demand, but in Tesla's case the drop in future deliveries has more to do with the immense challenges of redirecting a robot-reliant manufacturing operation while entering a new phase of business.
For the first time, Tesla Motors is building two models on one general assembly line, the Model S luxury electric car and the Model X SUVs. And to do that, the company must essentially teach its robots to handle the new fabrication process for the Model X.
"There are parts of the factory that are much more automated than other parts," Tesla Motors CEO Elon Musk said during a conference call Wednesday. "In terms of programming the robots, it varies quite a bit in terms of … how difficult that programming is … The Model X is, I think, a particularly challenging car to build. Maybe the hardest car to build in the world."
Programming the Tesla factory robots, including the KUKA KE 1000 Titan, has required the company to produce possibly as many as 50 Model X "validation vehicles" -- cars no one will ever drive -- just to show the robots how to assemble, weld and glue aluminum body parts.
"We just concluded a planned one-week Fremont factory shutdown and made changes in stamping, Model S body center, drive unit production, battery module and pack production and general assembly to allow for an elevated level of production and efficiency," Tesla said in its letter to shareholders released Wednesday. "Since Model S and Model X will both share the general assembly line, we used the week to validate the newly installed equipment by completely building several Model X test vehicles."

Apparently, like humans, robots require a little trial and error before they can do the job right.
© Copyright IBTimes 2023. All rights reserved.
FOLLOW MORE IBT NEWS ON THE BELOW CHANNELS