Tesla Roadster SpaceX Package Is 'Like Full-On James Bond', Elon Musk Reveals
KEY POINTS
Elon Musk tried to awe Jay Leno with the specs of his new 2020 Tesla Roadster sports car
"It's going to have an option to have rocket trusters from SpaceX," said Musk to Leno
To this, Leno replied with an incredulous, "alright"
Tesla CEO Elon Musk gave television celebrity Jay Leno some not-so-new information about the next gen Tesla Roadster during an interview with the latter.
Musk pulled a fast one on Leno, a motorhead who owns 286 vehicles (169 cars and 117 motorbikes) and hosts the popular television program, Jay Leno's Garage. An upcoming episode of Jay Leno's Garage has Musk declaring some really cool things about Tesla's new Roadster 2020 all-electric battery-powered four-seat sports car.
Musk doubled down on his claim that the insane specs listed for Roadster 2020 are only "the base specs." He also said Tesla plans to go ahead with what it calls the Roadster's "SpaceX package" equipped with cold air thrusters. Musk added the 2020 Roadster will zoom from 0 to 60 mph in a scant 1.9 seconds and will reach out to 620 miles on a single charge.
The specs are impressive -- but not new. Musk first hinted at them back in 2017 and made a big deal out of them in July 2019. So, he didn't tell Leno anything a Tesla gear head didn't already know. Even Musk telling Leno the 2020 Roadster will hit showrooms in 2022 isn't new either, as is the tidbit that the new Roadster will come with "rocket engines."
"It's going to have an option to have rocket thrusters from SpaceX," said Musk to Leno.
Leno responded with an incredulous "alright." He then said he wasn't sure if Musk was joking, to which the Tesla CEO said he wasn't "in this case."
The only new thing Musk said about the 2020 Roadster was, "It's like full-on James Bond."
Back in July 14, 2019, Musk talked more about the incredible 10 rocket engines that will equip the 2020 Roadster. He even claimed the engines might allow the car "to fly."
These rocket engines are technically called "cold gas thrusters." Musk said these small rocket engines will "dramatically improve acceleration, top speed, braking and cornering."
He had mentioned, somewhat jokingly, these thrusters "maybe even allow a Tesla to fly." The 10 cold gas thrusters will be mounted on the "SpaceX package" Roadster capable of zooming from 0 to 97 km/h (0 to 60 mph) in 1.9 seconds. This feat will make the 2020 Roadster the fastest street legal production car ever. Musk announced the range at 620 miles.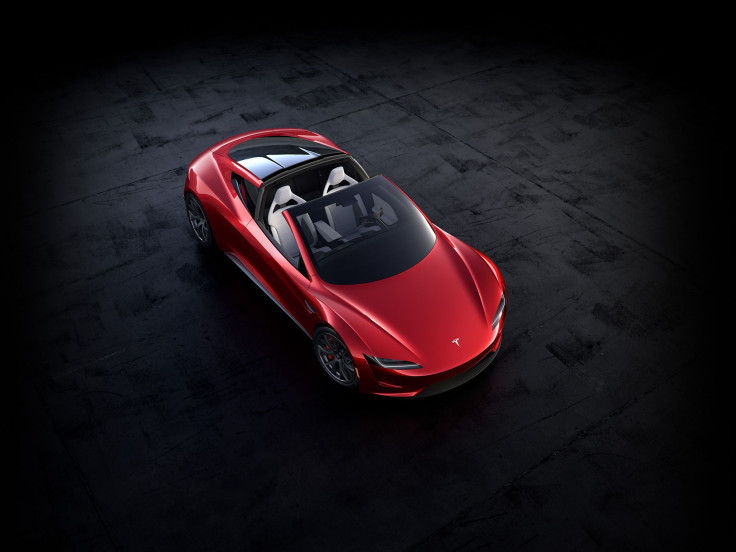 Musk affirmed these specs are only the base specs. Other versions will be faster and sport cool new features. Analysts said Musk has been teasing these specs as the base specs to drum-up sales for these massively expensive electric vehicles. He's also said higher-performance trim levels will be available beyond the base specs.
Tesla has been taking reservations for the $200,000 base version since late 2017. The first 1,000 Roadsters in the Founders Series will retail at a stunning $250,000.
It's unclear what the 10 cold gas thrusters are going to look like. Musk did say the rear thrusters will be hidden behind the license plate. The SpaceX package will remove the backseat so the thruster's air tank and compressor can fit inside the interior.
The 10 cold gas thrusters will each consist of an electric pump to recharge an air tank ejecting compressed air through propelling nozzles that generate a cold jet thrust. The air tanks are based on the "composite overwrapped pressure vessel" also used in the Falcon 9 and Falcon Heavy rockets.
© Copyright IBTimes 2023. All rights reserved.