Tesla Tax Breaks: What Automaker Gets From Nevada To Build Its Reno Gigafactory, In One Chart
As Nevada lawmakers begin a special session Wednesday to mull Gov. Brian Sandoval's incentive package that lured Tesla Motors Inc. (NASDAQ:TSLA) to select a site east of Reno to build its massive $5 billion battery "Gigafactory," the governor's office of economic development released the study it used to determine the benefits of the project.
The economic study offers this chart that pretty much sums up what Tesla will get if the Legislature approves the governor's plan. Tesla is exempt from all but municipal franchise fees (the money businesses pay for stuff like drainage and utilities) through 2023. In 2024 the company will start to pay local and state property taxes and the MBT, a business tax. It won't pay sales tax until 2035.
Tesla has separately agrees to provide $37.5 million to fund K-12 education in payments that begin in 2018 and to give $1 million to the University of Nevada, Las Vegas, to fund battery research.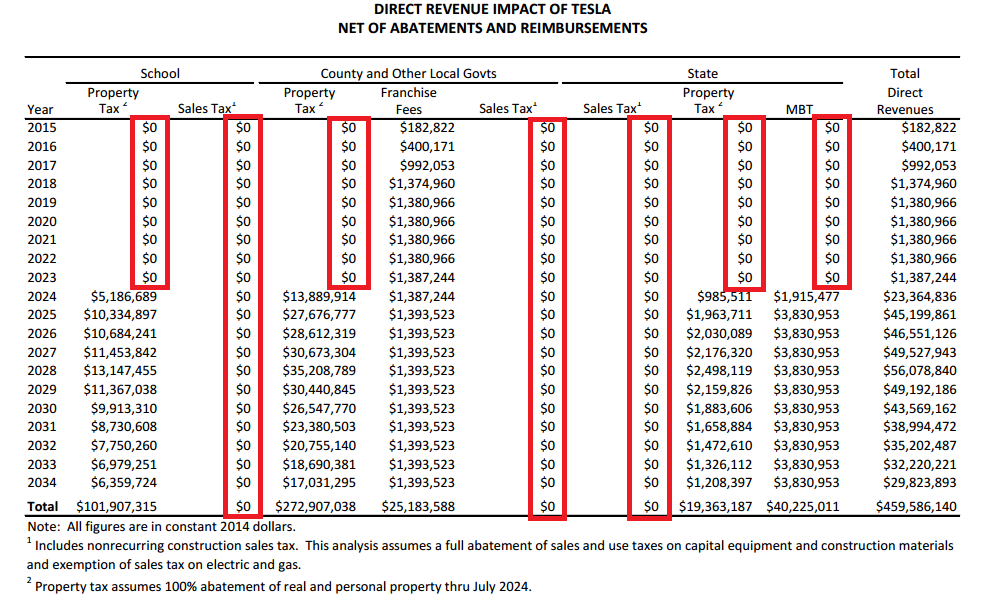 © Copyright IBTimes 2023. All rights reserved.