Tesla Third Quarter Earnings Preview: Analysts See Tesla's First-Ever Profit For This Quarter And Third Consecutive Quarter Of Positive Earnings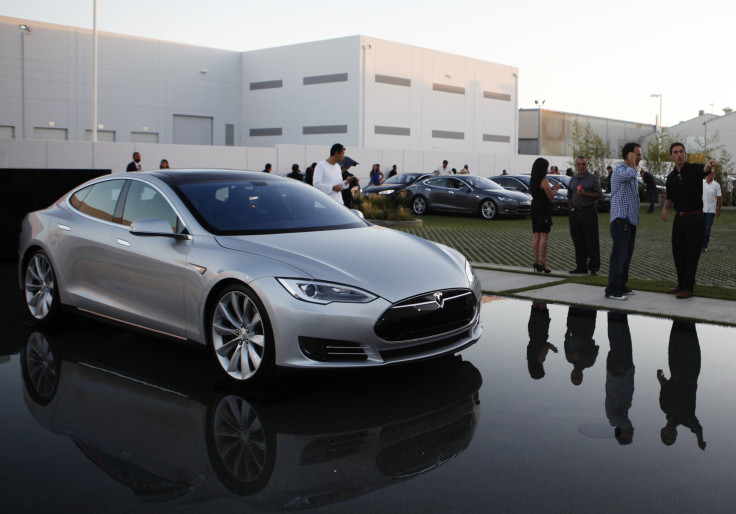 UPDATE Nov. 5, 5 p.m. EST: The results are in. They disappointed.
UPDATE Nov. 5, 1:22 a.m. EST: Tesla's stock gained over $13 on Monday, to $175.20, ahead of Tuesday's third quarter earnings report. The stock price has not been this high since Oct. 21.
UPDATE Nov. 4, 4:33 p.m. EST: Here are the October Model S sales numbers from Norway and Holland.
Tesla Motors Inc. (NASDAQ:TSLA) is probably rolling toward its third consecutive quarterly profit, albeit a slim one, as the company engages in a massive, capital-intensive global expansion that has it setting up stores, service centers, charging networks and marketing on both sides of the Atlantic.
Analysts polled by Thomson Reuters see Tesla earning $13.4 million, or 11 cents per share, on $534.64 million in revenue when it reports its third-quarter, ended Sept. 30, earnings after markets close on Tuesday. However, due to Tesla's rapid expansion in the third quarter, the company will see significant one-time charges that will bring EPS to a loss of 12 cents per share.
Revenue a year ago was only $50.1 million as the company recently accelerated its sales volume to about 5,000 units a quarter and growing. Tesla is in line to meet CEO Elon Musk's stated goal of topping 21,000 unit sales this year.
Gross profit margin is seen edging down to 22.4 percent from 25.1 percent, but this reduction might reflect Tesla's reduced dependence on the sale of California's zero-emission vehicle credits to other automakers rather than less profitability from the sale of its cars. If it sells fewer ZEV credits but more cars, gross margin could decline even if the company sees more profit from just auto sales.
"Margins may fluctuate among quarters, but we see improvement overall due to manufacturing cost reductions and more efficiencies from higher Model S production," said Standard & Poor's equity analyst Efraim Levy in a research note. "Certain costs should rise as the company expands internationally as it invests in technology and infrastructure for the upcoming Model X SUV. Energy credits, which have better margins than production, should shrink as a proportion of automotive sales and profits."
Charges related to the company's expansion will continue well into next year as Tesla attempts to become the first successful mass-production auto company built from scratch since Chrysler in 1925. Long story short: the narrative will continue to be about Tesla's potential future profits rather than its meager ones now. This hope is certainly what has been inflating the company's equity bubble on the NASADAQ over the summer and into the fall.
The important factors in the company's next earnings report will be how many Model S sedans it sold in the third quarter; what the profit margin on those sales were, excluding ZEV credit revenue; and how the company has addressed any issues in its supply chain as it ramps up production. With well over 100 suppliers, Tesla could be confronted with pace-hampering issues at its Fremont, Calif., factory.
Musk said in an August conference call that hitting 25 percent profit margin excluding carbon credit sales would be a "significant hill to climb and huge amount of work." At the time, Tesla's non-ZEV-credit profit margin was 13 percent; with the credits, 25 percent.
As far as unit sales, we should see considerable improvement.
As of the first half of the year, Palo Alto-based Tesla has reported delivering about 12,550 units since the Model S debuted in June 2012, most of that volume booked in the first two quarters as the company fulfills pre-orders. Reports from Europe and Hong Kong suggest the possibility of a several hundred additional deliveries outside of the United States (especially thanks to Norway) in previously untapped markets. Because the company has been ramping up production over the summer, we might find a surprise in the sales volume and, if not, some explanation regarding any issues with the supply chain that might be slowing things down.
Tesla delivered 4,750 units in the first quarter and 5,150 units in the last quarter, an 8.4 percent rise. At that same pace, U.S. unit sales in the third quarter would top 5,580, excluding deliveries abroad. Including global deliveries and any increase in the rate of U.S. sales, volume will easily top 6,200 for the quarter, making the 21,000 units for 2013 a sure bet.
© Copyright IBTimes 2022. All rights reserved.
FOLLOW MORE IBT NEWS ON THE BELOW CHANNELS