Thai Junta 'Creating A Climate Of Fear' In The Country: Amnesty International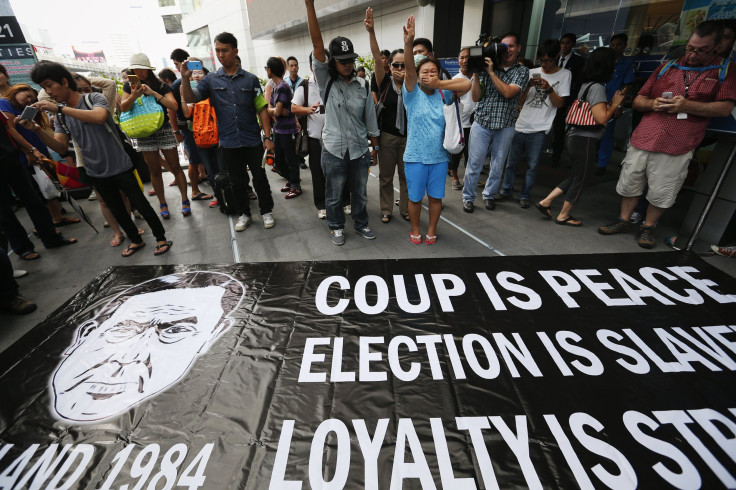 The military regime in Thailand, which came to power through a coup in May, has created a "climate of fear and a culture of enforced silence" in the country, Amnesty International said, in a report released Thursday.
The UK-based international human rights organization accused Prayuth Chan-ocha's junta government of "numerous human rights violations" during the first 100 days of martial law, adding that there are "emerging allegations of torture" made by some of those arbitrarily detained by the regime.
"It has become part of the military government's modus operandi to crack down on the smallest forms of dissent, such as wearing T-shirts that could 'promote division' or reading certain books and eating sandwiches in public in symbolic protest against military rule," Amnesty International's Asia-Pacific Director Richard Bennett said, in a statement.
The report added that 665 Thai nationals, including politicians, academics, activists and journalists, have been detained on vague and flimsy grounds such as "giving them time to think," and "attitude adjustment," since the coup on May 22.
"The cumulative effect of these broad restrictions and the threat of detention and prosecution for peaceful expression are engendering a climate of fear and a culture of enforced silence," the report said, adding that a number of arrested civilians had been convicted by military courts without being given a chance to appeal.
The Amnesty report also said the junta had blocked access to more than 200 websites -- considered critical of the regime -- closed some television and radio stations, and clamped down on peaceful protests.
Responding to the allegations, the Thai government said that the report "failed to acknowledge the pressing needs at the time to bring the emergency situation back to normalcy as quickly as possible" and that the findings "did not reflect the sentiment of the majority of the Thai people who now feel much safer, with the restoration of law and order."
© Copyright IBTimes 2023. All rights reserved.