Thanksgiving Flight Time-lapse Video Shows Flood Of US Air Travel And Traffic The Day Before The American Holiday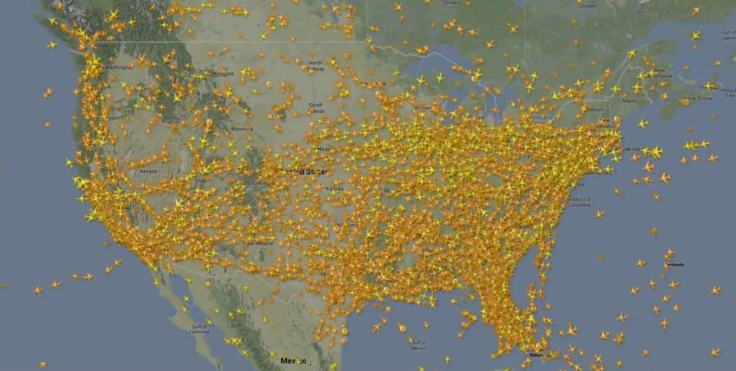 You've heard it multiple times across every media outlet, "Thanksgiving Day is the busiest time to fly in the United States." While images of crowded airports and delayed flight boards tend to come to mind when it comes to Thanksgiving air travel, it's difficult to picture just how many planes are up in the air during the lead-up to the American holiday.
Peter Ritchie, a YouTube user, decided to create a time-lapse to show just how busy the American airspace is during the week leading up to Thanksgiving Day.
Using data from FlightRadar24, Ritchie created a time-lapse video of all flights throughout the United States from 2 a.m. EST until 10 p.m. EST.
While watching the video, you'll notice that there's a huge outburst of traffic around 2 a.m. to 3 a.m. EST from Tennessee and Kentucky. If you're one of the many people that decided to get a head start on Thanksgiving Day sales and Black Friday by shopping online, you're probably partially responsible for that. Around those hours, UPS (NYSE:UPS) and FedEx (NYSE:FDX) fly out of their respective hubs -- Worldport in Louisville, Ky., and SuperHub in Memphis, Tenn.
While the airspace looks quite messy by 3 a.m., at 6 a.m. EST it gets more packed, as passenger flights begin to leave from the East Coast. By 10 a.m. EST, the entire U.S. airspace is flooded as the West Coast finally jumps into the fray of Thanksgiving Day eve flights.
If you're looking to complain about travel delays during your holiday travel, keep in mind that you're not the only one flying this holiday season.
Watch the Thanksgiving Day eve flight time-lapse in the video at the top of the story.
© Copyright IBTimes 2023. All rights reserved.
FOLLOW MORE IBT NEWS ON THE BELOW CHANNELS