Thousands Rally in Chechnya to Proclaim Loyalty to Putin Ally, Cow Opposition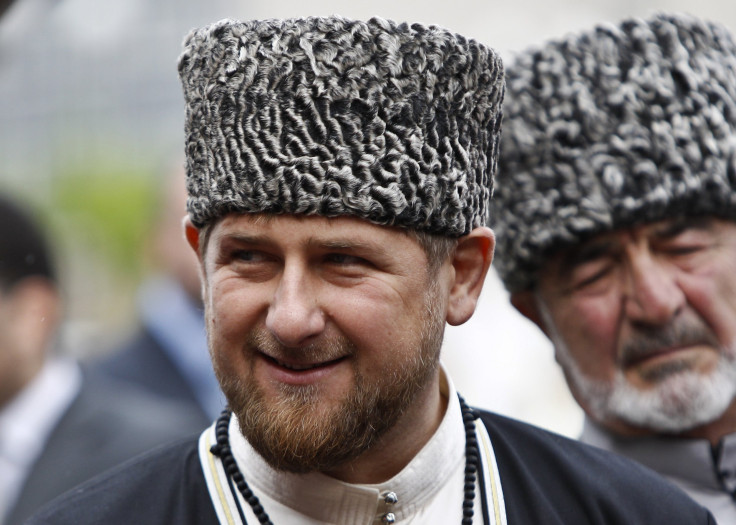 MOSCOW — Tens of thousands of people gathered Friday in the capital of Russia's mainly Muslim North Caucasus Republic of Chechnya to show their support for regional strongman Ramzan Kadyrov who is spearheading an aggressive campaign against Russia's small liberal opposition, whom he labels "traitors" and "enemies." Protestors carried photographs of Kadyrov and Russian President Vladimir Putin and speakers praised the two men for ensuring stability.
Photographs from the Our Unity is Our Strength event showed banners with slogans including "We back the future of Russia — Ramzan Kadyrov," "There is no place for liberal rubbish in a great country," "Ramzan is the pride of Russia" and "The worse the situation in the country, the better enemies and traitors live!"
Journalism student Artur Bergmann, 18, who attended the rally, said by telephone from Grozny most people came to support Kadyrov.
"Today, Ramzan Kadyrov is the guarantor of stability in the region and the country," he said. "It's a patriotic upsurge."
The rally was organized amid growing pressure on Kremlin opponents sparked by former warlord Kadyrov earlier this month. An increasingly controversial figure, Kadyrov is accused of carving out his own Chechen fiefdom under Putin's personal patronage and suspected by many critics of being behind the murder of opposition leader Boris Nemtsov in central Moscow last year.
Speakers at the rally, which included Chechen officials, religious leaders and the head of a notorious pro-Putin biker group, heaped praise on Putin and Kadyrov.
"Long ago Ramzan Akhmatovich Kadyrov's name became a factor for peace, stability and order on our earth," Chechen Parliament speaker and close Kadyrov ally Magomed Daudov told the crowd.
State Duma Deputy Adam Delikhanov promised extra-judicial revenge against traitors. "We know who these people are, we have a list in our pockets. … They will answer within the framework of the law. And outside it. They can be in other countries, outside the territory of the Russian Federation — we don't accept their laws. There is only one way to treat a traitor and that is like a traitor," Novaya Gazeta newspaper quoted him as saying.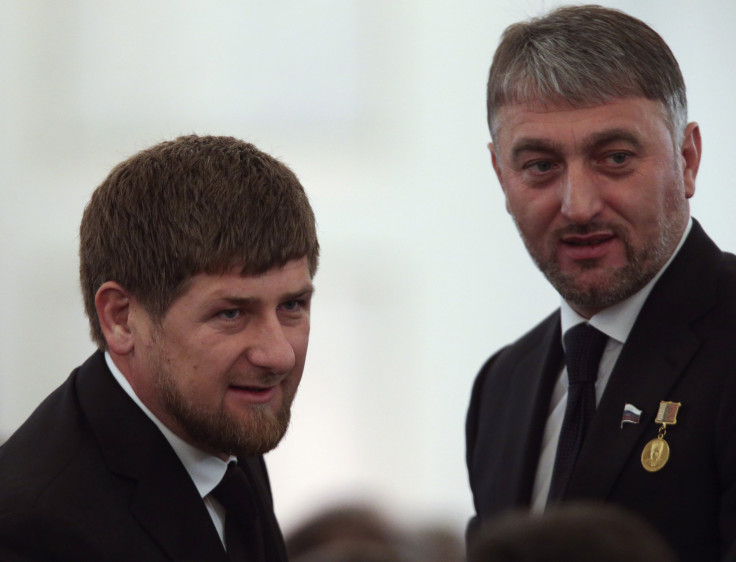 Organizers of the event put the number of attendees at 1 million — just a few hundred thousand short of the entire Chechen population of 1.37 million. Local police said in a statement more than 800,000 people had attended.
While turnout was inflated by the declaration of a public holiday and traditional practices of busing in state employees, the figures appeared way off. Other estimates put number at less than 100,000 demonstrators, and even at the height of the event, cameras showed Grozny's central square not full.
"I don't think there was a million," Bergmann said.
Banners on display sported slogans replicating those on an alleged list of official slogans circulated among Chechen officials and leaked to Russian media this week. And photographs from the area after the event showed piles of abandoned placards.
"They spent ages preparing for it, released threatening advance notices, puffed out their bearded cheeks — and everything ended in less than an hour," opposition Deputy Dmitry Gudkov wrote on his blog.
Unlike a previous giant rally in Grozny last year addressed by Kadyrov, the leader did not make a personal appearance this time. But observers interpreted the extravagant displays of loyalty by the assembled crowds as Kadyrov's latest move in a public campaign against Russia's opposition, which has stepped up its criticism of Putin amid an economic contraction and a collapse in the value of the Russian currency.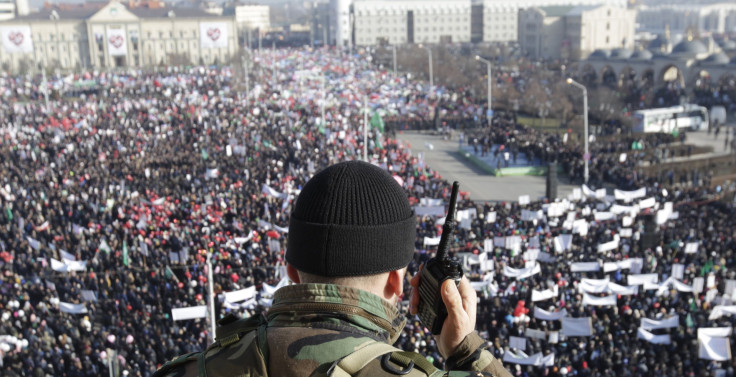 Kadyrov, who frequently pledges his personal loyalty to Putin, fired the first salvo when he attacked Russian opposition figures in a Jan. 12 statement. This week, he stepped up the rhetoric in an article published by a leading Russian newspaper in which he labeled Kremlin critics "jackals" and identified a number of prominent Russian media outlets as promoting hatred of Russia.
"Those who call for a dialogue with the jackals, dreaming of destroying the state, might not be able to wash the cowardly smell of dog off them," Kadyrov wrote.
An independent lawmaker in Siberia who wrote on Facebook that Kadyrov was "the shame of Russia" retracted his words and recorded a public apology after the post went viral. Daudov posted a photo on Instagram of a dog straining at a leash with a list of names of Russian opposition figures. And Russian officials, as well as several prominent cultural figures, have released photographs of themslevs posing with signs reading: "Kadyrov is a patriot of Russia".
Kadyrov's language and words prompted angry responses from activists, including Russian human rights ombudswoman Ella Pamfilova. Amnesty International and the New York-based Committee to Protect Journalists also criticized the leader.
The Kremlin's reaction to the war of words, however, has been muted. In the first official response on the subject, Putin spokesman Dmitry Peskov said Thursday Kadyrov's comments had been misunderstood and urged people to "calmly read what he said," the news website RBC reported.
Putin, who launched a bloody war in the early 2000s to pacify Chechen rebels, has shown no sign of withdrawing support from Kadyrov.
Those singled out by Kadyrov are taking his words seriously.
Aleksei Venediktov, the head of liberal radio station Ekho Moskvy, reportedly said this week he was requesting extra security for his staff.
And longstanding human rights activist Lev Ponomaryov, named by one of Kadyrov's allies as a target, warned Thursday Kadyrov could be used to unleash a wave of repression against those critical of the Kremlin.
"There are people rushing to suggest to Putin that he use of the leadership of the Chechen Republic, and the armada of people linked to the security forces … for reprisals against anyone who doesn't agree," Ponomaryov wrote on his blog. "In other words, they are prepared to go out onto the streets of Moscow and disperse the protesting 'creative class' and protesting pensioners blocking roads."
FOR FREE to continue reading
✔️ Unlock the full content of International Business Times UK for free
offer available for a limited time only
✔️ Easily manage your Newsletters subscriptions and save your favourite articles
✔️ No payment method required
Already have an account? Log in
© Copyright IBTimes 2023. All rights reserved.