Three Expedition 31 Crew Members From International Space Station Land In Kazakhstan [PHOTOS & VIDEO]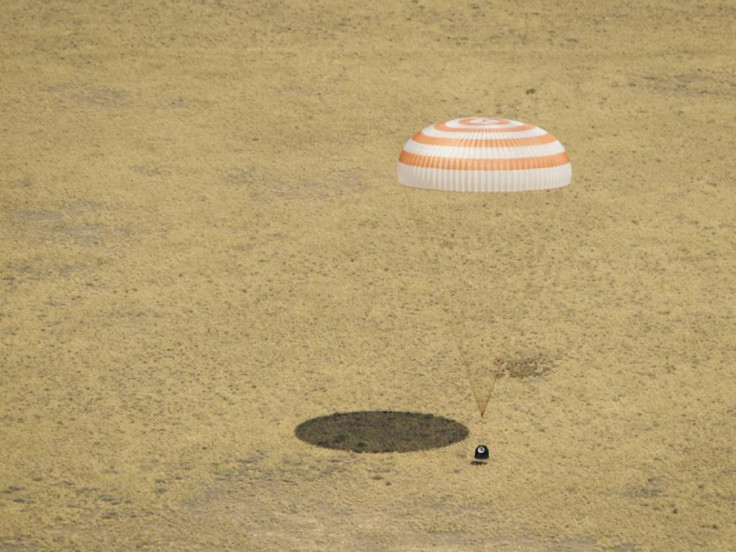 Wrapping up a mission that lasted six-and-a-half months, three members of the Expedition 31 crew undocked from the International Space Station and landed safely on the steppes of Kazakhstan in the early hours Sunday.
After unlocking from the space station's Rassvet module at 11:47 p.m., June 30, Russian Commander Oleg Kononenko, NASA Flight Engineer Don Pettit and European Space Agency Flight Engineer Andre Kuipers landed their Soyuz TMA-03M spacecraft in Kazakhstan at 4:14 a.m. EDT Sunday (2:14 p.m. local time).
A Russian recovery team and NASA personnel reached the landing site by helicopter shortly afterward to assist the crew and conduct health assessments.
The trio arrived at the station on Dec. 23, 2011, and spent a total of 193 days in space, 191 of which were aboard the space station. During their expedition, the crew supported more than 200 scientific investigations involving more than 400 researchers around the world. The studies ranged from integrated investigations of the human cardiovascular and immune systems to fluid, flame and robotic research.
For Kononenko, this was the second trip into space. He had earlier served a six-month tour of duty on the station as an Expedition 17 flight engineer in 2008. It was also the second trip to the station for Kuipers, who first visited the complex as a Soyuz flight engineer in April 2004.
Pettit wrapped up his third spaceflight, having previously completed five-and-a-half months aboard the station as an Expedition 6 flight engineer in 2002 and 2003 and visiting the orbiting complex again in November 2008 as an STS-126 mission specialist aboard the space shuttle Endeavour.
Before leaving the station, Kononenko handed over the command of Expedition 32 to the Russian Federal Space Agency's Gennady Padalka, who remains aboard the station with NASA astronaut Joe Acaba and Russian cosmonaut Sergei Revin.
NASA astronaut Sunita Williams, Russian cosmonaut Yuri Malenchenko and Japan Aerospace Exploration Agency astronaut Akihiko Hoshide will join them on July 17. The trio is scheduled to launch on July 14 from the Baikonur Cosmodrome in Kazakhstan.
Pettit celebrated achieving one cumulative year in space on June 25, combining his time in orbit on Expedition 6, Expedition 30/31 and the STS-126 space shuttle Endeavour flight to the station in November 2008. Pettit now has 370 days in space, placing him fourth among U.S. space fliers for the longest time in space, NASA said in a statement.
During Expedition 31, Pettit also used household objects aboard the station to perform a variety of unusual physics experiments for the video series Science Off the Sphere. Through these demonstrations, Pettit showed more than a million Internet viewers how space affects scientific principles. Watch the video below. For more videos, click here.
Watch the video of the landing below:
© Copyright IBTimes 2023. All rights reserved.