Tiger Woods Reveals 'Trick' For One Of His Most Famous Golf Shots
KEY POINTS
Tiger Woods revealed the trick in of his most famous golf shots
Woods mostly relies on his body to create an effective shot
Woods like to change wedges because it affects the effectivity of his swing
Tiger Woods has just revealed his trick and shared a step-by-step guide on how to hit the stinger like a 15-time major champion.
Woods' stinger is a shot he made famous by himself. Ever since he gained proven success with the said shot, it is hard not to believe that there's not a single golfer in the world who hasn't tried to hit the stinger like Woods at some point.
Looking back at the history of the stinger, it's a shot Woods used to devastating effect during one of the most dominant runs golf or any sport has ever seen. And just weeks after the new decade started, the legend himself shared his secret to the world.
In a video posted by TaylorMade, Woods detailed the step-by-step guide on how to hit the stinger like a champ.
According to the 82-time PGA Tour winner, the first step is all about "keeping it as simple as he can." Everytime he's trying to get the ball in play, he'll go with the reliable stinger. And whether he's hitting a draw or a fade, the ball position is the same – "one ball back."
"Basically what I try and do is try and keep it as simple as I possibly can," Woods said.
Step two is a bit more complicated. As per Woods, this is the time when he has to decide how he wants to hit the ball. He then revealed that trying to go for a "flight" and just "getting the ball down" have different procedures.
"When I really try and drive it and try and really flight one, I try and stop my hands as fast as I can post-impact," Woods explained.
"[But] If I want to just get it down there, I try and stop my hands right around shoulder height," Woods added.
For the third step, Woods dished on how he stops his hands so quickly after contact when hitting a shot with such speed and compression.
"Well, I like to soften my arms and speed up my hips. So I try and get my hips moving as fast as I possibly can so that my hands stop as soon as they can post-impact," Woods revealed.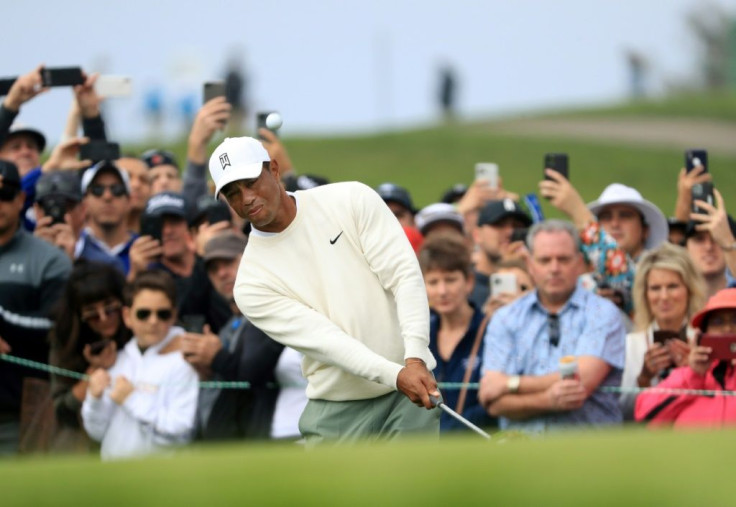 But in the end, Woods noted that the stinger will not always be a success. However, the golf GOAT revealed the basic yet hard trick that keeps the shot effective.
"Now, sometimes I'm good at it, sometimes I'm not, but the trick is to always be consistent with the speed of the body," Woods noted.
Last year, Woods also revealed his secret in maintaining a perfect swing. According to the 44-year-old, wedges affect the spin and based on his experience, he was able to avoid troubles by changing them every week.
"I spend so much time chipping that I wear out the grooves. If they lose a little bit of friction, that's a little bit of spin I've lost. I can gain that back by having new wedges," Woods revealed.
© Copyright IBTimes 2023. All rights reserved.
FOLLOW MORE IBT NEWS ON THE BELOW CHANNELS