'Tis The Season Of Giving: 5 Organizations Helping Everyday Tourists Make A Difference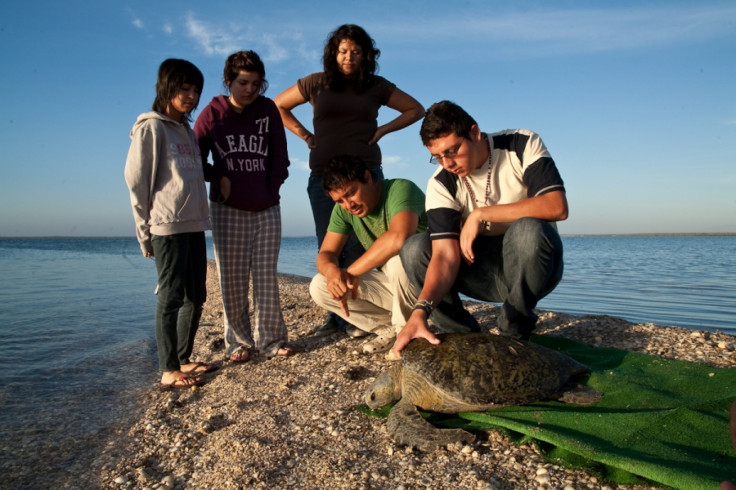 Perhaps it's the excess of food and drink or the focus on giving and receiving gifts. Whatever the reason, the year-end holidays seem to find us reflecting on what we have and the ways we can help others who are less fortunate.
Some will donate their time at a soup kitchen or shelter. Others will drop off gifts in a charity box or clink coins into the Salvation Army Christmas kettle. For those who will take a vacation this holiday season, there are myriad ways you too can donate.
The buzzword "voluntourism" may come to mind, but you don't have to take an entire month off to build drainage ditches in rural Africa to do some good (unless, of course, you have the time and skills). We've rounded up five organizations that offer everyday tourists easy (and sometimes effortless) ways of giving back while abroad. Be it on a cruise through the Caribbean, a business trip to Brazil or a hiking trek in Nepal, each of these nonprofits offers small ideas that can end up making a big difference.
GoodShop
GoodShop may just be the easiest way out there to make a difference without altering your current travel habits. A subset of Yahoo-powered GoodSearch, the online marketplace lets you book your trip on hundreds of travel merchants like Expedia, Travelocity and Hotels.com, and donate a percentage of your purchase to one of more than 100,000 nonprofits. GoodShop also has exclusive coupons that allow you not only to give money back, but also save money while you're doing it.
"We think whether you are an individual, small business or large corporation, this is a really good way that you can give back through something you already do, all while saving money on coupons and making the world a better place," said CEO Scott Garell. "This makes philanthropy simple and easy, but also very relevant and very local, allowing people to support the cause that is most important to them.
"Whether it's a business trip or vacation, you'll enjoy it that much more knowing that you are giving back."
Portrait Equality
Too often when we travel in the developing world we look at the people we meet merely as opportunities for great photos, rather than real human beings with families and stories of their own. Sydney-based Portrait Equality proposes a way to change that. By loaning out Polaroid-like instant cameras with film free of charge, the not-for-profit offers travelers a way of giving back by providing those in poorer nations with family portraits.
"The goal is to give photos, not just taken them, and to perhaps give a villager their first family photo," Creative Director Tasmin Brown said. "Travelers also take their own portraits and landscapes in the communities and share them along with their stories on our blog. Annually, we host an exhibition showcasing the best images from our photographers during the year."
At the nexus of travel, art and do-goodery, Portrait Equality offers a simple way to add another dimension to your travels.
Together For Good
You don't have to go too far off the beaten track to spread international goodwill. Cruisers, too, can make a difference in the lives of those they meet on their voyage with organizations like Together for Good.
"The Together for Good website provides detailed information on over 90 opportunities to give back with in-kind donations of supplies or services in Central America, Mexico and the Caribbean," founder Nancy Schretter said. "Our goal is to put travelers in touch with local community organizations that need in-kind help. As a purely voluntary informational group, we do not set up shore excursions and there are no costs associated with our efforts."
Schretter noted that anyone thinking to give back on a cruise vacation should start making port plans early (about three weeks in advance), determine the ship schedule (and time in each port), make sure to factor in transportation, and find out what's most needed in each destination. "Several cruise lines and organizations offer voluntourism-oriented shore excursions, [but] if you'd like to combine giving back with other activities in port or set up your own independent tour, take a look at the Together for Good website and other online sites to get ideas."
Pack For A Purpose
Raleigh, N.C.-based Pack for a Purpose has a simple mission of inspiring global travelers to donate much-needed supplies to the communities they plan to visit. "Leaving one pair of shoes at home lets you bring 150 pencils or four solar calculators," founder Rebecca Rothney explained. "Five pounds equals a stethoscope, a blood pressure cuff and 500 Band-Aids, five deflated soccer balls with an inflation device, or 400 pencils. Five pounds can make a big impact to a community."
By partnering with lodging and tour companies in more than 45 countries, the nonprofit has assisted travelers in donating more than 20,000 pounds of supplies to schools, clinics and orphanages since its inception in 2009. Check the online lists of requested items at the Pack for a Purpose website and see if you'll be traveling anywhere near one of the organization's more than 320 collection points to help out.
SEE The WILD
Here's a new term for you: conservation travel. For an understanding of how it works, one need only to look at its pioneer, SEE Turtles, which has raised more than $400,000 in support for turtle conservation and nearby communities since 2008 by educating thousands of volunteer tourists. The budding organization recently expanded from its turtles-only focus to include the greater animal kingdom with SEE the WILD.
"SEEtheWILD.org is a site where travelers can find opportunities to see wild animals in their natural habitat in ways that benefit the animals and local communities," director and co-founder Brad Nahill explained. "Every trip booked through our site generates a donation of 5 percent of the trip cost to a local wildlife organization in the destination, as well as providing educational opportunities, economic benefits to local communities, and in many cases involving volunteer work as well."
All tour operators and nonprofits on the SEE the Wild website go through an intensive application process to ensure that they're socially and environmentally responsible. If studying jaguar populations in Costa Rica or dipping your toes into shark research along the Belize Barrier Reef sound like vacations of a lifetime, this is the website for you.
© Copyright IBTimes 2022. All rights reserved.
FOLLOW MORE IBT NEWS ON THE BELOW CHANNELS