Tom Tancredo Endorses Rick Santorum: Who Is Tancredo?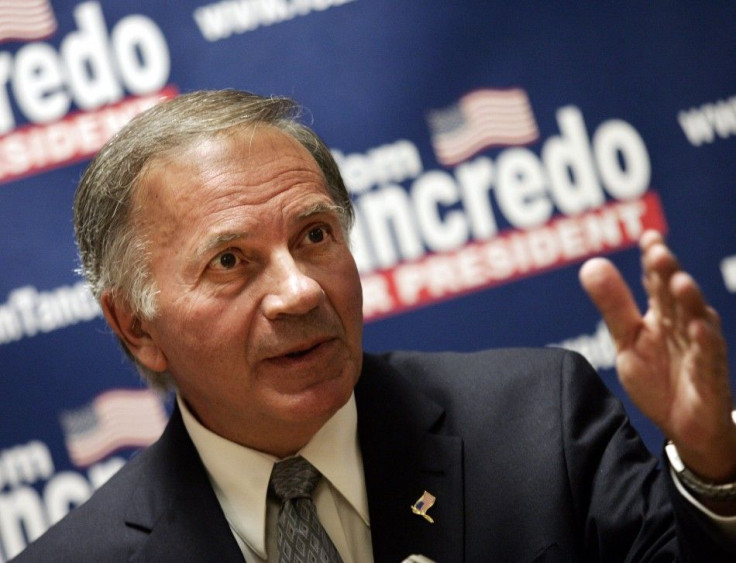 Tom Tancredo, a former Colorado congressman and 2008 presidential candidate, endorsed Rick Santorum for the Republican presidential nomination on Wednesday, giving a small boost to Santorum's long-shot campaign after he finished a distant third in the Florida primary.
Tancredo is conservative on most issues, from abortion and same-sex marriage to fiscal policy, but he is best known for his harsh rhetoric on illegal immigration and on Islam -- or, to use a phrase he often uses, Islamo-fascism.
Among other things, he has called for a ban on dual citizenship, the elimination of birthright citizenship from the 14th Amendment, the elimination of H-1B visas for temporary workers, a requirement that all immigrants formally disavow Sharia law, and the impeachment of President Barack Obama for failing to support Arizona's controversial immigration law. He also lambasted the Denver Public Library for its proposal to add more Spanish-language books and programs, calling such programs linguistic ghettos.
Here is a sampling of Tancredo's quotes on immigration, Islam and President Obama:
For the first time in American history, we have a man in the White House who consciously and brazenly disregards his oath of office to protect and defend the Constitution. That's why I say the greatest threat to our Constitution, our safety and our liberties, is internal. Our president is an enemy of our Constitution, and, as such, he is a danger to our safety, our security and our personal freedoms. (Washington Times op-ed, July 2010)
Mr. Obama's most egregious and brazen betrayal of our Constitution was his statement to Sen. Jon Kyl, Arizona Republican, that the administration will not enforce security on our southern border because that would remove Republicans' desire to negotiate a 'comprehensive' immigration bill. That is, to put it plainly, a decision that by any reasonable standard constitutes an impeachable offense against the Constitution. For partisan political advantage, he is willfully disregarding his obligation under Article IV, Section 4 of the Constitution to protect states from foreign invasion. (Washington Times op-ed, July 2010)
The radical multiculturalism we have witnessed over the past 40 years in America -- I call it a cult of multiculturalism. It has, I think, been successful in destroying the ties that hold us together as Americans. (Council on Foreign Relations interview, July 2006)
We are in a clash of civilizations. I believe that is true. In order for us to be successful in this clash of civilizations, we need to know first of all who it is exactly that we are at war with. I believe we are fighting Islamo-fascism, and it's good to know who you are fighting, what motivates them. (Council on Foreign Relations interview, July 2006)
We are facing a situation where if we don't control immigration, legal and illegal, we will eventually reach the point where it won't be what kind of a nation we are, balkanized or united -- we will actually have to face the fact that we are no longer a nation at all. That is the honest to God eventual outcome of this kind of massive immigration combined with the cult of multiculturalism that permeates our society. (Right Wing News interview, July 2003)
I believe that what we are fighting here is not just a small group of people who have hijacked a religion, but it is a civilization bent on destroying ours. (Right Wing News interview, July 2003)
People ask me, 'Well, of the Islamic community, how many would you say are really terrorists?' I say, 'There are relatively few, less than 10 percent of the Muslim population that you could categorize as terrorists.' [But] now, how many people in their heart of hearts in that community want to see the demise of this country? How many would cheer, not out loud maybe, but in their heart, when things like 9/11 occur? And I'll tell you, it's a majority among them. (Right Wing News interview, July 2003)
© Copyright IBTimes 2023. All rights reserved.
FOLLOW MORE IBT NEWS ON THE BELOW CHANNELS