Tootsie Roll Industries Joins Candy-Makers Concerned About Ebola Outbreak's Effect On West African Cocoa Production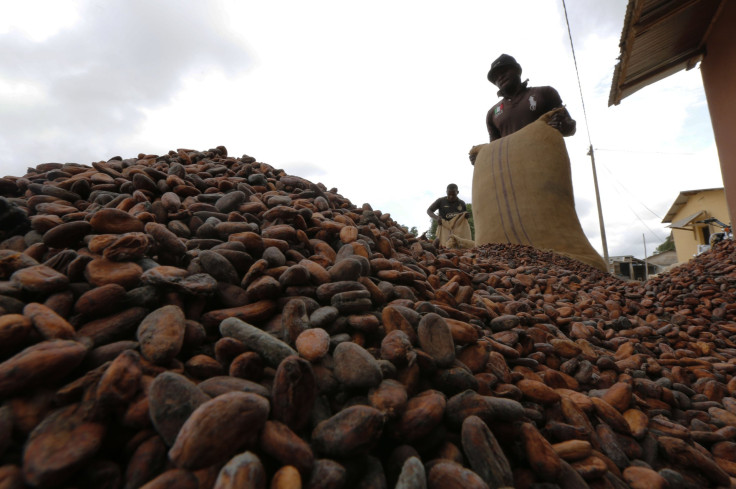 Tootsie Roll Industries Inc., the maker of those iconic chewy chocolates, is the latest candy company to raise concerns about the Ebola virus' impact on cocoa production. The Chicago-based confectioner gets some of its cocoa supplies from West Africa, where producers could see output decline due to the outbreak.
Ebola has so far infected more than 13,200 people and caused nearly 5,000 deaths.
Tootsie Roll pointed to the "market risks associated with the Ebola epidemic and potential adverse effects on cocoa … producing countries in West Africa," according to its third-quarter earnings report. Cocoa is one of the key ingredients in Tootsie Roll's namesake candy along with its Andes chocolates, Junior Mints and Junior Caramels.
"We always put out whatever possible risk there could be," Ellen Gordon, Tootsie Roll's president and chief operating officer, said by phone Friday about the report. Still, she said that Tootsie Roll isn't worried about a near-term supply shortage or price shock. The company buys its raw materials well in advance of its needs and procures cocoa from multiple regions. "We don't see it as an immediate threat," she said.
About 60 percent of the world's cocoa comes from Ivory Coast and Ghana. Both countries have so far been spared from the Ebola outbreak raging in nearby Liberia, Sierra Leone and Guinea. But travel restrictions in the healthier countries have shut out some temporary cocoa workers, and fears about catching the virus have kept other bean pickers at home. That has dampened production outlooks for the 2014-2015 season, commodities experts said in previous interviews.
Last month, major cocoa-buying companies such as Nestlé SA, Mondelez International Inc. and Starbucks Corporations announced a $700,000 donation to combat Ebola in West Africa -- a philanthropic venture but one aimed at self-preservation.
Nestlé has said it is on "high alert" about the threat to cocoa and warned Ebola would have a "major impact" on cocoa production should it reach Ghana and Ivory Coast, Paul Bulcke, the Swiss company's chief executive, told Bloomberg Television in late October.
Nestlé forecast a challenging fourth quarter, in part because of production impacts but also due to rising commodity prices. Cocoa prices are up around 16 percent since the start of the year over concerns that Ebola could spread to more countries.
Chocolate giant Hershey said it is in close contact with its West African cocoa suppliers over Ebola and its potential effect on production, CBS MoneyWatch reported earlier. Jeff Beckman, a company spokesman, said that operations at Hersey's cocoa suppliers are continuing uninterrupted.
Tootsie Roll has similarly not felt any impacts from the outbreak, according to Gordon. "We're hopeful like everyone that the Ebola virus will be contained and eliminated and the risks will become even less," she said.
© Copyright IBTimes 2023. All rights reserved.