Top 3 Best Freelancer Platforms In 2021
This article uses affiliate links, which means if you purchase products through these links, we may earn a commission. Click here to see our
T&C
. For licensing please click
here
.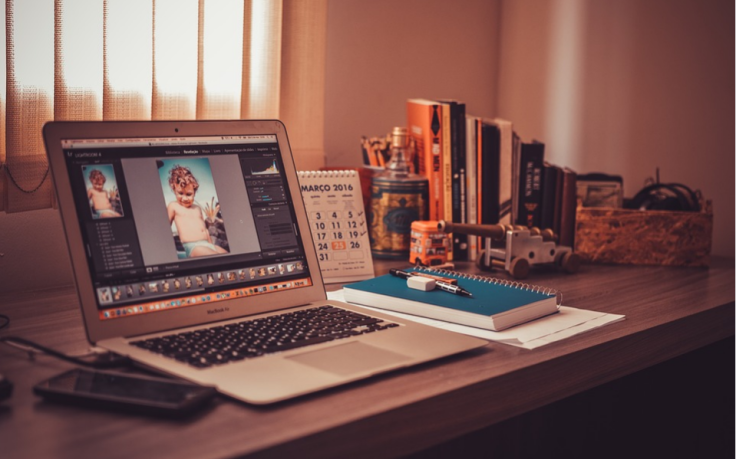 Freelance work has seen a boom in recent years. In fact, more and more Americans are seeing freelancing as a long-term career path.
A study by Upwork and Freelancers Union found that 35% of the U.S. workforce worked freelance at some point in 2019, and 50% find it to be a long-term career choice. The share of full-time freelancers have also grown from 17% in 2014 to 28% in 2019.
While freelancers enjoy the freedom of choosing the kind of work they want to do at their own convenience, there are still drawbacks that come with being your own boss. A healthy savings account, having no retirement savings and the risk of being paid unfairly are some of the concerns, with the lack of job stability being the top worry.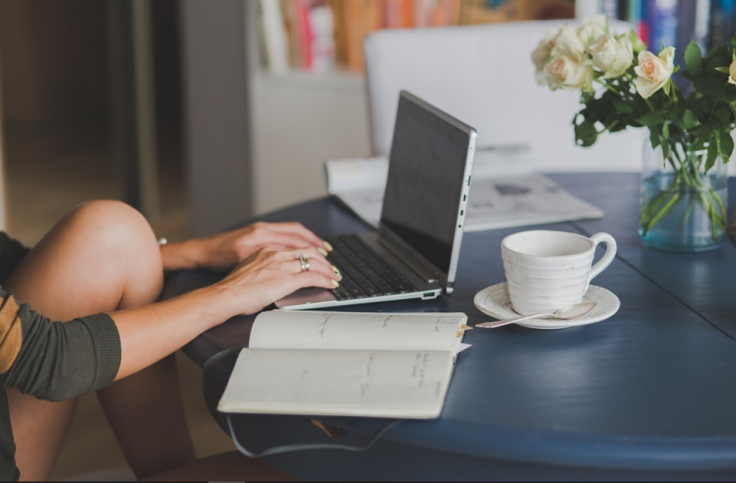 Because freelancers take up projects as they come, there's no certainty to the money they make, and scraping up work is a scary tale that's all-too-common. Thankfully, it doesn't have to be this way. With the rise of the digital age, there are now online platforms that focus on helping freelancers connect with more clients and secure a consistent stream of work.
Whether you're a full-time freelancer or just looking to earn some on the side, here are the three best platforms that help make finding freelance jobs a breeze: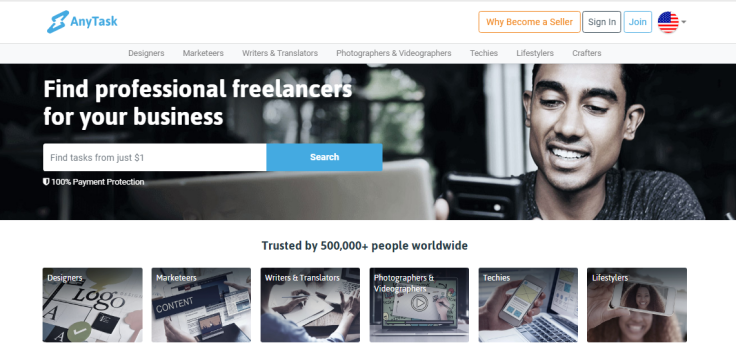 First on the list is AnyTask, a digital service market place that's created by the same team behind the cryptocurrency Electroneum.
Made with the aim to provide a fairer marketplace for both buyers and sellers of services from all over the world, one of AnyTask's best features is that it offers zero seller fees. Unlike other platforms that have steep contractor fees, forcing freelancers to also hike their rates, AnyTask doesn't take a cut from any payment made to freelancers (sellers). This allows services to be offered at as low as $1.
Officially launched back in March, AnyTask has since steadily gained users offering their services on the platform. This includes everyone -- from designers, marketers, writers, translators and photographers, to tech experts, lifestyle experts and much more.
AnyTask has a worldwide community of clients (buyers), while also offering freelancers payment protection, selling without a bank account, zero fees, 24/7 support and quick processing of payments. It is also powered by the Electroneum token, which you can either spend in any location that accepts it, or exchange it into your local currency.
This makes AnyTask one of the best platforms for freelancers today, all despite being relatively new to the game.

Easily one of, if not the biggest marketplace for online services today, Fiverr is a two-way platform where people can either apply for freelance work or hire freelancers from a vast pool of high-quality professionals. With a current database of more than 3 million gigs, the focus of the platform is to give users the opportunity to both hire and offer all sorts of digital services.
Originally launched back in 2010, the platform was called Fiverr because each gig cost $5 -- a price limit that was later dropped in 2014. This decision pushed the quality and quantity of gigs dramatically, and now you can find pretty much any digital service that you'll ever need on the site.
Serving freelancers for a decade now, Fiverr works just like any other marketplace, acting as a middleman between a seller offering services and a buyer inquiring about them. Payments to freelancers are sent within two weeks (faster if you are a trusted member), with Fiverr withholding 20% of every transaction.
One of the best things about Fiverr is it puts safety and security first. As a Level 1 PCI-DSS service provider, the platform makes sure all your billing and personal information is secured. All transactions are also properly recorded; and for clients, asking for refunds if your requirements aren't met is quick and easy. A rating system is also implemented in the platform, and those that have higher ratings are more likely to get a constant stream of clients.
Aside from professional work -- digital marketing, graphics & design, writing & translation, video & animation, music & audio, programming, tech, business, lifestyle and more -- it's also a haven for silly and creative ways to earn cash. You can be paid to perform a puppet show, pretend to be someone's partner on Facebook, or even prank call people.
3. Upwork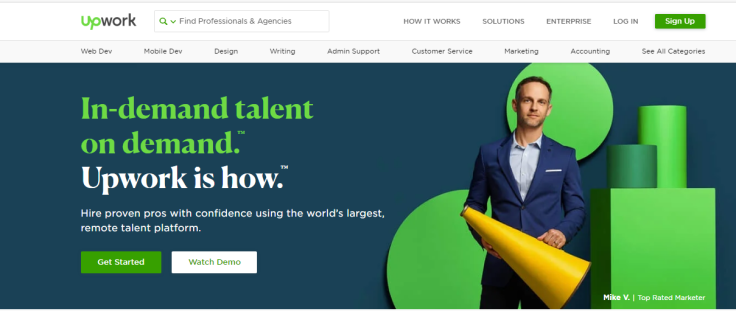 Formerly called Elance-oDesk, Upwork was rebranded in 2015 and has been connecting millions of enterprises and freelance workers.
While not as old as Fiverr, Upwork is also easily one of the biggest freelance platforms today, hosting over 12 million freelancers and agencies across thousands of skills across over 70 categories. And while it's similar to Fiverr and AnyTask in that it connects freelancers with clients, Upwork differentiates itself by providing two types of membership plans: Basic and Plus.
Basic is free, but you have to pay $0.15 to "connect" with each client. If someone reaches out to you because of your strong profile, then there's no need to connect. The Plus plan, on the other hand ($14.99/ month), gives you 70 connects per month, an option to keep your earnings confidential, visibility into the price that competitors have bid for a potential job, and the ability to customize your URL. This gives you an edge over other freelancers.
As for payment, you can get paid hourly or at a fixed rate. Much like Fiverr, Upwork also gets a cut from users' earnings, and the fees vary depending on the total earnings -- from 5% to 20%. Payments can be transferred via wire, through PayPal or direct deposit.
And because Upwork is also one of the more famous freelance platforms, there's no shortage of freelancers here that offer all sorts of services. While it takes the biggest cut out of all these three platforms, it still boasts a reliable hiring network, and is a great way to make strong professional connections and build a very attractive work portfolio.
FOLLOW MORE IBT NEWS ON THE BELOW CHANNELS