Top 7 Solar Energy Projects Of 2013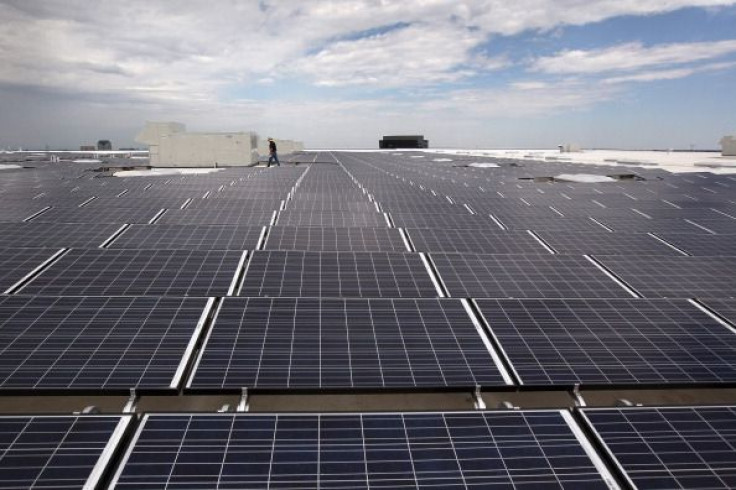 It's been an exciting year for solar power as the renewable-energy source has become popular with countries and companies as an alternative to fossil fuels.
Here's a list of the top solar projects of 2013:
Solar Energy in California Just Makes Sense
In November, the U.S. Department of Energy announced that one of the world's largest and most technologically advanced solar photovoltaic power plants became commercially operational.
The 250-megawatt California Valley Solar Ranch features the ability to shift positions of panels wirelessly to track weather and optimize solar input to collect as much of the sun's energy as possible.
Based in San Luis Obispo County, the site was built by NRG Energy Inc. (NYSE:NRG) and SunPower Corporation (NASDAQ:SPWR). The project created hundreds of jobs and put an estimated $315 million into the local economy. The plant now powers 42,000 homes.
In 2011 the DOE guaranteed a $1.2 billion loan to support the construction of the Valley Solar Ranch plant. The loan guarantee is part of a wider DOE program to help finance large-scale projects.
The facility is the first utility-scale solar energy project in the U.S. to use wireless tracking monitors and control systems to help improve annual output by about 25 percent, compared to fixed installations of panels. The project will also avoid 279,000 metric tons of carbon dioxide annually, the equivalent to the emissions of 60,000 vehicles, the DOE said.
Report On U.S. Solar Power Generation
Businesses, nonprofits and government organizations installed more than 1,000 megawatts of new solar panels this year. As of mid-2013, the total commercial deployment was 3,380 megawatts for 32,800 facilities across the U.S., increasing more than 40 percent over the previous year, according to the Solar Energy Industry Association (SEIA) released in October.
Here are the top 25 companies that use solar energy to power their facilities.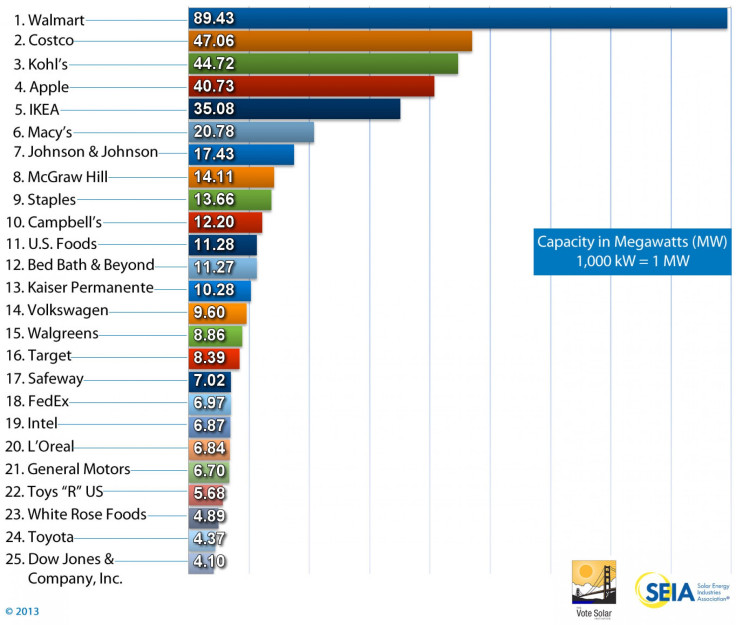 Even Cuba Is Turning To Solar
This past spring, Cuba opened its first solar farm with 14,000 panels that doubled the country's capacity to harvest energy from the sun.
The project is just one of seven farms in the works as leaders are being forced to consider renewables amid failed attempts at drilling for oil off its coast. Cuba relies heavily on oil imports.
The park is located 190 miles east of Havana in the central province of Cienfuegos.
Prior to the addition of the solar farm to Cuba's power grid, there were already about 9,000 panels in place in Cuba, only for small, isolated usage such as powering rural villages, schools and hospitals.
So far the solar farm generates enough electricity to power 780 homes, and it will hit a peak capacity of 2.6 megawatts when the final panels are in place in September.
President Raul Castro issued a decree in December creating seven working groups to set a 15-year plan to develop alternative energy, including solar, wind and biomass.
IKEA's Home Furniture And Now Solar Panel Selections
Besides its signature flat-pack furniture and storied meatballs, Swedish home-furnishings retailer IKEA will begin offering solar panels in its 17 stores in the U.K. sometime next spring, according to a report released in September in pvmagazine.com.
"We know that our customers want to live more sustainably and we hope working with Hanergy [Hanergy Solar Group Ltd. (HKG:0566), based in China] to make solar panels affordable and easily available helps them do just that," Joanna Yarrow, IKEA'S head of sustainability in the U.K. and Ireland, said.
The minimum package of 18 panels, made of thin-film photovoltaic material, will be priced at about $11,000. IKEA said the investment for homeowners will pay off and will likely breakeven within seven years.
IKEA has been looking to shift to renewable energy for its stores by 2020. It plans to invest billions of dollars in solar- and wind-power generation to cover 70 percent of its energy use by 2015. By 2020, it hopes to produce more energy than it consumes.
"We believe that sustainability should not be a luxury good. It should be affordable for everyone," Steve Howard, chief sustainability officer of IKEA, said. "With over 770 million visitors to our stores, we are excited by the opportunity to help our customers fulfill their dreams at home with beautiful products that help them save money on their household bills by reducing energy and water use, as well as reducing waste."
IKEA has around 300 stores in 41 countries. The company ran a successful pilot project in one of its store locations in Essex, England, earlier this year and is now expanding the program large-scale to all of its 17 locations in the U.K.
India Solar Power Might Lead World
In early December, the World Bank said India was on the brink of becoming a global solar power. Under the government's Jawaharlal Nehru National Solar Mission Phase-1 (JNNSM), which was initiated in January 2010 to promote sustainable growth, broadly expand solar power, and deal with the effects of climate change, India's installed capacity of solar power has already jumped from about 30 megawatts to more than 2,000 MW.
The World Bank noted that JNNSM has also helped bring down the cost of solar power to competitive levels -- to about $0.12 per kilowatt-hour for solar photovoltaic, and to $0.21 per kWh for concentrated solar power, thereby making India one of the world's lowest-cost destinations for grid-connected solar power.
But the World Bank cautioned that India faces some challenges in meeting its stated target of adding 20,000 MW of solar capacity by 2022, noting that New Delhi "needs to address the key barriers and constraints that could come in the way of scaling up the solar program."
Still, the Indian government said it will construct 60 "solar cities" across the vast country. The minister of new and renewable energy, Farooq Abdullah, said approval in principle has been reached with 55 cities, of which 45 have already been sanctioned. "Out of these 45 cities, the master plans have been finalized for 36 cities," Abdullah said.
Japan's Out-Of-This-World Solar Power Idea
In late November Shimizu Corporation (TYO:1803), a Japanese construction company, has proposed to tackle Japan's -- and possibly the entire planet's -- energy problems by setting up a giant belt of solar panels around the moon's equator.
Tokyo-based Shimizu said its "lunar solar power generation concept" would pave the way for a "virtually inexhaustible, nonpolluting" source of energy, adding that work on the belt could be started as early as 2035 if it receives adequate funding, although the company didn't provide details about the cost of such a venture.
Because the lunar equator receives a steady amount of solar energy, Shimizu has proposed that sunlight can be converted into electricity using solar cells at a power-generation facility that would be built at the lunar equator. The electricity can then be transmitted through cables to the lunar side facing the Earth, before they are converted into microwave and laser power for transmission to the Earth, according to details available about the project on the corporation's website.
Shimizu said its mega-scale solar power belt, which could be as wide as 400 kilometers (248 miles), would eliminate inefficiencies due to bad weather experienced by solar power technology on Earth, and would serve as a continuous source of clean energy year-round.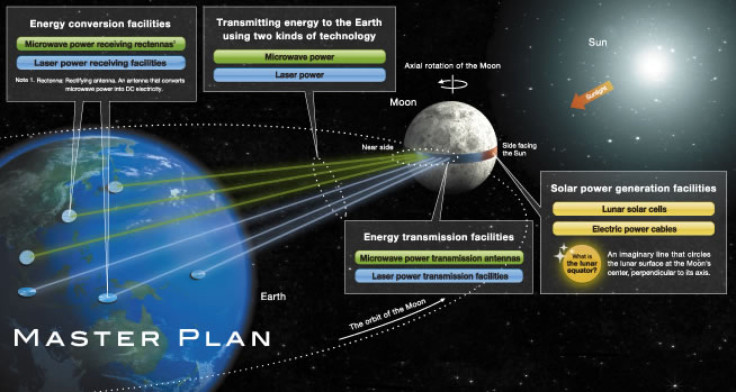 Japan Reaches Solar Power Milestone
In November Japan opened its biggest solar plant, which will produce enough electricity to power about 22,000 homes.
Japan's Kyocera Corp. built the 70-megawatt Kagoshima Nanatsujima Mega Solar Plant in the country's southwest region. The country is looking to diversify its energy mix by developing its renewable-energy sector, and it's pushing solar by giving incentives to homeowners and businesses that use it. Previously, Japan's energy policy favored nuclear power.
To date, Japan is one of only five countries to have achieved 10-gigawatts of cumulative solar capacity, according to recent research released by NPD Solarbuzz. The four other countries are Germany, Italy, China and the U.S.
According to an independent equity broker and financial services group, Japan's solar energy will increase to 19-gigawatts by 2016. One gigawatt of solar power is enough to power 139,000 homes, according to the Solar Energy Industries Association.
Thailand Looking To Invest In Solar Power
In early November it was reported that Thai energy companies were going to invest up to $2 billion in the solar energy industry over the next five years. The Thai government gives incentives for solar projects to provide power for Southeast Asia's second-largest economy. The government is increasingly buying electricity from solar power producers at a premium now that fossil fuel prices have gone up. The government plans to triple its solar power capacity to 3,000 MW by 2021, when renewable energy will be expected to account for a quarter of the country's energy mix, up from 8 percent now.
FOR FREE to continue reading
✔️ Unlock the full content of International Business Times UK for free
offer available for a limited time only
✔️ Easily manage your Newsletters subscriptions and save your favourite articles
✔️ No payment method required
Already have an account?
Log in
© Copyright IBTimes 2023. All rights reserved.