Torrentz, Largest Torrent Search Engine, Shuts Down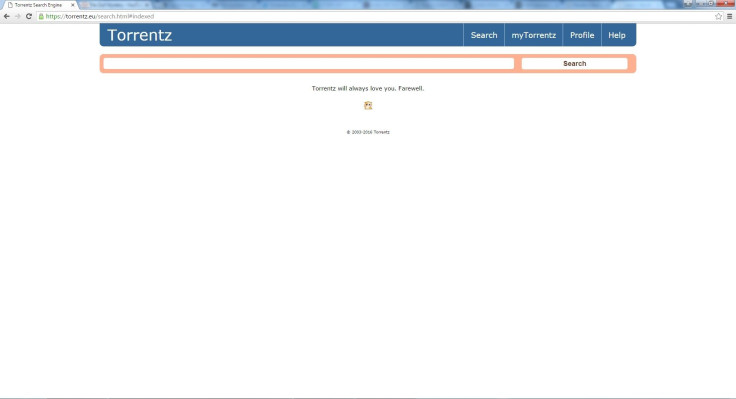 Two weeks after U.S. authorities seized and shut down Kickass Torrents (KAT), the world's largest website for sharing torrents, the peer-to-peer sharing community was dealt another blow this week. Torrentz.eu, the largest search engine for torrents, shut down without any notice or explanation.
Unlike KAT, its domain was not seized and is still functional. However, the site's main search feature — it was like a Google dedicated to torrent websites — does not work now and clicking on the search box, which is still present, opens a new window with ads for businesses related to the Alibaba Group.
Enigmatically, a message under the search box says: "Torrentz was a free, fast and powerful meta-search engine combining results from dozens of search engines" and the word "dozens" contains a hyperlink. Clicking on it leads to another page, which is exactly the same as the previous one, except the words, which say: "Torrentz will always love you. Farewell." All the proxy websites for the search engine are also down.
Since the website is still up and running, albeit without its main functionality, it can be assumed that the development was not the result of a legal action.
Torrents are often associated with illegal file sharing, since the technology allows users to share content on their own computers with others using the same platform. Websites like KAT did not host any illegal content themselves, but let users download torrents, which in turn point to the location of files on the computers of users.
The technology behind torrents allows content to be downloaded from multiple peers simultaneously, so long as they have a copy of the same file. And the files being so shared are not necessarily illegal; many users share personal documents and files over torrent networks instead of relying on other means.
Torrentz did not even host torrents but was merely an index of websites that did, and according to Wired, it has complied with law enforcement in the past by removing links to pirated content.
Poland-based Torrentz began in 2003, a few weeks before the Pirate Bay came online, and it used to host torrent files for some time before it transitioned to a torrent search engine.
© Copyright IBTimes 2022. All rights reserved.
FOLLOW MORE IBT NEWS ON THE BELOW CHANNELS