Trade Between Chile And China Grew 22 Percent In 7 Years As China Became Chile's Biggest Trading Partner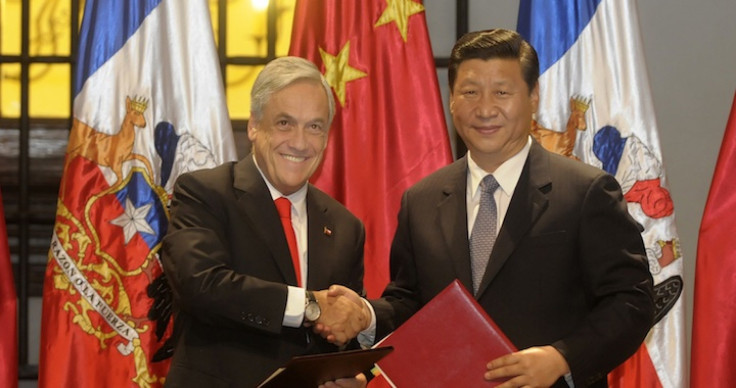 Trade between Chile and China grew 22 percent since the two countries signed a Free Trade Agreement (FTA) in 2005. According to the Chilean Department of Studies of International Economic Relations, or Direcon, as it's known in Spanish, in 2012 Chile-China trading increased 4 percent compared to the previous year.
China received more Chilean exports than any other nation for the first time in 2007, when it surpassed the United States for that distinction. That year, exports to China represented 15.5 percent of Chile's exports, whereas the U.S. accounted for only 14.7 percent of exports. In 2012, Chile's exports to China reached $18 billion, compared to its exports to the U.S., which totaled $9.4 billion.
Before then, the U.S. had been Chile's biggest export market, especially after the Free Trade Agreement between the two countries came into force in 2004. By 2009, bilateral trade between the two countries increased 141 percent to $15.4 billion.
But as China's FTA agreement came into force in 2006 -- the first of its kind with a Latin American country -- China took a particular interest in Chile's copper industry, the world's largest largest. As a result, 80 percent of the country's exported copper in 2012 went to China, totaling $14 billion.
Non-mining produce, like fruit, grew 83 percent in exports to China between 2005 and 2012.
The U.S.' biggest imported item from Chile was also copper, but the U.S. imported much less of it than China: $3.2 billion in 2012. Other goods imported from Chile included fruits ($1.4 billion), fish ($988 million) and wood ($562 million).
"Since we signed the FTA, trade between China and Chile has not stopped growing -- 10 years ago, Chile exported less than $1 billion [worth of goods and services] to China. Today, we export more than $18 billion," said Mathias Francke, director of Direcon.
Nevertheless, the United States is still the nation from which Chile imports the most goods and services. In the last 10 years, U.S. exports to Chile grew 600 percent, from $2.7 billion in 2003 to $18.9 billion last year. In that decade, Chile grew from being the 35th largest market for U.S. exports to the 19th largest. The top U.S. exported goods to Chile in 2012 were oil, planes and electrical machinery.
China is Chile's second biggest partner for imports. China imported $14.4 billion worth of manufactured goods, consisting mostly of mobile technology parts for laptops and cell phones. Imports from China increased 13 percent from 2011, and they grew by 24 percent compared to 2005.
© Copyright IBTimes 2023. All rights reserved.