Trans-Pacific Partnership: Japan, US Still Gridlocked Over Auto And Agricultural Exports, But China's Growing Influence Could Change That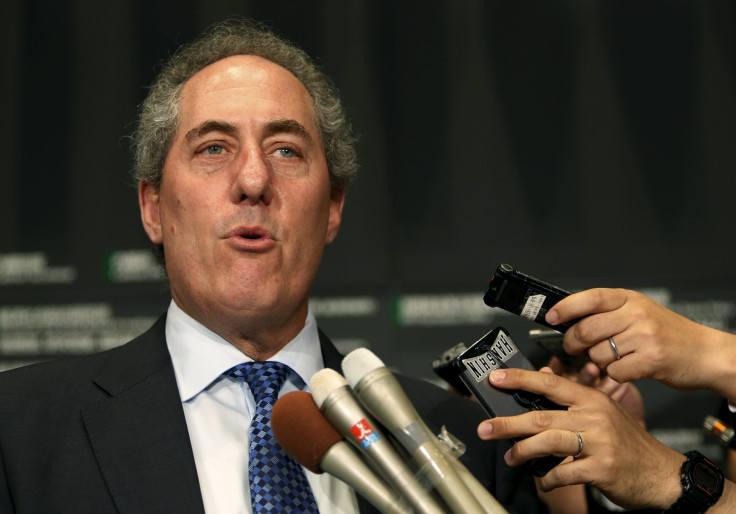 The U.S. and Japan have failed to reach an agreement over automotive and farm exports that would remove a significant barrier on the road toward creating the Trans-Pacific Partnership, the largest-ever multination free-trade treaty.
"Even though we have made substantial progress, there remain unresolved issues over agricultural products and auto trade," Japanese TPP Minister Akira Amari told reporters after talks ended in the early morning hours Tuesday in Tokyo. "We need to make more efforts to reach an agreement."
The U.S. wants greater access to Japan's highly protected markets for farm equipment, cars and certain agricultural products, including rice, beef, pork and dairy. Japan is hesitant to open markets it deems "sensitive" and wants the U.S. to lower tariffs on automotive parts.
Analysts say the two sides are still far apart on important issues, but China's recent success in courting international interest in the Beijing-based Asian Infrastructure Investment Bank and the country's efforts to form closer ties with its neighbors may compel the two counties to come to some agreement.
The U.S. and Japan remain undecided about joining the AIIB as founding members even as Germany, the U.K., Switzerland and 53 other countries have expressed interest. The AIIB would be a China-based alternative to the World Bank in Washington and the Asian Development Bank in the Philippines.
"The growing Chinese presence in the region has prompted Japan and the United States to speed up talks," Masayuki Kubota, chief strategist at Rakuten Securities in Tokyo, told Agence France-Presse. "Japan and the United States are feeling pressed to take the initiative before China crafts its own rules."
Japan agreed earlier this year to increase the quota on rice imports, which would give growers in U.S. Gulf states greater access to the country, but it's still holding its ground on other agricultural imports and farm equipment. U.S. Trade Representative Michael Froma's negotiating team stood their ground on eliminating automotive import tariffs for Japanese-made cars and auto parts.
On Thursday, lower-level negotiators from all 12 nations will participate in the next plenary TPP talks in southern Maryland. Talks have been ongoing since 2005.
The gridlock has been one of the major sticking points for forming a proposed Trans-Pacific Partnership that would cover 40 percent of global trade. The deal has broad support from business groups and their congressional allies, who say the agreement would create 700,000 jobs over a decade and compel members to improve their environmental and labor standards. The deal is strongly opposed by labor rights, food safety, generic drug and net neutrality advocates.
U.S. President Barack Obama would like the TPP to be his global trade legacy before he leaves office at the end of 2016, and he is pushing for fast-track authority that would give Congress only an up or down vote. Without it, lawmakers would likely pick apart and tinker with the proposed rules, potentially scuttling terms that the other 11 countries have set.
Last week, Senate Finance Committee Chair Orrin Hatch, R-Utah; Ways and Means Committee Chairman Paul Ryan, R-Wisc.; and Finance Committee Ranking Member Ron Wyden, D-Ore., introduced a bill that would give Obama fast-track trade authority.
The free-trade agreement has created odd alliances.
Ryan is a libertarian Republican who ran against Obama as Mitt Romney's vice presidential candidate in 2012, but he's aligned with the president on the trade pact. Meanwhile, though most Republican members of Congress seem to be on board, at least 20 oppose granting the president fast-track authority, which is likely necessary for an agreement of this size and scope. The deal has also brought together some liberals and conservatives who see a common cause in their views that free trade costs U.S. manufacturing jobs.
Left-leaning Democrats have rallied behind Massachusetts Sen. Elizabeth Warren in opposition to the TPP. Meanwhile, Secretary of State Hillary Clinton, who announced her presidential candidacy last week, will need to convince the Warren wing of her party either that she's flip-flopped on her past support for the TPP or that it's a good idea. But before any proposal makes it to Congress, a dozen nations need to work out the details. The differences between Japan and the United States will need to be sorted before any deal reaches Congress.
© Copyright IBTimes 2023. All rights reserved.