Hillary Clinton Trade Deal Flip-Flop? She Praised Trans-Pacific Partnership, Now Hedges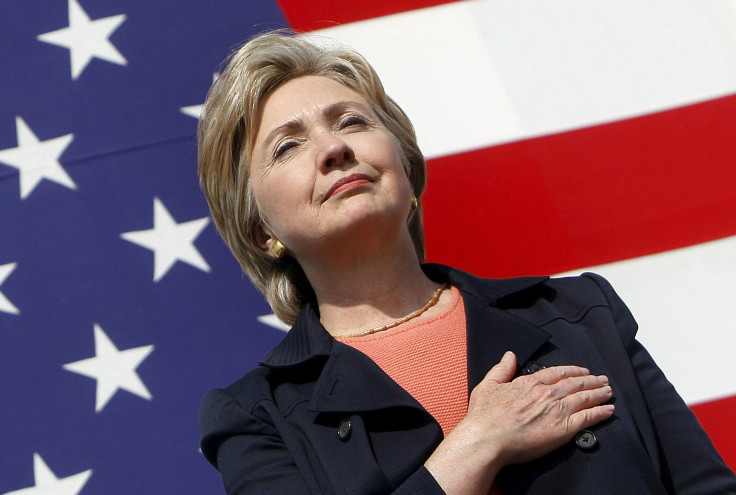 Hillary Clinton's campaign said Friday she is still deciding whether to support a controversial 12-nation trade deal known as the Trans-Pacific Partnership. Progressive groups opposed to the deal lauded that announcement. There's just one hitch: Clinton is already on record touting the agreement.
In November 2012, the then-secretary of state declared that "we need to keep upping our game both bilaterally and with partners across the region through agreements like the Trans-Pacific Partnership or TPP. ... This TPP sets the gold standard in trade agreements to open free, transparent, fair trade, the kind of environment that has the rule of law and a level playing field. And when negotiated, this agreement will cover 40 percent of the world's total trade and build in strong protections for workers and the environment."
Those comments contrast with a statement given to the New York Times on Friday by Clinton campaign spokesman Nick Merrill. With progressive lawmakers and activist groups saying the deal will kill domestic jobs and unduly empower corporations, Merrill suggested Clinton may not support the TPP she previously championed.
"Hillary Clinton believes that any new trade measure has to pass two tests," Merrill said. "First, it should put us in a position to protect American workers, raise wages and create more good jobs at home. Second, it must also strengthen our national security. We should be willing to walk away from any outcome that falls short of these tests. The goal is greater prosperity and security for American families, not trade for trade's sake."
Of the current debate over the TPP, Merrill said of Clinton: "She will be watching closely to see what is being done to crack down on currency manipulation, improve labor rights, protect the environment and health, promote transparency and open new opportunities for our small businesses to export overseas."
Clinton has a history of abruptly changing positions on trade policy. When running for president in 2008, she criticized the North American Free Trade Agreement, despite reports that she supported it while her husband was president. Clinton also pledged to oppose a proposed free trade agreement with Colombia. Only two years later, as secretary of state, she backed that deal while her family's foundation received money from a Colombian oil firm and its founder.
While in the Senate, Clinton supported free trade agreements with Chile, Singapore and Oman, all opposed by unions in the United States.
At the time, the AFL-CIO said, "The labor provisions of the Chile and Singapore FTAs will not protect the core rights of workers, and represent a big step backwards." The union federation also opposed the deal with Oman. Its president, John Sweeney, noted that "the State Department has identified Oman as a destination country for men and women who become victims of trafficking and forced labor."
Clinton's new comments on the TPP drew measured praise from Credo Action, one of the progressive groups urging Congress to block the deal. The group also pushed Clinton to oppose the reauthorization of so-called fast track authority that grants presidents more power to cement trade deals.
"We're glad that Secretary Clinton is voicing concerns about the Trans-Pacific Partnership," said Murshed Zaheed, deputy political director at Credo. "But to stop secret trade deals like the TPP, Secretary Clinton must speak out forcefully against Fast Track Trade Promotion Authority now while the debate is playing out in Congress."
Clinton has not declared her position on the fast track proposal, which is expected to be voted on in Congress in the coming days.
© Copyright IBTimes 2022. All rights reserved.
FOLLOW MORE IBT NEWS ON THE BELOW CHANNELS