Trevor Noah 'Daily Show': Black Comedians Debate Diversity On Late-Night TV, Jon Stewart Replacement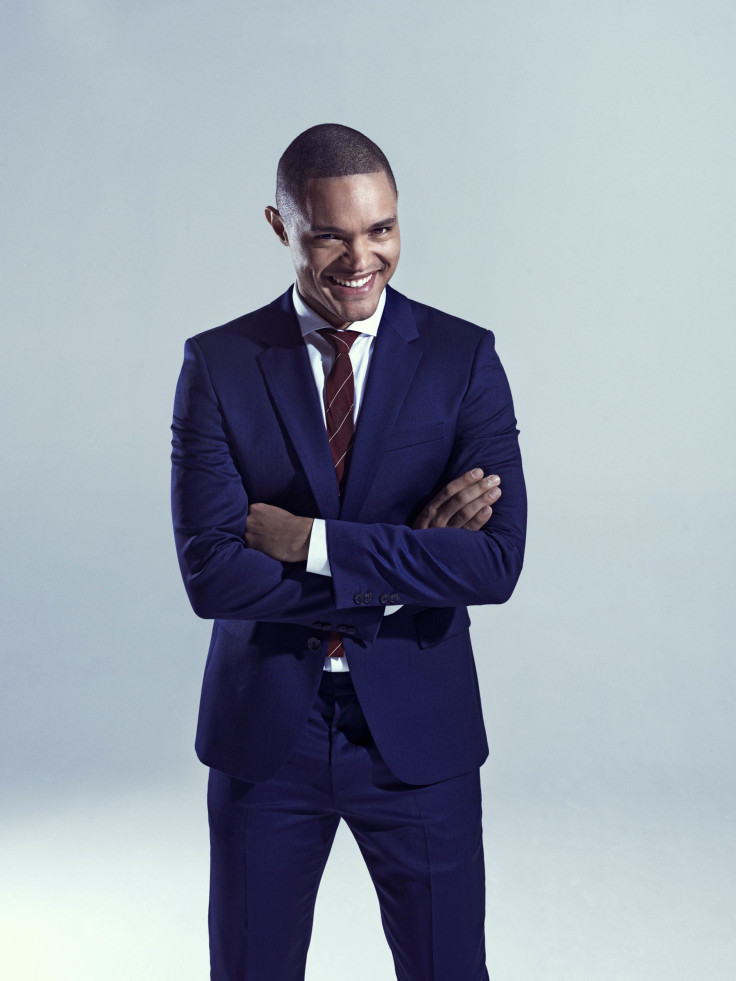 When Trevor Noah takes over for Jon Stewart as host of Comedy Central's "The Daily Show" later this year, he will add a pinch more diversity to the buffet of late-night TV choices. At a time when white males continue to dominate the media landscape, Comedy Central's embrace of Noah, and of former Daily Show "senior black correspondent" Larry Wilmore with the recently launched "Nightly Show," puts the cable network ahead of other broadcasters when it comes to showcasing entertainers that reflect the U.S.' shifting demographics.
But even as Noah, a 31-year-old biracial standup comic from South Africa, prepares to step into Stewart's role, late-night TV will remain a boys club, raising questions about whether TV's longstanding diversity problem can be addressed by simply sticking more faces of color in front of audiences.
"I would have liked to see a woman get the slot," African-American comedian and TV host Amanda Seales, 34, said in an phone interview. "I love the brothers, but there is more to diversity than putting a black guy in the post."
Noah was a trending topic on Twitter for much of Monday as entertainers reacted to the news. Veteran comedic actor and director Chris Rock tweeted a photo of Noah late Monday morning. "Thank you President Obama," Rock quipped in the tweet. "So excited by the choice of [Noah] to host The Daily Show," tweeted comedian Baratunde Thurston, best known for the satire book "How To Be Black." Comedian W. Kamau Bell, who will soon debut as host of "United Shades of America" on CNN, tweeted congratulations to Noah.
Others pointed to Noah's past standup routines, which skewered U.S. blacks, and questioned what role he would play representing African-Americans. "Argument that Trevor Noah's jokes abt black ppl is same as Chris Rock/Eddie Murphy jokes abt Africans is stupid cuz both are disrespectful," one African-American female writer said in a tweet Monday. And Noah's tweets about women and domestic abuse reportedly upset women's groups in South Africa.
Stewart's Long Run
Despite having appeared only three times as an on-air correspondent for "The Daily Show" before Monday, Noah will replace Stewart, whose run of 16 years turned the little-known cable show into a masterclass of political satire and comedy. Stewart, 52, announced he was leaving in February and almost immediately ignited a debate about whether his replacement should be one of the show's female correspondents, to break the late-night gender barrier.
Seales, a regular contributor to VH1's "Best Week Ever," expressed concern that Noah will lack the "Daily Show"-brand of American perspective on the news. "A big part of satire is also perspective. It's kind of like, 'I can talk about my mama, but you can't,'" she said, adding that she did not doubt Noah's skill or talent as a comedian.
The latest study of Hollywood diversity, released last month by the Ralph J. Bunche Center for African American Studies at the University of California, Los Angeles, revealed that there is an incentive to greater diversity in casting and behind-the-camera roles. Broadcast scripted shows with up 50 percent diversity in their cast scored the highest ratings in black and white households in 2012 and 2013, the Bunch Center report said. But minorities and women remain underrepresented on TV.
Supporters said Noah's experiences growing up the son of a black Bantu mother and a white Swiss father, whose union was considered illegal in apartheid-era South Africa, could add a missing and needed biracial voice to the landscape. "Give this guy a shot because he is what the world is becoming," said Dion Flynn, a 45-year-old biracial U.S. comedian who portrays President Barack Obama on NBC's "Tonight Show," which stars Jimmy Fallon. "When you're black and white, you are like what this whole planet is."
Union: 'We Are Thrilled'
SAG-AFTRA, a union representing movie and television actors and production crews, welcomed Comedy Central's announcement Monday. "While SAG-AFTRA doesn't advocate for the hiring of one person over another or any group over another, we are thrilled that our friends at 'The Daily Show' have chosen Trevor Noah to lead their next chapter," a union spokesperson said. "His unique perspective will serve an ever-expanding and diverse audience well and we look forward to his insightful contribution."
Jordan Black, a 44-year-old comedic actor, co-founded the improve group The Black Version, which has featured Comedy Central's "Key & Peele" stars Keegan-Michael Key and Jordan Peele, at the Groundlings comedic school in Los Angeles. In a phone interview Monday, he said he's seen diversity as a cyclical phenomenon during his 27 years in the entertainment industry.
"I've never seen [diversity] this high before," Black said, referring to primetime network shows such as ABC's "Scandal" and Fox's "Empire" that feature African-American actors as leads. "The real issue is that we need more people of color and women in the position of green-lighting material," he said. "Until then it will just be a trend."
© Copyright IBTimes 2023. All rights reserved.
FOLLOW MORE IBT NEWS ON THE BELOW CHANNELS