Trial Of Russian Opposition Leader Alexei Navalny For Embezzlement, Adjourned; Anti-Putin Camp Says Case 'Politically Motivated'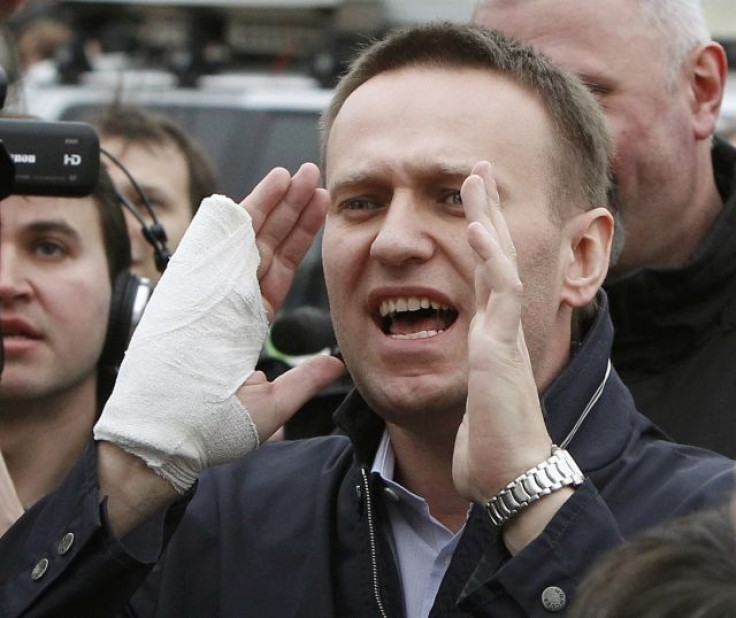 The trial of Alexei Navalny, a leading opposition figure in Russia, who led protests against President Vladimir Putin, was adjourned shortly after it began on Wednesday on charges of embezzlement.
Navalny is charged with heading a group that investigators say embezzled 16 million roubles ($500,000) worth of timber from a state-run company in central Russia's Kirov Region, some 500 miles from Moscow, in 2009, RIA Novosti news agency reported.
Navalny, a 36-year-old anti-corruption campaigner, and his supporters allege that the "falsified" case is in retaliation against his criticism of the Putin administration and exposés of alleged corruption among Russia's top officials.
In her opening remarks, Navalny's lawyer, Olga Mikhailova, asked the court to adjourn the trial for a month as her client was not given adequate time to read the case files.
Apparently, Mikhailova also contested against the court's refusal to submit financial documents that could prove what the prosecutors described as embezzlement was just a regular business deal, the Associated Press news agency reported.
Under Russian law, even a suspended sentence would leave Navalny unable to run for public office, the report added.
Navalny is the most high-profile opposition figure to be tried since Putin — who completed two successful presidential terms prior to becoming the prime minister during the presidential term of Dmitry Medvedev — took charge as president in May last year, while riot police in Moscow were suppressing protests against his third term after a controversial election victory in March the same year.
Since his re-election, legal action against opposition figures has been on the rise.
A spokesman for the Investigative Committee, an FBI-style body answerable only to the Russian president, denied last week that the case was politically motivated, the RIA Novosti report stated.
However, he admitted that Navalny's high-profile status had intensified the authorities' scrutiny.
According to investigators, Navalny, while working as an aide to Kirov governor, pressured Kirovles, the state-run timber company, to sell wood to his former political ally and Kirov businessman Pyotr Ofitserov's company, VLK, at below-market prices.
Navalny says he simply consulted Ofitserov as a lawyer and an acquaintance.
His former boss and Kirov Governor Nikita Belykh said neither the local administration nor Kirovles backs the charges against Navalny, which he has called "dubious."
Navalny could face up to 10 years in prison if convicted.
© Copyright IBTimes 2022. All rights reserved.
FOLLOW MORE IBT NEWS ON THE BELOW CHANNELS