Tropical Storm Karen May Become Hurricane By Friday: Gulf Coast In Projected Path; Warnings In Effect From Louisiana To Florida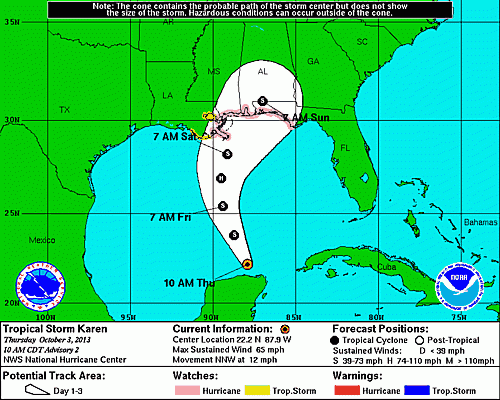 Hurricane watches are in effect from Louisiana to Florida and tropical storm watches are in place for portions of Louisiana as Tropical Storm Karen gathers strength off the coast of Mexico. The center of the storm is expected to make landfall Saturday, the National Hurricane Center announced late Thursday morning.
In its 11 a.m. EDT advisory for Tropical Storm Karen, the Miami-based NHC said the center of the storm was here, or about 65 miles northwest of Cabo Catoche, Mexico, and 485 miles south of the mouth of the Mississippi River. Karen is packing maximum sustained winds of 65 mph and is moving at a speed of 12 mph to the north-northwest.
The storm is expected to be around hurricane strength by Friday, according to the hurricane center.
The advisory included hurricane watches for parts of the Gulf Coast, from Grand Isle, La., to Indian Pass, Fla. Tropical storm watches were in effect for areas west of Grand Isle to Morgan City, La., as well as metropolitan New Orleans, Lake Maurepas and Lake Pontchartrain.
Hurricane watches, usually issued two days before tropical-storm-force winds are expected, means that hurricane conditions are possible in the watch area, according to the NHC. Those conditions "make outside preparations difficult or dangerous," the NHC said in its advisory.
Tropical storm watches are defined as possible tropical storm conditions within 48 hours in the designated area.
Residents affected by the watches should "monitor [reports] issued by your local national weather service forecast office," the NHC advised.
Tropical Storm Karen's path is expected to turn north from its current location; the storm is also forecast to decrease in forward speed within the next two days.
"On the forecast track the center of Karen is expected to approach the coast within the hurricane-watch area on Saturday," the NHC noted.
Heavy rain from Tropical Storm Karen is expected to hit parts of western Cuba and the northeastern Yucatan Peninsula "during the next day or so," according to the hurricane center.
The NHC's next update on Karen is expected to be released at 2 p.m. EDT.
© Copyright IBTimes 2023. All rights reserved.