Tropical Storm Nadine Expected To Become Hurricane By Tomorrow As Kristy Forms In Pacific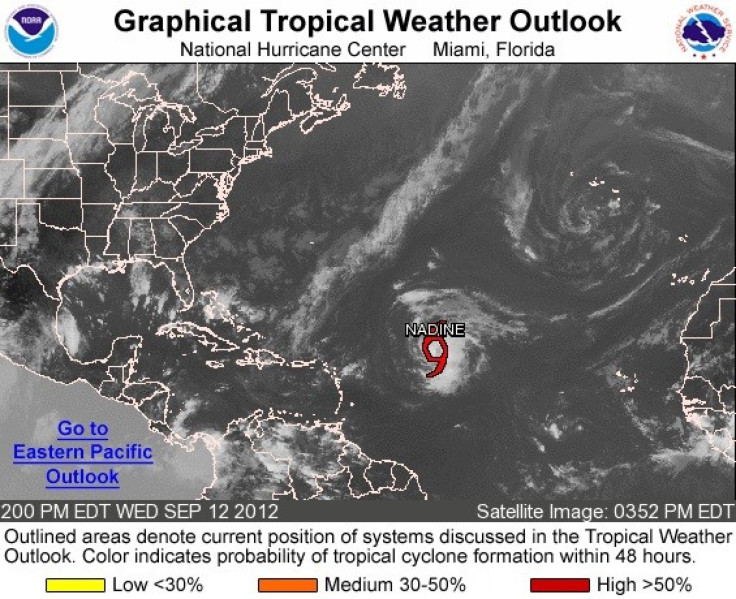 Tropical Storm Nadine is expected to become a hurricane later Wednesday night or early Thursday morning as it churns in the Atlantic, the National Weather Service says.
Nadine's center is here, about 875 miles east-northeast of the Lesser Antilles, with maximum sustained winds of 65 mph, the National Weather Service's National Hurricane Center reported in its 5 p.m. Wednesday update on the tropical storm.
"Nadine is expected to become a hurricane tonight or early Thursday," the update said.
For the time being, the tropical storm is not expected to cause any damage in the Caribbean. In a section of the update titled "hazards affecting land," the National Hurricane Center said there are "none."
In addition, "there are no coastal watches or warnings in effect" as a result of Tropical Storm Nadine, according to the NWS.
As Nadine gathers strength in the Caribbean, another storm, Tropical Storm Kristy, formed in the Pacific Ocean.
Tropical Storm Kristy is here, 170 miles south-southwest of Cabo Corrientes, Mexico, and 380 miles south-southeast of the southern tip of Baja California, according to the NWS.
While there are no tropical storm watches or warnings in effect from Kristy, the NWS advised "interests in southern Baja California" to "monitor the progress of Kristy."
As of 2 p.m. Wednesday, Kristy was moving northwest at 12 mph. Based on that movement, the storm is expected to be going away from Mexico's southwestern coast and toward the southern tip of Baja, Calif., within the next 48 hours.
"Any deviation to the north of the forecast track would require a tropical storm watch or warning for a portion of extreme southern Baja California," the NWS said.
Kristy is producing heavy rainfall on the southwestern coast of Mexico, although those showers should diminish Wednesday night and Thursday, the weather service said.
The NWS is expected to release an update on Kristy here at 8 p.m. and on Nadine here at 11 p.m.
© Copyright IBTimes 2023. All rights reserved.