Trump Graffiti Blasting The President Appears Around The World
Artists around the world picked up their spray paint to show their displeasure with President Donald Trump and his policies. Graffiti mocking the president and his rhetoric popped up in different countries.
Two large murals emerged on the controversial wall that runs through Bethlehem, Israel in the West Bank. One depicts Trump putting his hand on the wall with a thought bubble that reads "I'm going to build you a brother." The graffiti criticizes Trump's own contentious campaign promise to build a wall along the U.S.-Mexico border.
NEW: Trump Approval Ratings Declining Or Improving Amongst Republicans?
Trump has pointed to the Israeli wall as an aspiration of what the wall along the southern border of the U.S. could be.
Another piece shows Trump embracing one of the wall's watchtowers with hearts flowing out of the president's mouth. Both pieces were drawn by Australian artist Lushsux. Israel built the wall for protection from suicide bombers, but Palestinians feel as though the wall is a method of control and a land grab.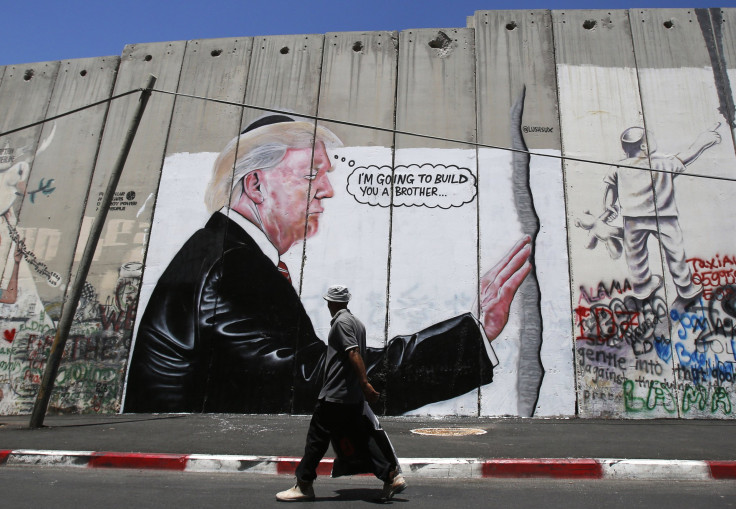 Earlier this year, several pieces of graffiti were drawn in Iraq that showed Trump with swastikas. It knocked the U.S. and the president for his anti-immigration stances. Trump passed a travel ban earlier this year barring refugees and travelers from six countries Muslim-majority countries. Critics called the ban anti-Muslim. Iraq was originally part of the ban but was removed in later iterations of the ban. The Supreme Court will now examine the constitutionality of the ban.
Trump depicted with swastikas or as Adolf Hitler is a popular motif for graffiti mocking the president and his stated "America First" ideology.
Protest art seen in Mexico City, Mexico, a country Trump has a tense relationship with, shows the leader with a swastika flag. The graffiti shows the eagle of the Mexican flag defecating on Trump's head and below him reads the title "low-class crazy racist."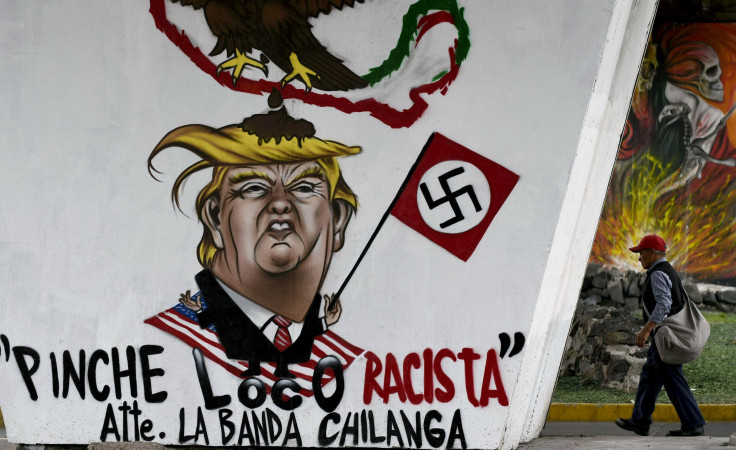 Trump's wall plans are one source of consternation between the two countries. Trump said that the wall he intends to build will stop drug smuggling and illegal immigration and has insisted that Mexico will pay for the wall. The Mexican government has said they will not pay for the wall. A recently leaked transcript of a call between Trump and Mexican president Enrique Peña Nieto showed Trump urging Mexico to stop critiquing his wall plans.
Trump also has had a history of saying disparaging things against Mexican people.
READ: Trump's Taken More Vacation Days To Date Than Obama During The Presidency
"When Mexico sends its people, they're not sending their best. ... They're sending people that have lots of problems, and they're bringing those problems with us. They're bringing drugs. They're bringing crime. They're rapists. And some, I assume, are good people," Trump famously said in his speech announcing his presidential bid.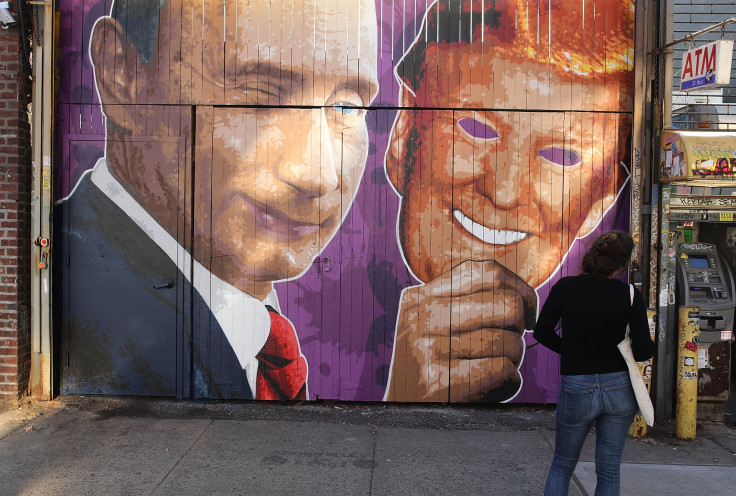 Another popular graffiti theme connects Trump and Russian President Vladimir Putin. Trump's candidacy and presidency have been dogged by rumors and then investigations into possible collusion between the Russian government and his campaign.
© Copyright IBTimes 2023. All rights reserved.