Kayleigh McEnany, Ex-CNN Commentator And Trump TV Anchor, Named RNC Spokesperson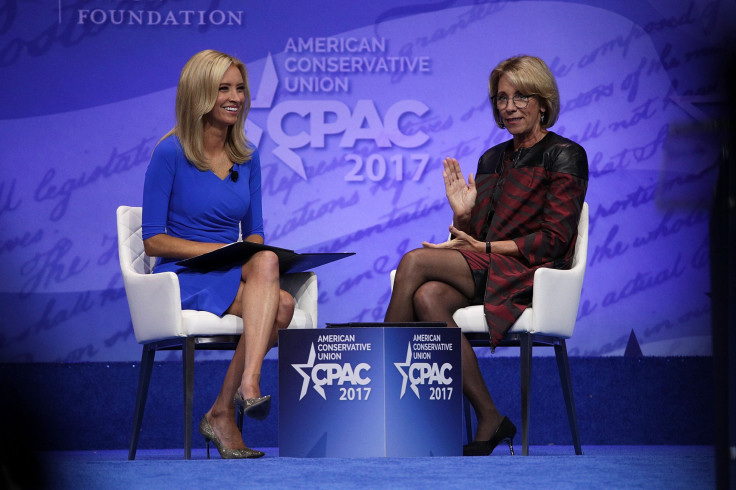 Kayleigh McEnany was hired Monday as the new spokesperson for the Republican National Committee. The announcement came just two days after McEnany announced she was leaving CNN.
"Kayleigh will be an integral part of our Party's ongoing commitment to promoting the Republican message to Americans across the country," RNC Chairwoman Ronna McDaniel said in an official statement by the GOP. "Her wealth of experience will be invaluable to the RNC as we continue to support President Trump and build on our majorities in Congress as we head into 2018."
Read: Sex Crimes At Walmart Stores: 2 Young Girls Touched Inappropriately In Florida
The former CNN commentator was also seen in a "Trump TV" video posted on President Donald Trump's official Facebook page Sunday that featured her as the host of a "news" segment speaking about the president's achievements in the past week.
On Sunday, Trump launched his own news channel, "Trump TV," via his official Facebook page to promote government's achievements. Referring to the channel, he tweeted "fake news" refused to report his government's successes in the first six months of his taking office.
McEnany was seen delivering the weekly update for the channel in a clip filmed at the Trump Tower in Manhattan district of New York City. Stressing on Trump's "America First" philosophy, she said, "Americans deserve a raise and President Trump is finally putting the American worker first."
The video also gave details of the increase in the number of jobs after Trump took office. "More great economic news on Friday," McEnany said referring to the decrease in unemployment in the country.
"Thank you for joining us everybody. I'm Kayleigh McEnany and that is the real news," she said in her sign-off in the video shared a day before Trump completed 200 days in the office.
McEnany, 29, is a resident of Tampa. She completed her graduation from Georgetown University in Washington, D.C., and she has been working with the politicians from the Republican Party for more than 10 years now.
In 2004, McEnany worked on former President George W. Bush's re-election campaign that secured her a job at the office of White House Communications. During the 2016 presidential election campaign and after Trump's inauguration in January, she was one of the few conservative commentators at CNN who could defend the president, according to a report published by the San Diego Union Tribune.
After a year-long stint at CNN, McEnany announced Aug. 5 on Twitter that she was leaving the network. "While I have enjoyed my time at CNN, I will be moving to a new role. Stay tuned next week," she wrote.
Read: Taiwanese Couple Buys Street In San Francisco For $90,000
The former CNN commentator has a Juris Doctor (J.D.) from Harvard Law School. She pursued Bachelor of Science in Foreign Service from Georgetown University School of Foreign Service. She has also studied politics at the Oxford University for a year while she was getting her Georgetown degree, according to McEnany's website.
"I have always been fascinated by politics and political commentary. Interestingly, besides me, no one in my family has a specific interest in politics or comes from a political background," McEnany told the University of Miami School of Law in 2014.
After completing her graduation from Georgetown, she got a job on "The Mike Huckabee Show" on Fox News as a producer. Her stint with Fox News helped her build a career in cable news.
© Copyright IBTimes 2023. All rights reserved.