Tunisia Hotel Terrorist Attack: Latest Updates, Death Toll On Sousse Beach Shooting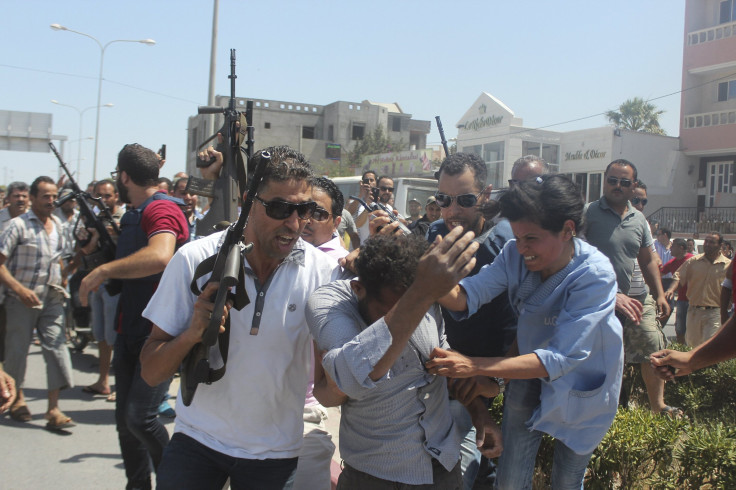 Update 1:26 p.m. EDT: The death toll in Friday's terrorist attack at Imperial Marhaba hotel in Sousse, Tunisia has risen to 37, the Associated Press reports. An additional 36 people were wounded in the shooting, at least "two or three" of whom remain in critical condition. The Tunisian Health Ministry said British, German, Belgian and Tunisian citizens were among the dead.
Originally, Tunisian authorities said at least two gunmen were responsible for the hotel attack. But the Interior Ministry confirmed the gunman killed in a shootout with police acted alone when he targeted beachgoers. The gunman was previously unknown to Tunisian security, authorities said.
An unnamed Tunisian official said 11 Brits, three Belgians and a German were among the wounded. Officials in Ireland confirmed one victim was an Irish citizens, the Guardian reports. The German and British foreign offices said they were working to determine if any nationals were killed or wounded in the shooting.
Update 10:29 a.m. EDT: The Imperial Marhaba remains under lockdown by Tunisian authorities, eyewitness Steve Johnson told the Guardian. Officials were in the process of "removing a number of bodies from around the pool area," he said.
Original story:
Gunmen armed with assault rifles killed at least 27 people Friday on a beach in the luxury resort town of Sousse, Tunisia. The incident was a "terrorist attack" that may still be on progress, the Tunisian Interior Ministry said.
Authorities suspect at least two individuals were involved in the attack. One assailant was killed in a gun battle and police were in pursuit of a second, officials told the BBC. A tourist said hotel guests were ordered to take refuge inside the facility until police had cleared the area.
The attack occurred at the Imperial Marhaba hotel in Sousse, an unnamed security source told the Guardian. Sousse is considered a hub of Tunisia's tourism industry. The town is situated about 90 miles southeast of Tunis, the capital, USA Today notes.
Several graphic photos purportedly taken at the scene appeared on social media Friday morning.
"We thought firecrackers were going off, but you could see quite quickly what was going on," British tourist Gary Pine told Sky News. "There was a mass exodus off the beach. My son was in the sea at the time and myself and my wife were shouting at him to get out and as he ran up he said, 'I've just saw someone get shot.'"
The incident was Tunisia's deadliest terrorist attack since March, when Islamist gunmen killed 22 people at the Bardo Museum in Tunis.
This is a breaking news story and will be updated as more information becomes available.
© Copyright IBTimes 2023. All rights reserved.