Turkey Coup Attempt: Who is Fethullah Gülen, The Cleric Being Accused Of Orchestrating The Turmoil?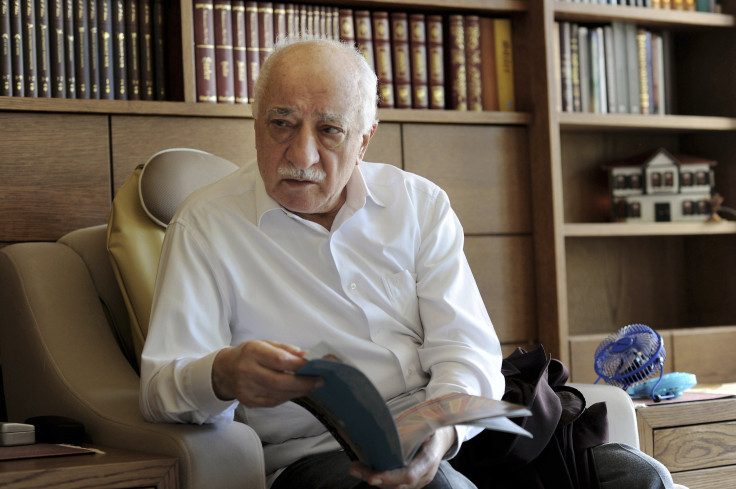 In an address to his supporters at Istanbul's Ataturk airport early on Saturday, Turkish President Recep Tayyip Erdogan accused Fethullah Gülen — a cleric living in a self-imposed exile in the United States — of orchestrating the coup attempt against his government. Here's what you need to know about Gülen, who has denied being involved in the coup, and his movement, known as the Gülen movement or Hizmet.
Who is Fethullah Gülen?
Gülen, 75, is a reclusive but influential Turkish cleric living in a self-imposed exile in Pennsylvania since 1999. He has often been called Turkey's second most powerful man.
Gülen, who has penned more than 40 books and has often urged his followers to build schools instead of mosques, leads a popular movement — Hizmet — which calls for the establishment of a secular and democratic government in Turkey.
What is the Hizmet movement?
The word Hizmet literally means "the service." Although it doesn't have an official hierarchy or structure, it is still believed to be highly influential, with some reports suggesting that as much as 10 percent of the Turkish population supports the social and religious movement.
Although the movement has attracted support and praise across the world for its advocacy of interfaith dialogue — with the group now running a global network of businesses, think tanks and schools — some have, in the past, expressed fears that it may have an ulterior motive.
"We are troubled by the secretive nature of the Gülen movement, all the smoke and mirrors," a senior U.S. official, speaking on the condition of anonymity, told the New York Times in 2012. "It is clear they want influence and power. We are concerned there is a hidden agenda to challenge secular Turkey and guide the country in a more Islamic direction."
Why is Gülen being accused of orchestrating the coup attempt?
Turkey has a long history of rivalry between the Islamists — a group that includes Erdogan's Justice and Development Party (AKP) — and the secularists — which includes many within the military who look to the ideas put forward by Turkish Republic's founder Mustafa Kemal Ataturk for guidance. This has often put the Islamists in Turkey at odds with military, which has long considered itself as guardians of Kemalism.
Ideologically, Gülen's movement, which emphasizes a moderate version of Sunni Islam, lies somewhere between the Islamists and the secularists. Gülen was an ally of Erdogan until 2013, when several anti-corruption allegations were levelled against supporters of Erdogan — who was the prime minister at the time.
Erdogan, convinced that the Gülenists were trying to unseat him, accused his one-time ally of being behind the corruption allegations. The festering rivalry between the two eventually culminated in a purge of perceived Gülenists in the police force, judiciary, media and the army.
Has Gülen responded to the accusations?
Yes. In a statement released Friday, the cleric condemned, "in the strongest terms," the attempted coup in Turkey.
"Government should be won through a process of free and fair elections, not force," Gülen said. "As someone who suffered under multiple military coups during the past five decades, it is especially insulting to be accused of having any link to such an attempt. I categorically deny such accusations."
Alliance for Shared Values — a pro-Gülen group — also rejected the allegations, calling the comments made by Erdogan's supporters "highly irresponsible."
"For more than 40 years, Fethullah Gulen and Hizmet participants have advocated for, and demonstrated their commitment to, peace and democracy. We have consistently denounced military interventions in domestic politics. These are core values of Hizmet participants. We condemn any military intervention in domestic politics of Turkey," the group said.
FOR FREE to continue reading
✔️ Unlock the full content of International Business Times UK for free
offer available for a limited time only
✔️ Easily manage your Newsletters subscriptions and save your favourite articles
✔️ No payment method required
Already have an account?
Log in
© Copyright IBTimes 2023. All rights reserved.