Turkey Nuclear Power Plant: Protests Greet Ceremony To Launch Construction Of Country's First Nuclear Site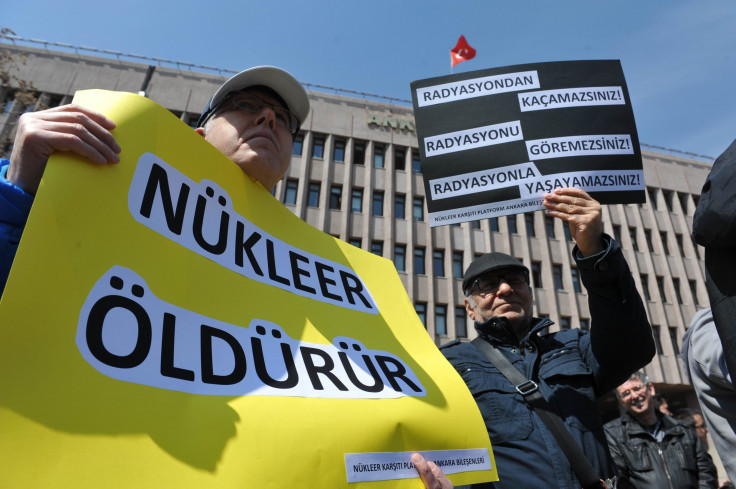 Protestors clamored outside the gates of Turkey's first nuclear power plant Tuesday where officials were holding a ceremony to launch the construction of the site, even though real construction is not slated to begin until the end of 2016, 18 months later than planned. The $20 billion project has been highly controversial, even as Turkish officials insist nuclear energy is essential for the country's development.
As Turkish Energy Minister Taner Yildiz and other top officials attended a ceremony to lay a foundation stone at the planned nuclear site, environmental protestors locked the gates to the site, briefly confining officials within, BGN News reported. Police eventually dispersed the protests by firing water cannons at them.
Yildiz said construction would begin at the end of 2016, due to various delays. Turkey had commissioned Russian state corporation Rosatom to build the plant, in Akkuyu, located in the province of Mersin along the Mediterranean Sea, Reuters reported, but the process has been hindered by regulations -- Rosatom has not yet received a license from Turkey to start construction -- as well as environmental concerns.
Plans for the site at Akkuyu include four nuclear reactors of 1200 megawatts each. The site is slated to be finished by 2020. Turkey also plans to build two other power plants, one in the city of Sinop along the Black Sea and one in a location that has yet to be determined.
"Development cannot happen in a country without nuclear energy," Yildiz, the energy minister, said Tuesday. "If we had built this power station 10 years ago, we would have saved $14 billion in natural gas purchases." Turkey imports the vast majority of its energy, including by buying natural gas from Russia.
But opponents, who fear a disaster like the one in Fukushima in Japan, have also raised concerns about the surrounding environment. "Turkey is not ready to build nuclear reactors — the country is still missing the key pieces of necessary legislation," Jan Beranek, the director of Greenpeace Mediterranean, told Agence France-Presse. He said that assessments of seismic activity at the site were "totally inadequate," even as officials insist that the power plant would be able to withstand earthquakes measuring up to 9 on the Richter scale.
© Copyright IBTimes 2023. All rights reserved.
FOLLOW MORE IBT NEWS ON THE BELOW CHANNELS