Turkey's Energy Boom: Turkey Looks To Nuclear Power To Offset Its Oil & Gas Imports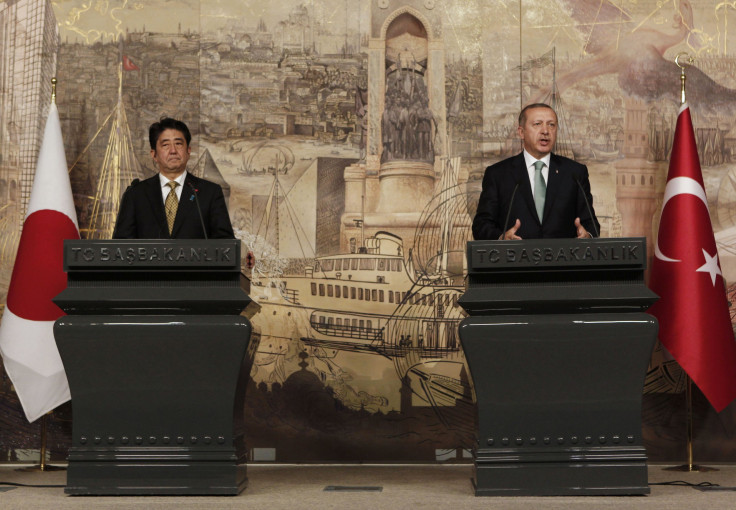 Turkey and Japan have signed a formal agreement to build Ankara's second nuclear power plant, Hurriyet Daily reported Tuesday.
Turkish Prime Minister Recep Tayyip Erdogan and his Japanese counterpart Shinzo Abe signed an official agreement for building a $22 billion, 4,800 megawatt, nuclear power plant in Black Sea province of Sinop. Japan's Mitsubishi Heavy Industries and France's Areva will build the plant.
"We know that it is impossible to say something like 'accidents will never happen.' Even if it is one in a million, such a danger, such an accident, might occur, and it is impossible to ignore this," Erdoğan said, referring to the Fukushima nuclear disaster in Japan. Erdogan added that it was crucial that the company "should take 100 percent security measures. The ideal thing is without a doubt to minimize the margin of error," he added.
Construction is set to begin soon for Turkey's first nuclear power plan in the southern province of Mersin. Russia's state-owned Rosatomwill be build and operate that $20 billion plant.
Prime Minister Recep Tayyip Erdogan said in May that Turkey plans to cut $7.2 billion from its natural gas imports after the nuclear plants go online in the next decade. Turkey imports most of its energy resources, and the construction of a nuclear power plant is seen as a long-term strategy to decrease its energy dependence.
Turkey is looking to expand its oil and gas exploration and already has been drilling for oil in areas near the Syrian border. The Turkish energy company Arp Petrol obtained a four-year exploration license from the Turkish Energy Ministry to explore a 400-square-meter area in Sirnak and Mardin in the southeast region near Syria.
"There are many active wells across the [Syrian] border. Why shouldn't we be here? We think that the oil was originated in Syria and immigrated to Turkey. We are working on the oil producer zone's extension in Turkey. We are chasing the oil and natural gas extension of Syria," Şehmus Arslan, the chairman of AR Tarım, said.
Syria had reserves of 2.5 billion barrels of crude oil as of January 2013, which makes it the largest proved reserve of crude oil in the eastern Mediterranean, according to the Oil & Gas Journal estimate. Syria also has oil shale resources with estimated reserves that range as high as 50 billion tons, according to a Syrian government source in 2010.
For its part, Turkey actively seeks new potential energy resources as the country relies heavily on energy imports. As its economy grows, so does its demand.
"We are examining the wells, which have been closed for 30 years, with the new technologies. We aim to make a revolution in the region. We will break the routine that says 'there isn't oil here,'" Arslan said.
In addition, recent developments in the peace process between Turkey and the country's mainly Kurdish southeast has allowed exploration to continue.
© Copyright IBTimes 2023. All rights reserved.