Turkey Shoots Down Syrian Jet For Violating Air Space: Report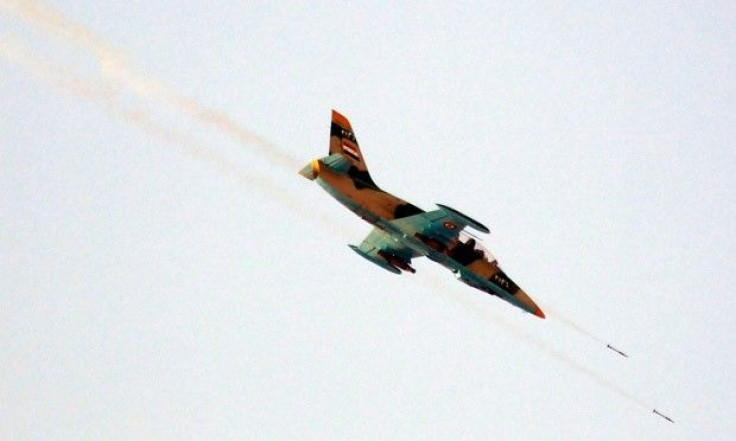 ISTANBUL -- Turkish forces shot down a Syrian aircraft after it violated Turkish airspace, the locally based news channel NTV reported Saturday. Turkey's government subsequently said in a statement that one of Syria's aircraft was shot down by Turkish F-16 fighter jets, which fired two missiles.
The aircraft was shot down in the Hatay region on the eastern Turkish-Syrian border. Some eyewitnesses said it was not a plane but a helicopter and that it split into three pieces after being hit, sources told International Business Times.
Meanwhile, Syrian state television said the aircraft shot down by the Turkish fighter jets was a drone, Reuters reported.
This is not the first time Turkey has shot down one of Syria's aircraft. In March 2014, Turkish forces took out a Syrian plane flying near their shared border. At the time, Syria accused Turkey of "blatant aggression," saying its plane had been over its own territory when it was shot down, BBC News reported.
Syrian forces have also shot down Turkish aircraft over the four years since the beginning of the Syrian Civil War.
Syrian forces took out a Turkish RF-4E Phantom fighter jet in 2012 during a routine surveillance flight near the western Syrian city of Lattakia. After that incident, Turkey vowed to shoot down any Syrian plane that entered its territory.
Political relations between Turkey and Syria have been strained since the start of the Syrian war in 2011. The two countries formerly had strong trade agreements, but those fell apart after the Turkish government openly began to back the Syrian opposition -- rebels fighting to oust President Bashar Assad from power -- with weapons and cash.
Turkey is also a major player in the U.S.-funded train-and-equip program for Syrian rebels, although there are disagreements between the two countries over it. The U.S. wants to pursue a training program that would put rebels on the battlefield in an attempt to defeat the Islamic State group, rather than Assad.
Turkey is forging its own path to try to topple Assad by actively supporting Ahrar al Sham, a group with ties to al Qaeda that the U.S. has for years kept at arm's length. Turkey has consistently backed Sunni Islamist rebel groups such as Ahrar al Sham, while the U.S. has sought to support moderate rebels.
© Copyright IBTimes 2023. All rights reserved.