Turkey-Syria Earthquake: Child Trapped In Debris Of Fallen Home Gets Rescued [Video]
A young child trapped in the ruins of his own home was pulled out of the debris following the earthquake that caused widespread destruction in Turkey and Syria.
The child named Ahmed was seen lodged in the rubble of his destroyed home in the Syrian village of Qatma.
Members of The White Helmets, a rescue agency composed of volunteers, were seen using a pickax and a jackhammer to rescue Ahmed from the rubble, the New York Post reported.
The crying boy was seen with bloodstains on his clothes and scrapes on his body as rescuers took him in their arms and provided him with medical attention. The video shows Ahmed receiving oxygen in the back of an ambulance.
Details about Ahmed's family were not immediately clear.
The White Helmets shared several videos that showed the catastrophic conditions as response teams continue to pull out survivors from the rubble.
The powerful 7.8 magnitude earthquake destroyed thousands of buildings and claimed a massive death toll that continues to rise in both Turkey and Syria.
At the time of writing, more than 4,300 deaths have been recorded in what is one of the strongest quakes to hit the region in over a century, CNN reported.
"It was like the apocalypse," Abdul Salam al-Mahmoud, a Syrian in the northern town of Atareb, told Reuters. "It's bitterly cold and there's heavy rain, and people need saving."
A woman in southeast Turkey's Diyarbakir, who survived the quake with a broken arm and injuries to her face, also spoke to the outlet.
"We were shaken like a cradle. There were nine of us at home. Two sons of mine are still in the rubble, I'm waiting for them," she said whilst next to the ruins of a seven-story building where she lived.
Turkish President Tayyip Erdogan said authorities are doing everything they can in the aftermath of what he called a historic disaster. He also said it was the worst quake that struck the country since 1939.
"Everyone is putting their heart and soul into efforts although the winter season, cold weather, and the earthquake happening during the night makes things more difficult," Erdogan reportedly said.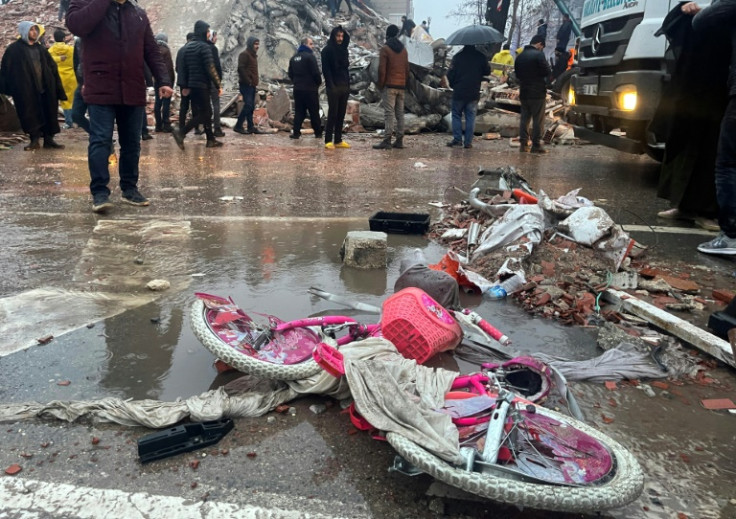 © Copyright IBTimes 2023. All rights reserved.