Turkey's Crimea Connection: Why Turkey Cares What Happens In Ukraine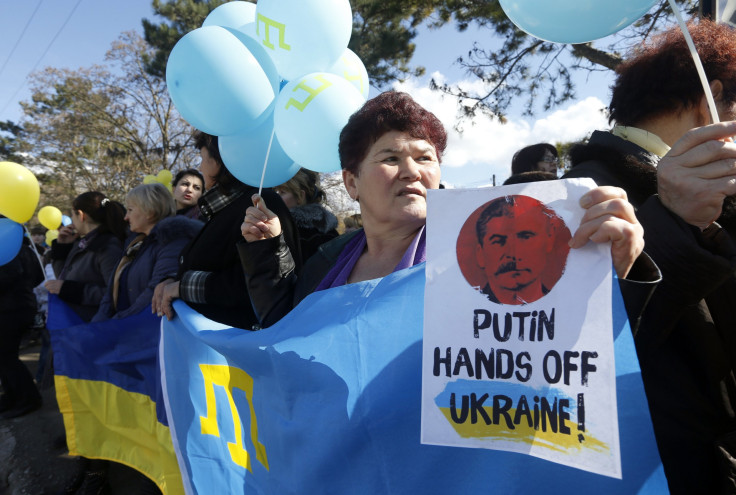 Correction: This story originally stated that during the Crimean War of the 1850s, the Ottoman Empire was attacked by Russia and other European powers. In reality, Great Britain, France and the Kingdom of Sardinia were allied with the Ottomans against the Russians. The story has been amended to reflect that fact.
As tensions continue to escalate between Russia and Ukraine, regional powers like Turkey may look at ways to get into the mix, according to experts.
Lying just 173 miles (280 km) from the Turkish coast of Anatolia across the Black Sea, Crimea, the Ukrainian autonomous region that is now overrun by Russian troops, is home to a community of ethnic Turks known as Tatars. They oppose a Russian annexation of the isthmus, Soner Cagaptay and James Jeffery of the Washington Institute for Near East Policy, a Washington-based think tank, wrote on Tuesday.
Crimea is ethnically divided between two minorities, Tatars and ethnic Ukrainians, and an ethnic Russian majority.
While Turkey may oppose a possible Russian takeover of Crimea or a land invasion of Ukraine, it still shares a strategic partnership with Russia.
"Turkey's dependence on Russia for around half of its natural gas imports and historic Turkish fears of the Russians will temper Ankara's reaction to Moscow's takeover of Crimea," Cagaptay said. "In case of NATO action in the Black Sea, for instance, Turkey would balance its NATO affiliation with its treaty obligations [with Russia]," much like it did during the Georgian-Russian war in 2008.
Cagaptay is referring to a treaty signed in 1936 known as the Montreux Convention, which limits the size and number of warships not based in Black Sea ports that can enter the body of water, and determines how long they can remain there.
In 2008, as part of the Western response to "Russian aggression," warships from NATO countries entered the Black Sea, with Turkish permission. But "Moscow subtly reminded Turkey of the consequences of challenging Russia, when it held up thousands of Turkish trucks at Russian border posts," the global intelligence firm Stratfor wrote in a report.
Much of Turkey's foreign policy toward Moscow is influenced by dependence on Russian natural gas, which accounts for about 55 percent of Turkey's gas imports.
"[Turkish Prime Minister Recep Tayyip] Erdogan has shied away from picking a fight with [Russian President Vladimir] Putin, knowing that his country's economic growth and his political fortunes depend on his ability to maintain a steady supply of Russian gas and oil," Cagaptay said.
Besides being a huge exporter of hydrocarbons to Turkey, Russia is its second-biggest trading partner after Germany, according to the Turkish Foreign Ministry.
But trade aside, the cultural and historical relationship between the two countries is complex and dates back centuries, from the days of the Ottoman and Russian empires. From 1568 to 1917, Turks and Russians fought around 17 wars, according to Cagaptay. The losses have "ingrained fear of Russians," a major reason behind Turkey's decision to join NATO in 1952.
Turks remember all too well the Crimean War of the 1850s. At the time the declining Ottoman Empire, which controlled the peninsula, was attacked by Russia, and was allied with European powers looking to contain what they saw as Russian expansionism.
Russia's pretext for invading Crimea then was its claim that it was protecting Eastern Orthodox Christians who were subject to Muslim Ottoman rule. Some in Turkey may see an eerie parallel now, 165 years later, when Russian troops have entered Crimea on the pretext that they were protecting ethnic Russians.
"Ukraine has served as a buffer between Russia and Turkey," Cagaptay said. "If Ukraine cannot maintain full independence, Turkey will be faced to its north with a Russia looking more and more like its Czarist predecessor, with a record of successful Black Sea aggression, first against Georgia, then against Ukraine."
FOR FREE to continue reading
✔️ Unlock the full content of International Business Times UK for free
offer available for a limited time only
✔️ Easily manage your Newsletters subscriptions and save your favourite articles
✔️ No payment method required
Already have an account? Log in
© Copyright IBTimes 2023. All rights reserved.