Turkish Protests Over Mining Disaster Turn Violent, Forcing Erdoğan To Flee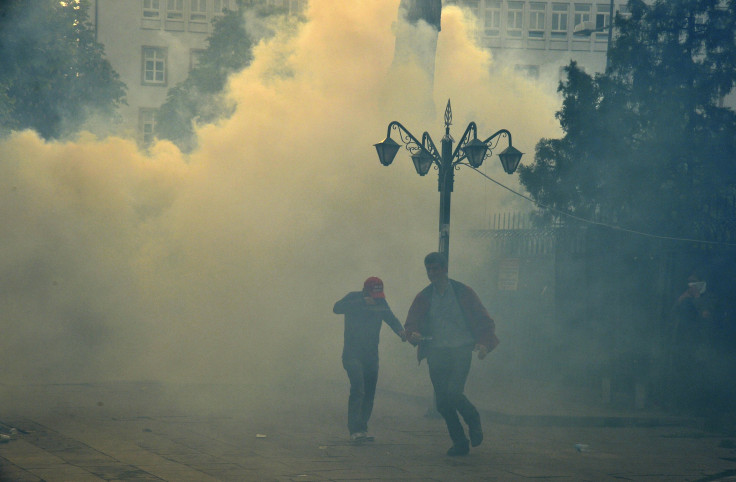 ISTANBUL -- Tears turned to rage here on Wednesday as Turkey absorbed the grim spectacle of a coal mining disaster that took the lives of at least 200 people. Enraged protesters flooded the streets of Istanbul; the capital, Ankara, and other cities to demand explanations and accuse the government of failing to protect miners.
The disaster revived the political turmoil that began last spring amid accusations that the government of Prime Minister Recep Tayyip Erdoğan has engaged in corrupt dealing while employing brutality to silence its critics.
As police on Wednesday cracked down on demonstrations prompted by the mining accident, their presence generated another wave of incendiary photographs and social media posts, furthering the narrative of a nation in which the popular voice is being muzzled by the tactics of a police state.
"The people want to shout," one protester, Elif Cingil, hollered at police massed at a demonstration on a major Istanbul shopping street. "Do you know how many people died today? The people want to mourn their death but the police aren't letting us. They are killing us. It's unbelievable … this is too much."
Erdoğan's visit to the scene of the tragedy in the town of Soma, some 300 miles southwest of Istanbul, provoked furious denunciations of his leadership. Enraged protesters called him a murderer and demanded that he step down. So intense was the popular fury and the brutal response of the police with tear gas and water cannons that Erdoğan was forced to take refuge in a supermarket.
The prime minister's words amplified public anger as he appeared to distance his government from responsibility, suggesting that mining accidents "happen all the time."
"The government is guilty in this tragedy," said Alper Hocaoglu, who lives in a town near the mine, and who lost two relatives in the explosion. "The prime minister says this is normal, but it's not true — if it happens once, as in 1992, it shouldn't happen again. Now they are trying to help the miners trapped but it's too late. They should have done things before this happened."
In Istanbul, hundreds of mourners and protesters convened at the Energy Ministry, at the main shopping street, Istiklal, and at Taksim Square – the epicenter of anti-government demonstrations for a year – as police roughly tried to disperse them with tear gas and water canons. Some played dead at a nearby subway station.
Mourners and protesters laid the blame for the mine disaster squarely on Erdoğan's government. Hundreds of miners were rescued, but dozens remained missing Wednesday night.
The mining accident presented another blow to Erdoğan, who has faced protesters for a year and seen his fellow Justice and Development Party ministers undergo criminal probes for alleged corruption. On Wednesday, he lashed out at his opponents, saying the mine accident will be used against him by "partisans," while telling grieving family members of the miners that such accidents were normal.
"I went back in British history, and about 204 people died when a mine collapsed in 1838, 361 in 1866 and 290 in 1894," he said, as reported by Turkish daily Hurriyet. "Even in America with all of its technology, 361 miners died in 1907. These are usual things."
But questions have arisen on the government's handling of safety issues at the mine even as Erdoğan told relatives that the Soma mine was "one of the safest in Turkey."
Turkish officials said the mine had undergone five inspections since 2012, the last one in March, and that no problems had been reported. SOMA Komur Isletmeleri A.S., which owns the mine, also said it had taken the "highest safety measures."
Still, the mine owners had recently drastically cut production costs from $130 to $24 a ton by using domestically produced electric transformers and non-unionized subcontractors, according to Hurriyet.
"The Soma mining facility's operating company adopted low standards of safety to make a profit," said Hamid Akin Unver, assistant professor of international relations at Kadir Has University in Istanbul. "Coal mining is an unforgiving job, and unless you adopt the highest mining safety standards, accidents happen."
Adding to that, lawmakers of Erdoğan's ruling AKP blocked an opposition motion for a parliamentary investigation into the safety of the Soma mine just last month, calling it safe.
Analysts say the incident is another blow to the image of country that once was the economic, social and political model for the post-revolution nations of the Arab Spring, in particular Tunisia and Egypt. "This is a serious setback for Turkey," said Dimitar Bechev, a Sofia, Bulgaria-based analyst who specializes on Turkish affairs at the European Council on Foreign Relations. "For a long time Turkey was building an image of a developed country with a modern economy, and all of a sudden this demonstrates that there are many sectors of the economy where regulations are poor. This makes is look like a developing country."
In particular, analysts say that Erdoğan, who was credited with modernizing and transforming the Turkish economy, is sometimes his own worst enemy. In the past year, he has lashed out at a range of "enemies" responsible for the protests including "foreigners" and Twitter, the social networking operator, with some of his claims seen as ludicrous.
"Such incidents on such a scale have practically been forgotten in the West," Bechev said. "This is why Erdoğan pointed to some examples from 19th-century Britain to justify his claims that [such incidents] are common. This shows how much hasn't changed in Turkey."
© Copyright IBTimes 2023. All rights reserved.