The Turkish Town In ISIS' Crosshairs: Kilis Residents Struggle Under Rocket Attacks From Syria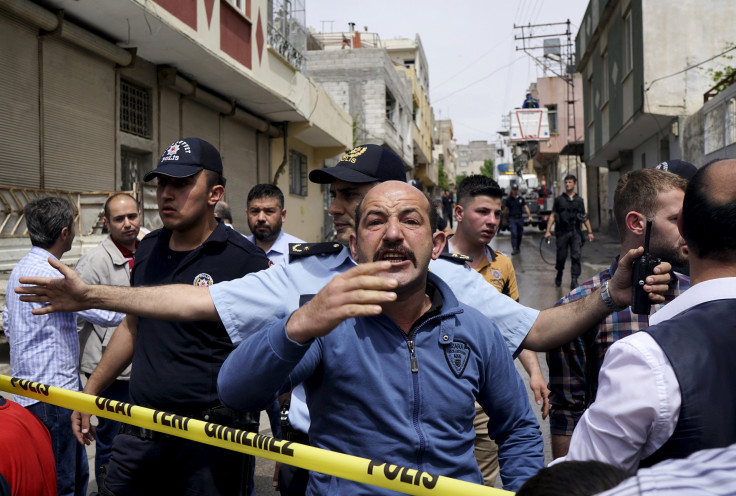 Anwar Mohammed fled his homeland three years ago to escape the routine violence that ravaged his city of Azaz and pushed millions to flee northwestern Syria. He and his wife settled with their three young children just on the other side of the Turkish border, seeking quiet and safety in the town of Kilis, where Mohammed often works as a translator for foreign journalists.
But in recent months, rockets from Syria have broken a calm in the Turkish town. Each day, residents rush indoors, praying for their safety as rockets fired by the Islamic State group in Syria rain down.
"All the Syrians have escaped from war and they came here, and suddenly they have war again," Mohammed said. "Daily life here has changed a lot. Most of the people are spending time inside the house."
The war in Syria has gradually metastasized into Turkey in recent years, and few places have transformed as greatly as Kilis, a cozy town once known mostly for its baklava and kebabs. Kilis in recent months has found itself in the crosshairs of the extremist group, also known as ISIS, and about 20 people have been killed. Everyday life in the town has come to a standstill as anger against both the government and refugees has begun to boil over.
"At the moment, people in Kilis live in panic and fear," Selim Bayturkmen, an editor for a local newspaper, Kilis Postası, said in an email interview translated from Turkish. "Everybody here feels that they have been ignored by the government."
Kilis, lined with cobblestone streets, sits across the border from an area controlled by ISIS. The province, also called Kilis, is the only area in Turkey where Syrians presently outnumber Turks. There are about 110,000 Syrians, compared to about 90,000 Turks. Many have opened their own shops and restaurants in town, while thousands also live in a nearby refugee camp. The area has lush farmland for growing grapes and olives.
On Thursday, at least five more rockets crashed down on the town. A high school, an open street and a building under construction were among the sites hit and at least one person was killed and eight injured. Such attacks have become the new normal, residents said, and some Turks have begun taking to the streets, defying a reported ban on demonstrations to call upon local officials to resign.
"In Kilis, a calm town, everything has been turned upside down," Bayturkmen said. "It is not clear when and where rockets fired from the Syrian side will come down, so people don't want to go out on the street."
Deputy Prime Minister Yalçın Akdoğan visited the struggling area last week to address locals' concerns, but his message offered little relief. Instead, it intensified feelings that residents were being neglected by the government.
"I am calling for our citizens to be calm," Akdoğan told a news conference in Kilis. "All measures will be taken in this regard. Unfortunately, there is no authority across our border."
Shortly after his visit, the government struck back against ISIS targets. Authorities claimed dozens of members of the militant group were killed, but the daily attacks continued unabated. As they're quick hit-and-run operations, they're ultimately difficult to thwart, according to Aaron Stein, a senior fellow at the Atlantic Council in Washington, D.C., who is focused on Turkey.
Militants essentially drive up to the border, fire Katyusha rockets and drive away. Most of the rockets are tiny, but they can have a devastating impact on the areas they hit. The frequency of the attacks, though unguided, suggest they are intended to hit Kilis, Stein said. ISIS' targeting of the city could have to do with Turkey's support for the U.S.-led anti-ISIS coalition. Ending the violence would ultimately require creating a buffer zone and pushing ISIS away from the Turkish border, he said.
"A lot of the military moves have been symbolic and actually don't mean much," he said. "To deal with rocket fire, you need a ground force."
Commenting on the latest violence, Prime Minister Ahmet Davutoğlu, who is set to resign later this month, said Wednesday that Turkey was ready to send in ground troops to combat ISIS militants.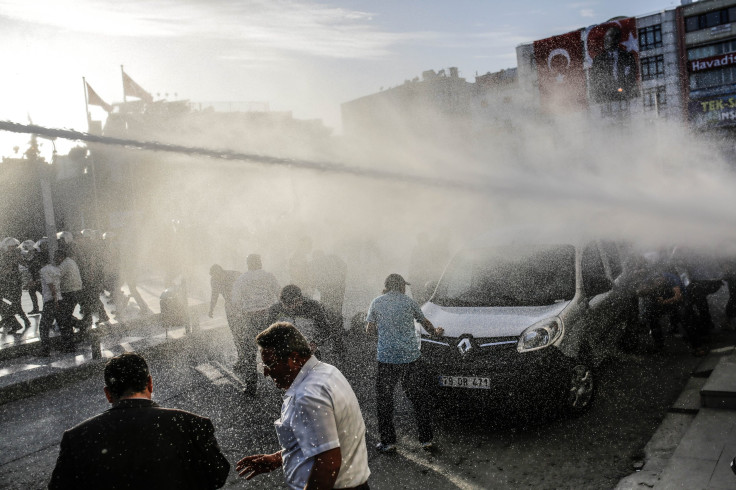 Many of the locals are not just calling on the government to end rocket fire — they also want the massive refugee population to be better managed. The influx has strained Kilis' resources, as street cleaners who used to collect 30 tons of trash now collect 160. Water consumption has tripled and the amount of green space per person has shrunk, the Telegraph reported. The death rate from natural causes has more than doubled and cemeteries have filled up.
Until the rockets began falling, residents were praised for their overwhelming hospitality. Several months ago, Kilis was nominated for the Nobel Peace Prize. But now residents worry that a war, which was once teetering at its doorstep, has begun to envelop them, too.
"The demographic structure of Kilis has been destroyed," Bayturkmen said. "After the rocket attacks, the people of Kilis want the Syrian refugees to leave."
Osama al-Abdullah, an Iraqi, has lived in Turkey for two years, after leaving his city of Tikrit amid spiraling violence in Iraq. Abdullah works independently as a photojournalist in Kilis.
He said the situation in town is growing tense. People are afraid to go outside, they feel the government has ignored their plight and many have begun moving elsewhere. Average rent prices in the town, he said, have plummeted by about half their original value.
"The refugees are coming from Syria, and the bombs are coming from inside Syria," he said. "Some Turkish people say, 'Your country is very dangerous and we have a problem because of you and your country' [to Syrians]. The Turkish people are very angry about the situation and that the Turkish government can't stop it."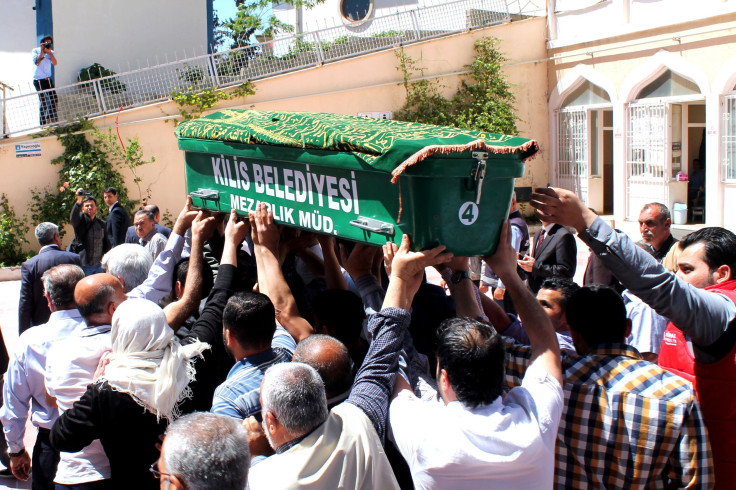 The intensified violence underscores worries in Turkey over a neighboring war that has gradually slipped through its porous border. The country has taken in some 3 million refugees since the war began in Syria five years ago and has, at the same time, faced its own problem with homegrown extremism. Since last summer, Turkey has been struck by a wave of terrorist attacks, including suicide bombings in the capital city, Ankara, that left more than 100 people dead, and an attack earlier this year in Istanbul that killed 12 tourists. Many have been carried out by Turkish supporters of ISIS, including some in cities along the border. Last July, a bombing in the southern Turkish town of Suruç killed 33 people.
"I think people are concerned, that's for sure," said Isil Sariyuce, an Istanbul-based journalist who has reported from Kilis and elsewhere for international media outlets. "People are seriously scared to go to public places, shopping malls have increased their security measures, İstiklal [a popular street for shopping in Istanbul] is less popular for nightlife among locals. People tend not to go to crowded places, and whenever there is an explosion, people avoid using the metro."
Sariyuce, who last reported from Kilis several months ago, said the impact of refugees was creating mixed feelings among many locals even before the rockets. While many welcomed them, they also cited economic issues as cause for concern. Although the refugee influx could have brought with it ripe business opportunities, many Syrians have opened their own shops and restaurants, creating something of a parallel economy that has heightened competition for Turkish businesses.
"They say, 'These are our Muslim, Sunni brothers, so we are happy to have them here,' and after the third or fourth sentence, they start to complain about the economic situation," Sariyuce said.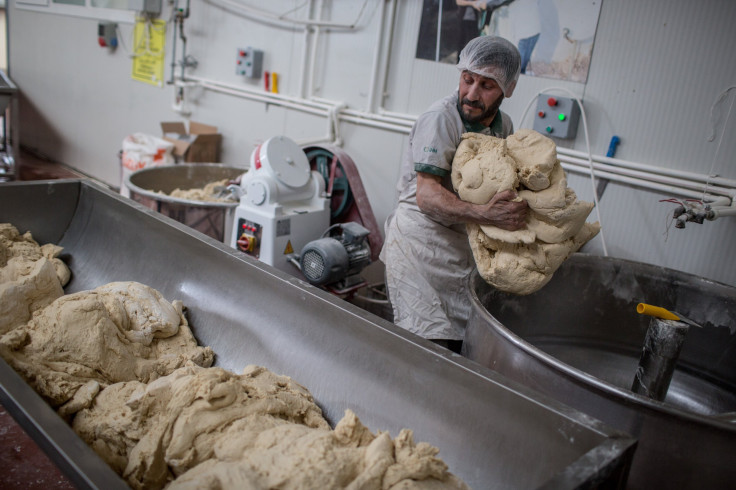 Mohammed, the Syrian translator, said he — as well as many refugees — feels welcomed in Turkey. While he said some may hold negative views toward Syrians, he is thankful that Turks have widely opened their doors.
"Some of the people, they are looking at the Syrians as the reason for the killing, but the majority don't see it like this," he said. "They see these rockets are targeting both the Syrians and the Turks, they are killing both the Syrians and the Turks.
"I still like my country," Mohammed said, "but Kilis is considered a second home for me."
© Copyright IBTimes 2023. All rights reserved.