Two Years After, Egypt's Arab Spring And Revolution Seem Like A Long Time Ago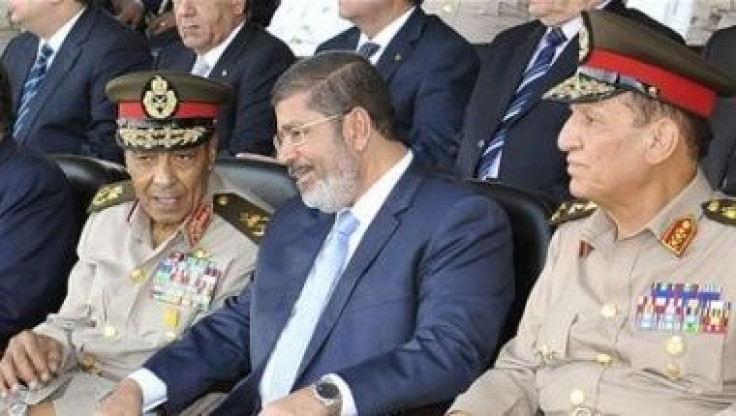 CAIRO -- Two years after President Hosni Mubarak stepped down on Feb. 11, Egypt's revolution has gone seemingly wayward. The popular revolt ended an era in which Egypt's politics and economy were tightly controlled by Mubarak loyalists and brought a promise of a new Egypt. The Arab world's biggest country, with its 82 million people, could reclaim its role as a regional powerhouse.
But the revolution offered little in terms of new economic opportunities or political representation for millions of young Egyptians. For the most vulnerable sector of the population, including women and members of the Christian minority in this Muslim country, prospects got bleaker.
In 2013, Egypt faces many of the same challenges that sparked the popular revolt against the Mubarak regime, including anger over police brutality and torture, rampant unemployment and new economic challenges. The uncertainty that has paralyzed business has only grown more acute in the past two years. Violent protests against the government are still occurring across Egypt; young people are clashing with the police, and dying, while calling for the president's resignation. Except this time it's not Mubarak – it's Mohamed Morsi, the Muslim Brotherhood-backed president who took office last year.
"This is one of the worst economic crises in Egypt's history over the past 100 years," said Ashraf Naguib, president of Global Trade Matters, a Cairo-based think tank.
Balancing domestic fiscal pressures, ongoing wrangling with the opposition and striving to secure foreign loans that would keep the government afloat while waiting for growth to return, Egypt's new rulers face an increasingly delicate battle.
"The structural problems were already there [before the revolution], but now they have been intensified," said Mohamed Abou Basha, a Cairo-based economist at EFG Hermes, the country's largest investment bank.
Beyond the immediate economic pressures, Egypt faces a number of demographic challenges: The population is growing, and so is unemployment among the youth. By 2011, Egypt's unemployed, young population had increased by 46 percent over the previous 15 years, reaching 23 million, according to a report by French-based business institute INSEAD.
Prime Minister Hisham Qandil himself has acknowledged the government's shortcomings. "The government, as well as all political forces, has failed to accommodate the demands of the youth," he said on Jan. 2, in response to protests. But in a separate speech, he told Egyptians to "stop protesting" and to "switch off TV sets and get to work" instead. "We need to work side by side to safeguard the economy, and this requires honest effort on the part of all sectors of society," he said in a televised press conference two days later.
The numbers are not on his side. Egypt's currency has been devaluating steadily since the revolution. In December 2010, the exchange rate was 5.79 pounds to $1, compared to 6.71 pounds to a dollar currently.
The balance of trade deficit – the difference between exports and imports -- rose to $31.7 billion in the fiscal year 2011/12, a 17 percent increase compared to the previous year, according to Finance Ministry data.
For youth ages 15-29, the unemployment rate has reached 25 percent, more than double the rate for the general population, according to the Egyptian Center for Economic Studies. Omneia Helmy, the Center's director of research, cites a long list of obstacles for the young, including lack of tax incentives for small and medium enterprises to hire them, as well as the poor quality of basic education and paucity of skills.
Crucially, the amount of commercial bank credit available for the private sector has diminished as a result of the government's mounting debt and borrowing from domestic banks.
The government is increasingly on the defensive and faces domestic and international criticism.
"We need a stronger prime minister, without direct affiliation with the president, somebody with international contacts, popularity among people, [financial] experience," said Naguib.
The conservative Muslim politicians now in charge of Egypt "have a fairytale understanding of the economy," said Mohamed Waked, a co-editor of Jadaliyya, an online Middle East policy journal. "They think one project in Suez will restructure the whole economy," he said, referring to a plan to turn the Suez Canal area, through which much of the world's oil and shipping passes, into an industrial and trading zone to attract worldwide capital.
Egypt's economy isn't contracting, to be sure, but it isn't expanding like it used to. The real GDP growth rate reached 2.2 percent in the 2011/12 fiscal year, a decline from an average of 6.2 percent between 2005, compared to the 2008 peak of 7.2 percent.
Egypt's credit rating, meanwhile, was downgraded at the end of 2012 by the rating agency Standard & Poor's to B-, six levels below investment grade, a "junk" rating on par with Greece and Pakistan.
Fitch Ratings also downgraded Egypt's sovereign debt to B from B+ in January, citing a worsening fiscal position and security situation.
Political stability remains the overarching concern for domestic and outside investors, especially after the latest bout of violence following the Jan. 25 anniversary of the beginning of the uprising. "The current situation could trigger more unrest and even chaos if the government is not able to bring some political stability in the short term," said Sebastian Henin, vice president of National Investor, a money management firm based in the United Arab Emirates.
An increasing population means that energy needs are increasing too. At the end of the 2012, amid political turmoil, Egypt became a natural gas importer in addition to importing oil products. Importing from Qatar will further increase the government's energy bill, as energy imports are heavily subsidized.
The International Monetary Fund wants the government to tackle those energy subsidies as part of conditions for a $4.8 billion loan, as well as a comprehensive plan for tax reform. (In an effort to bring in more revenue quickly, tolls for using the Suez Canal wll be raised on May 1, by up to 5 percent.)
"What is lacking is a business plan for Egypt, [which] puts a higher risk for investors," said Ian Barden, general manager of Vegas Oil and Gas in Egypt, at a roundtable discussion with former Oil Minister Abdullah Ghorab last month. "We need more certainty," Barden said.
Egypt, which has historically relied on oil and gas revenues as a stable source of government income, is now struggling to attract new investments in its domestic energy production.
"I do see a tendency from the government to ask for quick and easy solutions," said Jeroen Regtien, chairman of Royal Dutch Shell PLC in Egypt, at the same event, citing the decision to bring in Qatari investments and liquid natural gas supplies to meet growing domestic demand as an example.
Moving forward for Egypt will not only mean securing the IMF loan, which has doubled in size since the original request two years ago, and signaling to investors that everything is back to normal. It will require a serious plan to tackle these long-term demographic and social issues, which affect all sectors of the economy and are essential for long-term stability and growth.
At the end of the day, Egypt's economic problems are political.
"It's politics," said economist Abou Basha. "If you're looking on the economic side, it's not brain surgery. You need political stability, to bring fiscal balances in order and return confidence in the economy."
"Nothing was fulfilled, we are where we were, if not worse," said Waked, the co-editor of policy journal Jadaliyya, of the revolution's promises of justice, respect for human dignity and a more democratic system. "This situation will sustain for a while, until the regime realizes that and starts to compromise."
© Copyright IBTimes 2022. All rights reserved.
FOLLOW MORE IBT NEWS ON THE BELOW CHANNELS