Egypt Military Chief Says Ongoing Conflict Could 'Lead To The Collapse Of The State'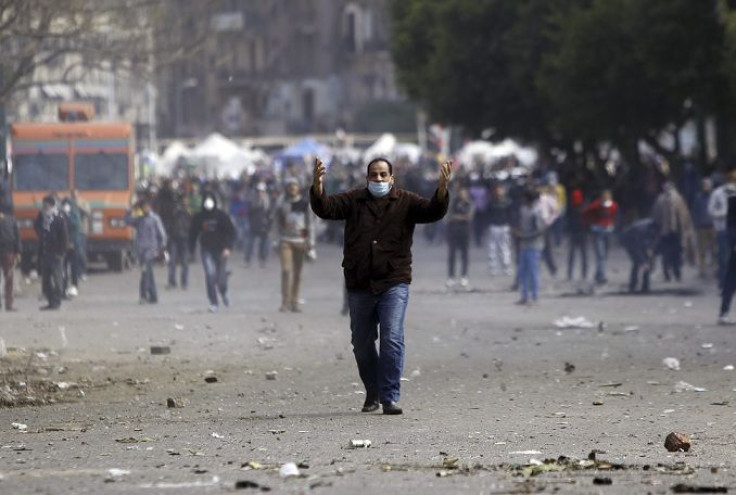 Egypt's military chief warned Tuesday that the current unrest fueled by a political impasse could "lead to the collapse of the state."
The statement by Gen. Abdul Fattah al-Sisi, who also serves as defense minister, followed the deployment of the Egyptian troops in Suez, where six people were killed in clashes with the security forces Friday.
"The ongoing conflict among the various political forces ... may lead to the collapse of the state and threaten the future of our coming generations," the armed forces chief said in comments posted on the military's Facebook page.
He said that the economic, political and social challenges represented "a real threat to the security of Egypt and the cohesiveness of the Egyptian state."
The military deployment in the city along the Suez Canal was meant to guard the key shipping route, one of Egypt's main sources of foreign revenue, Gen Sisi added.
President Mohamed Morsi promoted Sisi in August after a surprise order demanding the retirement of Field Marshal Mohammed Hussein Tantawi, who was the head of the Supreme Council of the Armed Forces (SCAF) and was serving as the defense minister as well as the military's chief-of-staff.
Meanwhile, Morsi has cut short a previously scheduled European trip, BBC has reported.
His spokesman announced that the president would visit Germany Wednesday, but a visit to France was cancelled.
On the ground, anti-government demonstrators defied the president's curfew order in the cities of Port Said, Ismailia and Suez, clashing with the security forces, state media reported Tuesday.
Morsi declared a 30-day state of emergency Sunday in Port Said, Suez and Ismailia, the three provinces which have witnessed deadly clashes since the second anniversary of the Egyptian revolution Jan. 25.
A court ruling Jan. 26, issuing death sentences for 21 people from Port Said for their roles in a football game riot last year, ignited further violence.
Egypt's main opposition alliance has rejected Morsi's renewed call for a national dialogue to put an end to the political deadlock.
The National Salvation Front, a coalition of liberal opposition parties and groups in Egypt, rejected the president's initiative at a press conference a few hours before the dialogue started Monday, Egypt's Al Ahram newspaper reported.
© Copyright IBTimes 2023. All rights reserved.
FOLLOW MORE IBT NEWS ON THE BELOW CHANNELS