Uber, Lyft Lose Austin, Texas, Referendum After Spending Millions To Change Ride-Hailing Rules
UPDATE: 11:32 p.m. EDT -- Uber officials said they hoped Austin's City Council "will reconsider their ordinance following Saturday's defeat of Prop. 1, KVUE-TV reported.
UPDATE: 11:29 p.m. EDT -- Following its referendum loss in Austin, Texas, on Saturday, Lyft announced it would "pause operations" in the Texas capital beginning Monday, KVUE-TV reported.
Original story:
Voters in Austin, Texas, gave Uber and Lyft a red light Saturday, turning out in large numbers against a referendum written by the two ride-hailing companies that would have superseded existing city ordinances regulating taxi services.
With early votes counted and nearly half of Saturday's returns tallied, Proposition 1 was poised for at least a 10-point defeat, dealing Uber and Lyft a major blow in a notable test of political influence as the two gear up for similar battles around the world.
Though existing regulations allow taxi-hailing services to operate, both companies vowed to leave Austin if their measure failed, citing the cost of compliance.
The country's fastest-growing city, Austin became ground zero in the ongoing battle over ride-hailing regulation after the city council introduced rules for taxi apps in December. The ordinance required fingerprint background tests for drivers and a ban on picking up passengers in travel lanes and bus stops, among other measures.
Uber and Lyft responded by gathering more than 20,000 signatures toward a referendum on their own version of the ordinance, which would allow ride-hailing services to conduct their own background checks and pick up customers anywhere.
After the referendum made it to the ballot, the two San Francisco-based companies poured millions of dollars into political action committee Ridesharing Works for Austin, which spent more than $8.6 million on mailers and telephone calls backing the proposal, making it one of the most expensive campaigns in Austin's history. As the Austin American-Statesman noted, that total was seven times more than what Austin Mayor Steve Adler spent to get elected.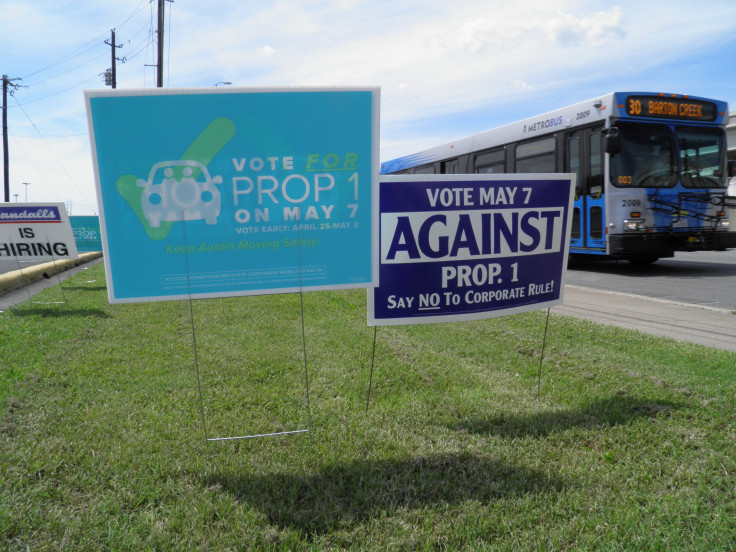 Those efforts appeared to be in vain Saturday. With nearly half of the city's precincts reporting, 56 percent of Austin voters sided against Prop. 1, with 44 percent backing the measures proposed by Uber and Lyft.
"The people have spoken tonight loud and clear," Adler said in a statement. "Uber and Lyft are welcome to stay in Austin, and I invite them to the table regardless."
The dueling campaigns stirred passions on both sides, with proponents of Prop 1 arguing that Uber and Lyft cut down on drunk driving and help Austin maintain its stature as a tech hub. Opponents – allied under a group called Our City, Our Safety, Our Choice – countered that the city's existing ordinance helped guard against sexual assault.
The Prop 1 opponents also charged Ridesharing Works For Austin with election improprieties, including overt coordination with the companies backing the group. Lyft offered free rides to polling stations on the day of the referendum.
Difficulties in Austin haven't dimmed Uber's lofty growth goals, however. On Saturday Uber announced it would be launching an UberX service in Berlin, after a German court banned the company from using unlicensed drivers to pick up passengers. The UberX service will contract only licensed drivers.
Last month, Uber paid $100 million to settle a class-action lawsuit contending that drivers were employees, not independent contractors, and thus eligible for minimum wage and health benefits.
© Copyright IBTimes 2023. All rights reserved.