UFC PREVIEW: Penn vs. Fitch (Welterweights; Saturday, February 26 (U.S.); TV: Pay-per-View)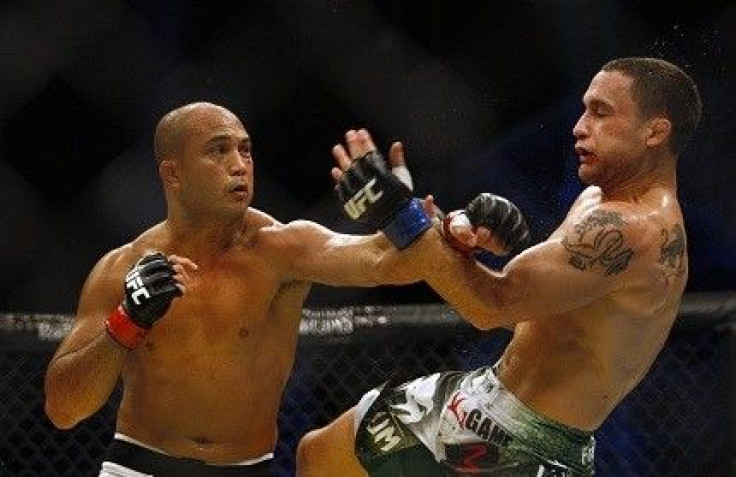 B.J. Penn and Jon Fitch will duke it out in the octagon in Sydney, Australia, this Saturday night, in a match that promises to be one of the better fights of 2011.
Penn, a former lightweight and welterweight champion, is coming off a victory over Matt Hughes, a UFC Hall-of-Famer, and two-time welterweight champion.
Fitch, considered the second-best welterweight in the division, and among the ten best pound-for-pound fighters alive, has won 20 of his last 21 fights. His only loss was to perhaps the best MMA fighter alive, Georges St. Pierre.
In fact, both Penn and Fitch have lost to St. Pierre, offering a gauge of how their Saturday fight may turn out.
Penn will be the underdog in the fight. He's lost three of his last six fights, and had a less impressive showing against St. Pierre. In that fight on Super Bowl weekend 13 months ago, Penn's brother stopped the fight after the end of the fourth round.
Fitch is considered an excellent wrestler, and probably gave St. Pierre his best fight in a unaniamous decision loss in August 2009.
There is strong reason to believe Fitch can defeat Penn based on previous performance and comparing both fighter's contests with St. Pierre.
Penn will have to rely on his jab if he expects to pull off the victory.Fitch will utilize his groud-and-pound skills.
An upset is not out of the realm of possibility. In fact, many experts are predicting an upset win for Penn.
But Fitch has shown no reason to believe he will lose. He finds a way to win, and this fight should be no different.
PREDICTION: Fitch wins a unanimous decision.
© Copyright IBTimes 2023. All rights reserved.