Uganda Election 2016: Violence, Crime Threatens Businesses, Communities Amid Presidential Vote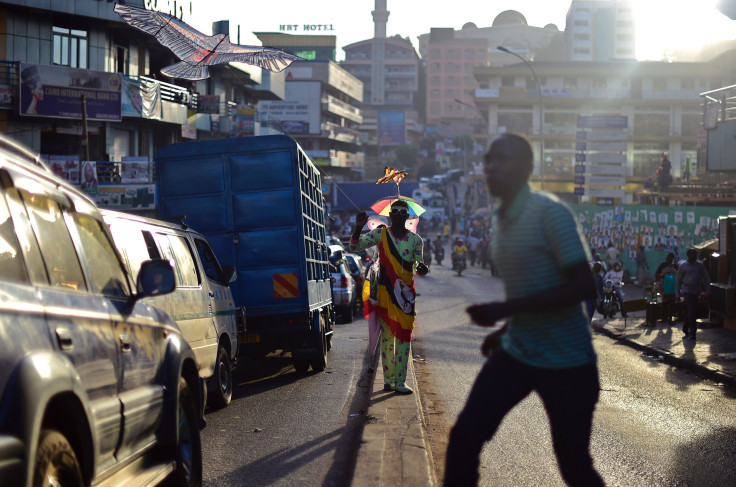 As registered voters head to the polls Thursday, fear hangs over Uganda like a storm cloud, locals in and around the capital of Kampala said this week. Some companies there have even relocated their operations or temporarily closed up shop to avoid any unrest during the country's presidential election being held under contentious circumstances.
"I am very worried about violence. Already, this is impacting businesses in the city," Oceng Boniface, a 32-year-old resident in the commercial hub of Hoima, about 125 miles northwest of the capital, said during a recent interview. "We will have no place to restock goods."
Boniface's fears are shared by many voters in the East African country, where bloodshed has marred previous elections. Ugandans are deciding whether to re-elect one of Africa's longest-serving men or a new leader from the opposition. But locals, activists and risk analysts agreed that violence is likely imminent, whatever the outcome.
"Polling day and the days around the announcement of the electoral results are a precarious time," warned Maria Burnett, senior researcher for Human Rights Watch's Africa Division.
After three decades in power, Ugandan President Yoweri Museveni is seeking to extend his tenure yet again in the national polls Thursday. His fifth term bid is controversial because Ugandan presidents were originally restricted to two terms in office, until Museveni won a campaign to abolish the constitutional limits altogether in 2005. As a trade-off, a multiparty political system was restored. Although organized political parties are no longer restricted, the political landscape remains uneven and the opposition has struggled to gain momentum against the long-ruling National Resistance Movement.
Uganda Overview | FindTheData
Museveni is running against seven opposition candidates and he is widely expected to win re-election in the first round of voting Thursday. But recent opinion polls suggest this may be his toughest election yet. An opinion poll conducted between Feb. 1 and 8 by Ipsos, a Paris-based global market research firm, shows Museveni leading his closest rival, Kizza Besigye, by 53 percent to 28 percent, with a margin of error of plus or minus 2.2 percentage points. Another poll conducted between Dec. 19 and Jan. 10 by Kampala-based agency Research World International showed Besigye trailing Museveni by 32 percent to 51 percent.
As support for the opposition grows, the electoral tension is palpable across the East African country. In central Kampala, residents said many foreign-owned businesses have closed down ahead of Thursday's vote, with some business-owners fleeing the country. In the northern town of Nebbi, there are fears that election-related violence will disrupt the school term. The Ugandan government has closed schools for the week and declared Feb. 18 a public holiday to allow registered voters to partake in the presidential election, but violence could push it all back.
"If violence breaks out, our children will not go to school," said Onen Topista, a 43-year-old entrepreneur in Nebbi.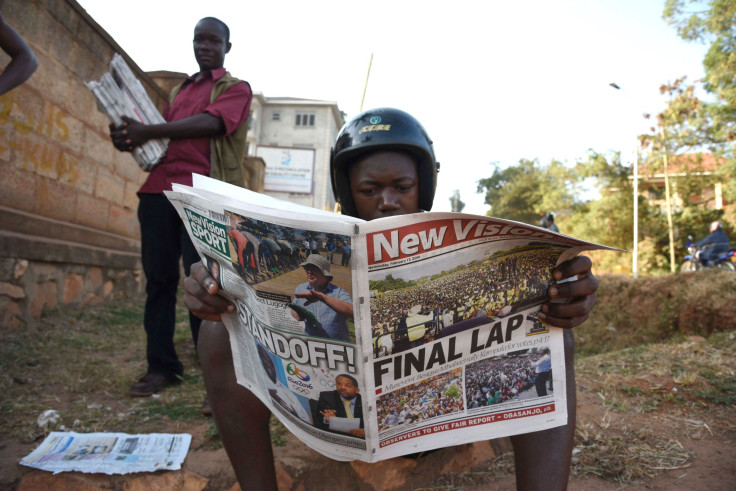 Ronak Gopaldas, head of country risk at Rand Merchant Bank in Johannesburg, South Africa, said investors and business-owners often take flight in the run-up to an election in an African nation, which can lead to increased spending, inflation and currency depreciation. The economic anxiety contributed to a sharp decline in the Ugandan shilling last year, with the local currency shedding at least 20 percent of its value against the dollar. It also triggered a rise in domestic prices and uncertainty for consumers and investors, though the shilling has largely stabilized now.
Although pockets of violence are likely to occur in Uganda during Thursday's polling, Gopaldas said he doesn't expect this to become widespread or systemic. "The major economic stress usually occurs prior to the election, as business and investors become risk averse in the run-up to the actual event. It's simply the nature of the 'political business cycle' in the country," he said in an email Wednesday. "Whilst the outcome is likely a foregone conclusion, the business community will be looking for speedily resolution to proceedings so they can resume with the normal course of events."
Electoral violence is not unknown to Uganda. Amnesty International said in an annual report that "numerous instances" of election-related violence and human rights abuses were recorded and never investigated leading up to 2011 general elections, including an instance in June 2010 where police and armed men allegedly stormed a rally in Kampala by presidential candidate Besigye and beat him.
Police disrupted Besigye's rally in the capital Monday with tear gas, briefly detaining him and killing one person while wounding 19 others. Police said supporters of the longtime opposition figure had been on a "rampage," raiding and damaging property. But Besigye, who has lost three previous elections, accused security forces of increasing violence ahead of Thursday's vote, according to Reuters.
"Yesterday, elements of the Uganda police and other security agencies unleashed violence on our supporters and sabotaged our campaign in Kampala," Reuters reported he said Tuesday. "The election has no chance of being free and fair."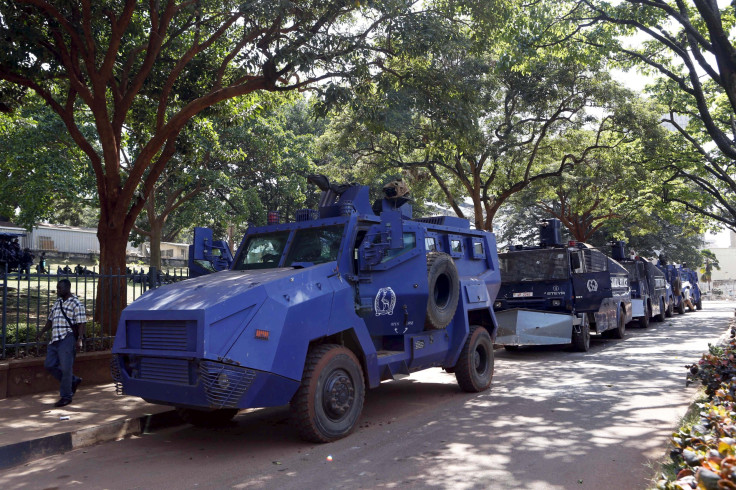 Rights activists said the perceptions of the quality of the integrity of Thursday's electoral process will be an important element in the post-electoral climate. There are fears that any pushback against the declared winner will be viewed as support for political unrest and constitute violence in response.
"Particularly outside Kampala, it can be difficult to be critical and express criticism of the government and not be labeled as championing instability," Burnett of Human Rights Watch said. "Ugandan security forces will need to exercise restraint and use only proportionate force if there are protests or demonstrations in the coming days and weeks."
There is particular concern surrounding Uganda's crime preventer program, for which there is no legal statute and scarce information about the exact mandate. So-called crime preventers are a volunteer group of civilians recruited and managed by police to report on and prevent crime in cooperation with security forces and the local communities.
The program's recruits were given police uniforms to provide security during the 2011 general elections, according to Ugandan newspaper Daily Monitor. Officials have said police aim to have at least 30 crime preventers per village during and after Thursday's polling, which would add up to more than 1 million throughout the landlocked country.
Last month, rights groups called on the Ugandan government to immediately suspend the program ahead of the presidential election, saying crime preventers have acted in partisan ways and carried out brutal assaults and extortion with no accountability. "Suspending crime preventers is critical for preventing violence during the electoral period and showing the country's commitment to nonpartisan policing and respect for human rights," Amnesty International, Human Rights Watch, Network Uganda, Chapter Four Uganda and Foundation for Human Rights Initiative said in a press release dated Jan. 12.
In the northwest town of Hoima, there are fears that the development of Uganda's largely untapped oil reserves will be impacted. The Ugandan government signed a deal in 2014 with Tullow Oil Plc, Total SA and Cnooc Ltd. on building a refinery and pipeline in the town.
Uganda is expected to start pumping in 2018, but Akello Morin, a 35-year-old business consultant for Tullow in Hoima, said Total has already shuttered its office in Kampala. In a country with lingering high unemployment, she's said she's concerned the major oil company may cancel the agreement if electoral violence breaks out.
"Violence would make work here difficult," Morin said in an interview Tuesday. "Many workers may fear working in a hostile environment."
Robert Agenonga in Kampala contributed reporting to this story.
FOR FREE to continue reading
✔️ Unlock the full content of International Business Times UK for free
offer available for a limited time only
✔️ Easily manage your Newsletters subscriptions and save your favourite articles
✔️ No payment method required
Already have an account?
Log in
© Copyright IBTimes 2023. All rights reserved.