Uganda Presidential Election 2016: Guide To Candidates, Key Issues, Rules And Results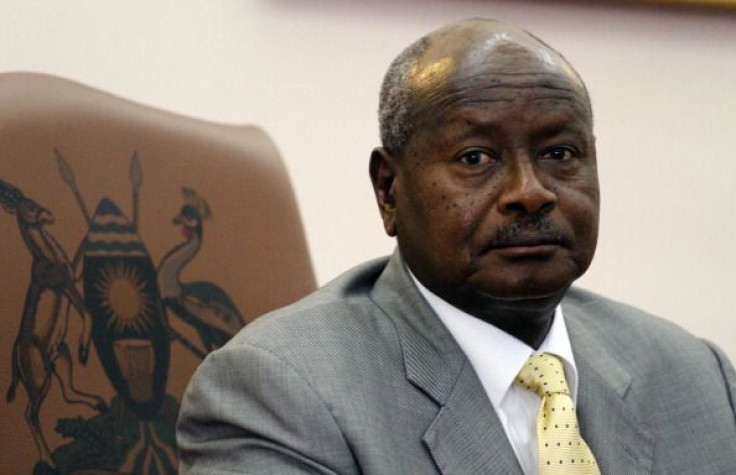 After three decades in power, one of Africa's longest-ruling men is seeking to extend his tenure yet again in Uganda's presidential election Thursday. Credited for abolishing constitutional limits on the presidential term, Ugandan President Yoweri Museveni is running for a controversial fifth term in office, and he's widely expected to succeed.
"Uganda has among the youngest population in the world. For those in their twenties, they can now vote, but they have never known another president in their lifetime," said Maria Burnett, senior researcher for Human Rights Watch's Africa Division.
Still, recent surveys suggest this could be Museveni's toughest election yet as support for the opposition grows. Thousands of people have attended election rallies for Uganda's top opposition candidates in the days leading up to Thursday's polls. Whoever wins must tackle a faltering economy, poverty, youth unemployment and the East African country's fledgling oil industry.
Candidates
Museveni declared himself president and instituted a nonpartisan democracy in 1986, after winning a five-year guerrilla war against former Ugandan Presidents Milton Obote and Tito Okello. His final term was slated to end in 2006, but he won a campaign to lift the two-term limit on the condition that a multiparty political system would be restored. Uganda threw out its nonparty system that year, but Museveni has been re-elected ever since with little opposition to his rule, primarily because the opposition has struggled to gain momentum in an uneven political landscape. Rights activists claim Uganda has not had a free and fair election for decades.
"It's very difficult to see how elections in Uganda can occur on a level playing field currently," Burnett said in a telephone interview Tuesday. "Opposition parties were illegal until just a decade ago, the incumbent has a massive financial advantage and government institutions, particularly police, act in a partisan manner and unevenly enforce laws."
If re-elected, Museveni has vowed to roll out a fund for youth and women as well as install poverty alleviation programs. He has also set up plans to tap into Uganda's largely untouched oil reserves. But critics say the oil sector development has so far been shrouded in secrecy, and Museveni will use the oil revenues to sustain a patronage system, in which the government awards jobs to its supporters. The 71-year-old incumbent is running against seven opposition candidates in Thursday's election, and recent opinion polls show Museveni's closest rival is Kizza Besigye.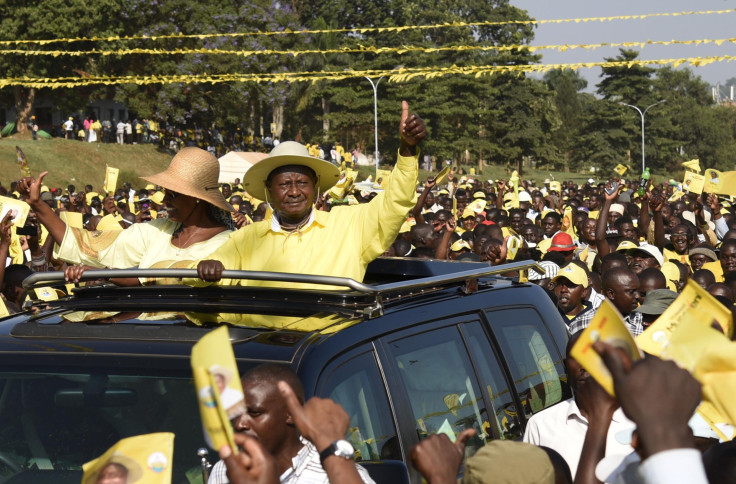 Besigye is running in his fourth presidential election on behalf of Uganda's main opposition party, Forum for Democratic Change. The longtime opposition figure is a trained physician and a former military officer who parted ways with Museveni 15 years ago, calling him a dictator. Besigye has vowed to run a more efficient government if he's elected president. He was briefly detained by police Monday night for the second time that day, after marching with thousands of supporters to a rally in the capital, Kampala.
An opinion poll conducted between Feb. 1-8 by Ipsos, a Paris-based global market research firm, shows Besigye trailing Museveni by 28 percent to 53 percent, with a margin of error of plus or minus 2.2 percentage points.
"The true opinion poll is what Ugandans are saying on the ground," Moses Byamugisha, an activist for Besigye's Forum for Democratic Change, told Ugandan newspaper Daily Monitor. "We believe we have reached a majority of Ugandans. Dr. Besigye has been to 112 districts, and our findings are that people want change."
Another poll conducted between Dec. 19 and Jan. 10 by Research World International, a Kampala-based research agency, showed that 51 percent of likely voters support Museveni, 32 percent support Besigye and 12 percent would vote for another presidential candidate, Amama Mbabazi. But Mbabazi's campaign team believes the race is even tighter.
"We definitely don't believe in those polls. They are just gimmicks and propaganda tools," Margaret Lukowe, deputy communication director for Mbabzi's presidential campaign, told Daily Monitor. "He [Mbabazi] is already rated a front-runner."
Mbabazi, 67, is a trained attorney as well as the former Ugandan prime minister and a founding member of the ruling National Resistance Movement. He was sacked from his premier position in 2014 by Museveni amid a deepening power struggling between the two officials. Mbabazi, who was widely viewed as a kingmaker in Museveni's administration, is running as an independent candidate in Thursday's election. If elected president, Mbabazi has promised to tackle poverty by establishing a sub-county model to create more economic opportunities for locals.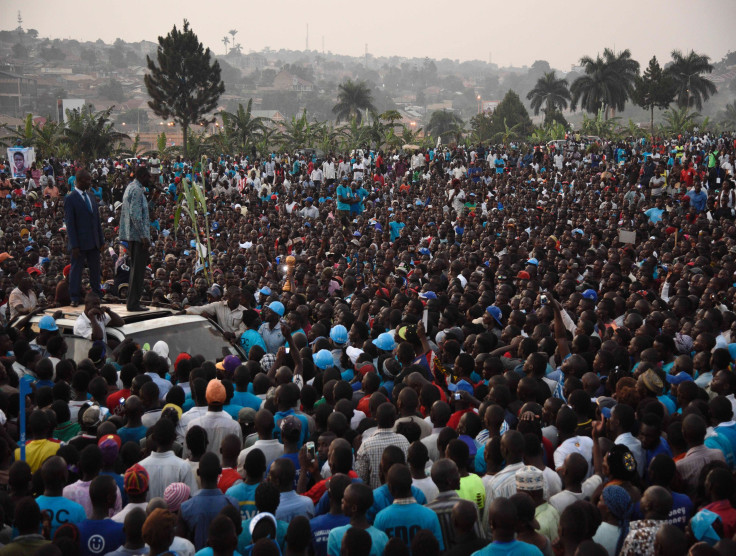 Key Issues
Uganda's economy has been gradually growing over the past few years under Museveni's rule, and real GDP growth has been generally above the average for sub-Saharan Africa. Data from Uganda's statistics office showed the economy expanded marginally by 0.3 percent in the first quarter of the 2015/2016 fiscal year. In some ways, the East African country has benefited from the global commodity glut. Uganda, which imports its petroleum, has cut commodity spending as the global price of oil plummets.
However, nervousness surrounding the upcoming presidential elections contributed to a sharp decline in the Ugandan shilling last year, raising domestic prices and creating uncertainty for consumers and investors. The local currency shed at least 20 percent of its value against the dollar. In an effort to curb inflationary pressures driven by the weak shilling, the Bank of Uganda raised its benchmark policy rate last year by 600 basis points to 17 percent. The shilling has largely stabilized, but the central bank's governor, Emmanuael Tumusiime Mutebile, left the policy rate unchanged for a second straight meeting Monday, saying there are still risks surrounding the economy. Both the International Monetary Fund (IMF) and Uganda's central bank have trimmed their growth projections for the East African nation for the current fiscal year.
"Uganda is not immune to the difficult external environment affecting other countries. Together with domestic nervousness relating to the upcoming elections, external shocks and uncertainty have resulted in a sharp decline in the shilling, creating challenges for policy makers," Ana Lucia Coronel, IMF mission chief and senior resident representative in Uganda, said in a statement after visiting Kampala in late September. "The mission has encouraged the authorities to intensify ongoing efforts to fight corruption, which continues to affect the business climate. Improving transparency and accountability remains critical."
Whoever wins Thursday's presidential election must take into account the global market turbulence when developing Uganda's economic sectors. Museveni has promised Ugandans oil wealth from crude discovered beneath the Lake Albert area of western Uganda in 2006. After delays due to court battles over oil firm contracts and negotiations on building a refinery, the country is expected to start pumping in 2018. An act passed by the Ugandan Parliament last year detailed how oil revenues should be used, determining that oil money must be invested in infrastructure and to boost agriculture.
"The intention is good," Paul Bagabo, a Ugandan consultant with the Natural Resource Governance Institute, said in a recent interview with the Guardian.
The new sector could bring in hundreds of millions of dollars in additional revenue while creating hundreds of thousands of much-needed jobs. However, there are concerns about how the region's natural environment will be protected and a potential lack of transparency in the oil sector. Furthermore, the industry's success will largely depend on the fate of global oil prices, which have fallen by more than 70 percent in the past 20 months due to an oversupplied market and cooling demand from the world's second-largest oil consumer, China. Africa's top oil producers are currently grappling with financial crises driven by low oil prices.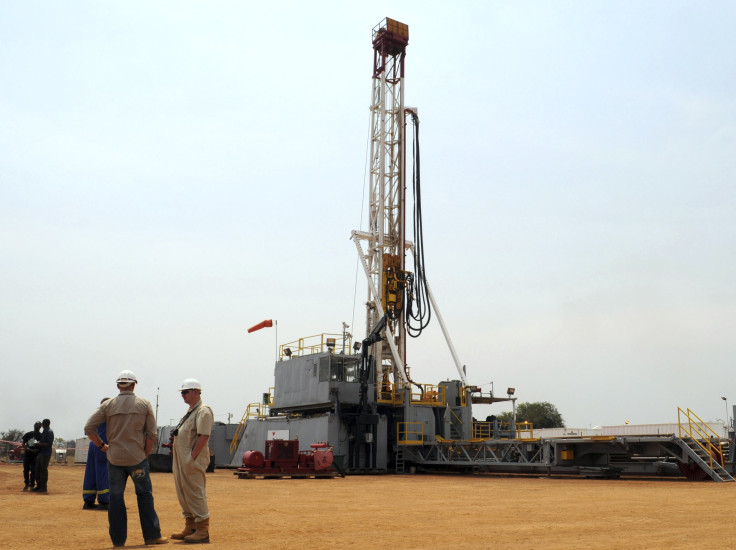 Although Uganda's unemployment rates are relatively low for sub-Saharan Africa, they have been increasing over time, and youth unemployment remains a serious issue. The number of Ugandans without jobs rose from 1.9 percent in 2006 to 5.1 percent in 2012. The youth constituted 64 percent of the total unemployed persons in the country in 2012, according to data from Uganda's statistics bureau. The winner of Thursday's presidential election must implement programs aimed at educating and employing youth and create policies that spur private sector investment that will create jobs in economic sectors beyond oil.
"Although improvements in the investment climate and building of skills are crucial to jobs creation, there is a need for an effective strategy for industrial development. It is thus imperative that the government builds on the efforts to address skill gaps, investment constraints faced by the private sector, and, above all, prioritize industrialization," Gemma Ahaibwe and Swaibu Mbowa, researchers at the Economic Policy Research Center in Uganda, wrote in a 2014 analysis for Bookings Institute, a Washington think tank.
Election Rules And Results
Uganda's constitution states that a presidential candidate must receive 50 percent plus one vote of the valid ballots cast to avoid a run-off election with the second-ranked candidate. Preliminary results are expected to trickle in within a week of voting. A run-off election will occur within 30 days if no candidate wins an outright majority.
Uganda's previous presidential elections in 2001, 2006 and 2011 were marred by allegations of ballot rigging, violence and voter intimidation. There are mounting concerns the same will be true for Thursday's election no matter the outcome. At least one person was killed in Kampala as police clashed with opposition supporters Monday night after briefly detaining Besigye as he tried to hold campaign rallies. Meanwhile, Mbabazi has accused the ruling party of using murder, torture and violence against his supporters.
"Ugandans are very much worried about the violence that is likely to happen, whether Museveni wins or is defeated," said Robert Agenonga, a 23-year-old freelance journalist based in Kampala.
FOR FREE to continue reading
✔️ Unlock the full content of International Business Times UK for free
offer available for a limited time only
✔️ Easily manage your Newsletters subscriptions and save your favourite articles
✔️ No payment method required
Already have an account? Log in
© Copyright IBTimes 2023. All rights reserved.