UK Hopes To Export Chicken Feet To China, Adding 15 Percent To Revenue Each Bird Earns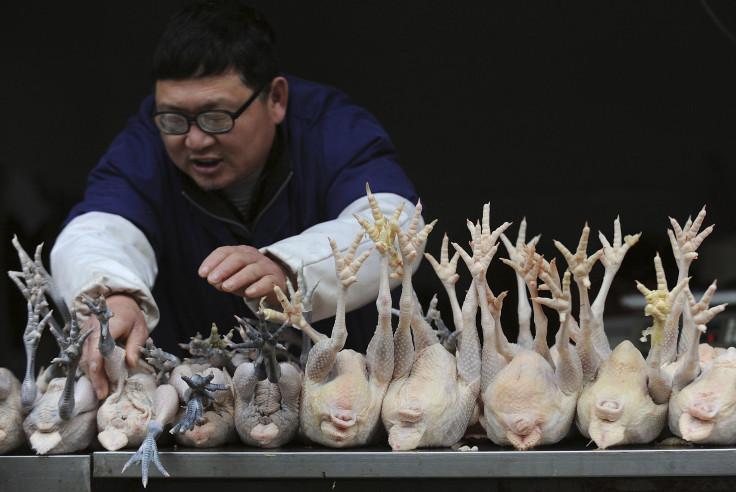 The United Kingdom has come upon a genius idea to profit from its waste: sell animal products that would otherwise be discarded to foreign nations that find the same products tasty. The British government is now in talks with China to export pigs' trotters and chicken feet, which could mean an extra 15 percent on the revenue each chicken earns currently.
Livestock farmers in the U.K. could increase their income by millions of pounds each year by exporting products that would be considered waste, according to Environment Secretary Owen Paterson, the Telegraph reported. Officials are working with the Chinese to allow farmers to export chicken feet and pigs trotters, both of which are routinely eaten across China as part of the traditional diet. Millions of chicken feet are buried in landfills every week in the U.K., where there is no domestic market for it.
"We are working with the Chinese authorities to establish that our veterinary standards are correct here as imports of chicken feet could be of significant interest to the Chinese," Patterson said, according to the Telegraph. "That would be a huge boost to the British poultry industry here. There is significant demand for pigs' trotters in China too."
Making use of chicken feet could be profitable. The industry is currently around 4.4 billion pounds a year. Chicken producers in the U.K. have estimated that if chicken feet are sold to China, each bird could earn an extra 15 percent or 1.5 pounds.
In 2012, China imported 231,700 tons of chicken feet, a 214 million pound trade that the British are now hoping to cut a piece, the Telegraph reported.
The United States had once been a major exporter of chicken feet to China until 2010, when the Chinese Commerce Ministry slapped an import tariff on U.S. companies, on the charge that American producers dumping their poultry products were hurting local companies. The taxes, as high as 105.4 percent for some producers, effectively ended U.S. chicken exports to China. While it lasted, the U.S. exports to China had been a profitable one – chicken feet and wing tips that fetch about two cents in the U.S. could cost up to 42 cents, according to Reuters.
© Copyright IBTimes 2023. All rights reserved.
FOLLOW MORE IBT NEWS ON THE BELOW CHANNELS